'Sesame Street' debuts its 1st Filipino-American muppet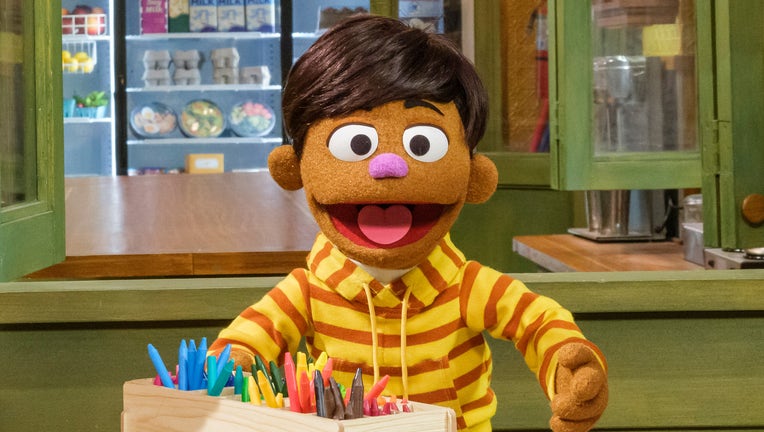 article
"Sesame Street" recently debuted its first Filipino-American muppet named TJ, joining Ji-Young who made history in 2021 as the show's first Asian American muppet.
TJ, 4, is described by the show creators as "a second generation Filipino-American boy, and a proud kuya (older brother) to his baby sister."
"He's a natural entertainer for her, and always makes her laugh with a funny voice, song, or dance," a description about TJ reads. 
RELATED: 'This is real': Sesame Street's first Black woman puppeteer fills 'impactful' role
TJ was depicted in a recent "Sesame Street" segment with Ji-Young, Grover and guest star Kal Penn. The group discusses the meaning of confidence as Grover shows off his ability to jump over the Sesame Street sign while riding a unicycle and balancing a stack of books.
"Confidence is when you believe in yourself and your abilities, or in the abilities of others," Penn explains, noting how he feels confident when speaking in public and acting.
TJ shares how he is learning to speak Tagalog with his grandparents, who live on the ground floor of his family's building. 
"I have confidence because I can always ask my Lola for help when I don't know a word," TJ shares. "Lola" is a common Filipino word for grandmother.
In the character description, TJ also loves to help his grandparents in their garden and is "so proud" when he gets to speak Tagalog to his extended family that comes to visit from California. 
"He loves it when they all get together so he can help his mom make lumpia with all the veggies he picked, and so he can play basketball and have a dance off with his cousins," the description reads.   
TJ is played by puppeteer and voice actor Yinan Shentu.
"I'm so ridiculously excited for the journey ahead," Shentu wrote in part in an Instagram post about TJ.
Rosemary Espina Palacios, Sesame Workshop's director of talent outreach, inclusion and content development, also shared about the new character on Instagram, noting how she personally felt that the topic of confidence could help "unravel the model minority stereotype."
"I'm so proud to help bring some Filipino representation to the neighborhood, and just in time for API Heritage Month to show the range in our diaspora," she added.
RELATED: 'Sesame Street' co-creator Lloyd Morrisett dies at 93
Ji-Young, who debuted in "See Us Coming Together: A Sesame Street Special" on Thanksgiving Day 2021, is Korean American and has two passions: rocking out on her electric guitar and skateboarding.
At the time of her debut, executives behind the show said Ji-Young's existence was the culmination of a lot of discussions after the events of 2020 — George Floyd's death and anti-Asian hate incidents.
Like a lot of companies, "Sesame Street" reflected on how it could "meet the moment," Kay Wilson Stallings, executive vice-president of Creative and Production for Sesame Workshop, the nonprofit organization behind "Sesame Street," said at the time.
This story was reported from Cincinnati. The Associated Press contributed.