San Diego opens first 'safe sleeping site' tents for homeless people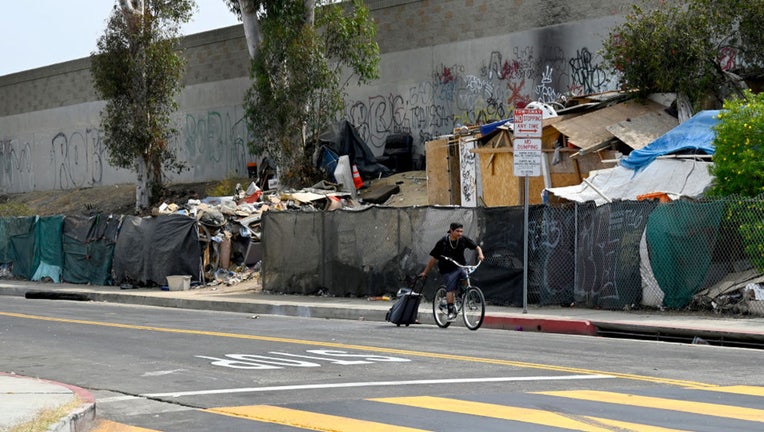 article
The first of two "safe sleeping" areas for the homeless in San Diego opened on Thursday as part of an effort to move people off the streets in the California city.
The plan was originally announced in June that the city's Homeless Strategies and Solutions Department would expand its services to combat the ongoing homeless crisis by offering different living arrangements.
"We are bringing forward a comprehensive shelter strategy with detailed proposals for the short, medium and long terms that include expanded shelter, more safe parking and safe sleeping offerings," San Diego Mayor Todd Gloria said at the time.
Almost one month later, a new tent campsite behind a barbed-wire fence opened at San Diego's Central Operations Yard at 20th and B streets. City officials are planning to pitch as many as 136 tents with the capacity to hold approximately 150 people in an effort to move them from downtown areas.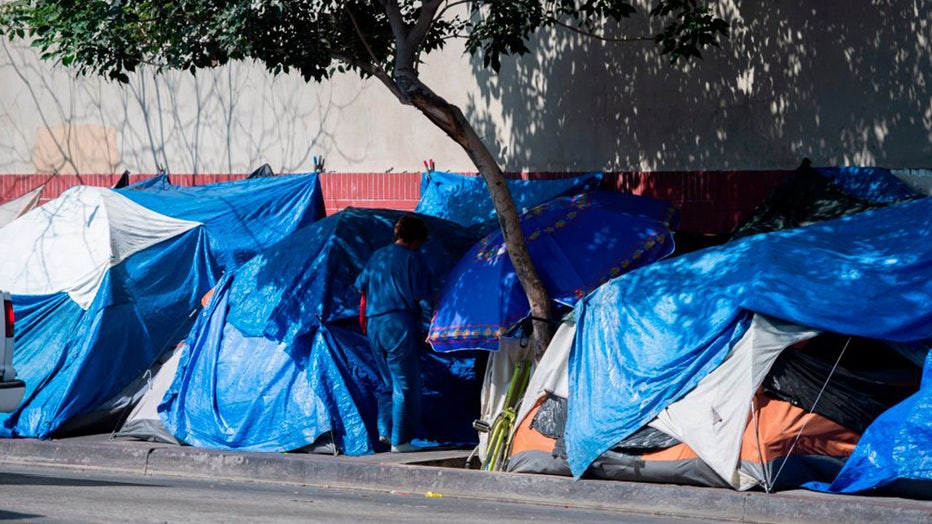 FILE - Tents line the street in Skid Row in Los Angeles, California on Sept. 17, 2019. (ROBYN BECK/AFP via Getty Images)
CALIFORNIA COURTHOUSE PARKING LOT TURNS INTO HOMELESS ENCAMPMENT WITH 24/7 SECURITY 
The site will be operated by the nonprofit organization Dreams for Change who previously took part in maintaining "safe parking" sites for people living in vehicles. The area has been described as a "low barrier" shelter that prohibits residents from bringing in weapons, alcohol or drugs but does not require guests to be sober. Homeless residents will also have access to restrooms, meals and mobile showers.
A larger safe-sleeping site is expected to open in the fall in a parking lot near the Naval Medical Center. The site will likewise offer access to meals and other services and hold up to 400 tents. 
The move comes after the city council also voted to prohibit tent encampments in all public spaces. The ban is expected to go into effect later this month.
San Diego Councilmember Stephen Whitburn sent out a statement shortly after the encampment ordinance was passed, praising the move as a way to tackle chronic homelessness.
"Together, the Unsafe Camping Ordinance and the city's new outdoor Safe Sleeping Sites will help break the cycle of homelessness for unsheltered San Diegans by providing quicker access to services and connections to housing," Whitburn said.
In 2019, the Department of Housing and Urban Development reported that San Diego and the surrounding county had the fourth-highest homeless population in the country. In response, San Diego's then-Mayor Kevin Faulconer signed off on an $11 million contract to construct three "bridge shelters" to house unsheltered citizens.
'WHERE DO I SIGN UP?' SAN DIEGO HOMELESS WOMAN SAYS THEY'RE 'SPOILED' WITH FREE STUFF, PHONES 
"We're taking dramatic action to move homeless people off the streets and get them help," Faulconer told Fox News. "Our strategy is to connect, support and shelter them."
According to data from the Downtown San Diego Partnership, nearly 2,000 people lived outside the city in April, the highest in more than a decade. A more recent count put the number at over 2,100 people living on sidewalks or in vehicles.
CLICK HERE TO GET THE FOX NEWS APP
Mayor Gloria also proposed a city budget that included $81.7 million for homelessness services, a nearly $20 million increase from the last fiscal year.