Police charge Trump campaign manager with assault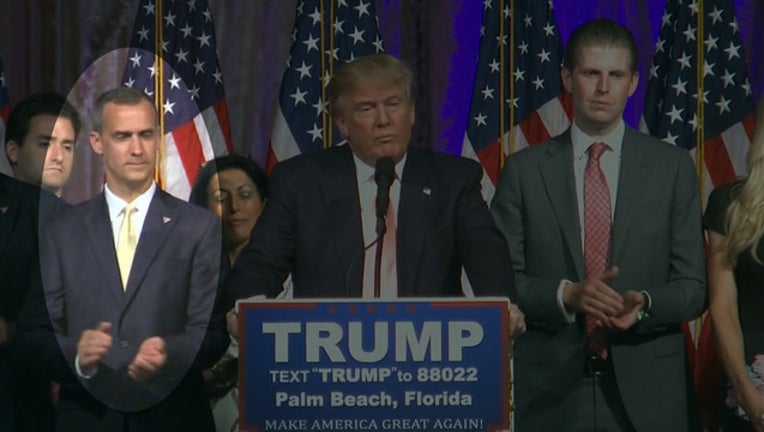 article
WASHINGTON (AP) - Florida police have charged Donald Trump's campaign manager with simple battery in connection with an incident earlier in the month involving a reporter.
After examining the evidence, Jupiter, Florida, police determined that probable cause existed to charge Corey Lewandowski, who has served as Trump's top political aide for his entire presidential run. Police on Tuesday morning issued Lewandowski a notice to appear before a judge on May 4 for the misdemeanor charge, which carries up to a year in jail.
A surveillance video released by the police appears to show Lewandowski grabbing Michelle Fields, who worked for Breitbart News at the time, as she tried to ask Trump a question during a March 8 campaign event.
The Trump campaign said Lewandowski "is absolutely innocent of this charge" in a statement released Tuesday. "He will enter a plea of not guilty and looks forward to his day in court," said the statement. "He is completely confident that he will be exonerated."
Trump himself called Lewandowski "a very decent man" on Twitter: "Look at the tapes -- nothing there!"
The New York businessman's rivals seized on the news, which comes a week before a high-profile contest in Wisconsin and in the midst of a messy Republican primary season.
Texas Sen. Ted Cruz said the incident is "the consequence of the culture of the Trump campaign -- the abusive culture when you have a campaign that is built on personal insults, on attacks and now physical violence."
"That has no place in a political campaign, it has no place in our democracy, Cruz told reporters as he campaigned in Wisconsin, suggesting that "it helps clarify for the voters what the trump campaign is all about."
Cruz's top aide, Rick Tyler, resigned in February for spreading a story that falsely alleged former rival Marco Rubio insulted the Bible.
"If he worked for John Kasich he would be fired," said John Weaver, a senior adviser to Ohio Gov. John Kasich. "Campaigns though always reflect the values of the candidate. I know ours does."
It's unclear what impact, if any, the news will have on Trump's march toward his party's presidential nomination, although critics cast it as another example for why the brash billionaire would struggle to attract women in a prospective general election matchup against Democratic front-runner Hillary Clinton.
The GOP front-runner is trying to score a victory in next Tuesday's Wisconsin primary election that could give him an insurmountable delegate advantage. Cruz, appears to be within striking distance in Wisconsin, but has little mathematical chance of earning the delegate majority before the Republican Party's national convention in July.
Wisconsin Gov. Scott Walker formally endorsed Cruz shortly before news of Lewandowski's charge surfaced.
The incident fueled fresh attacks by anti-Trump groups, who have already been attacking the billionaire for failing to quell violence at his rallies.
Our Principles PAC has been airing an ad featuring news clips of violence at Trump rallies and playing audio of the GOP front-runner saying of a protester, "I'd like to punch him in the face."
The same ad includes images of Fields' bruised arm and a Fox News interview in which she says that Trump's campaign wasn't telling the truth about what happened to her
"The police in Jupiter, Florida have clearly seen what Donald Trump refuses to acknowledge: his campaign manager battered a woman and caused serious bruising," said Our Principles PAC leader Katie Packer. "In any job in America this would be grounds for firing. Instead Donald Trump has praised him."
In the days after the alleged assault, Trump told CNN that the incident was probably "made up." Campaign spokeswoman Hope Hicks went further at the time, charging in a statement that "not a single camera or reporter of more than 100 in attendance captured the alleged incident."
"Lewandowski grabbed Fields' left arm with his right hand causing her to turn and step back," reads the police report. Fields showed police her left forearm which "appeared to show a grabbing-type injury," according to the investigating officer.
Lewandowski has retained a Florida attorney who said Tuesday there would be no further comment.
The charge, a first-degree misdemeanor, carries a potential sentence of up to 1 year in prison or up to a $1,000 fine, according to Florida statutes.