Ohio State Fair ride victim recently enlisted in Marines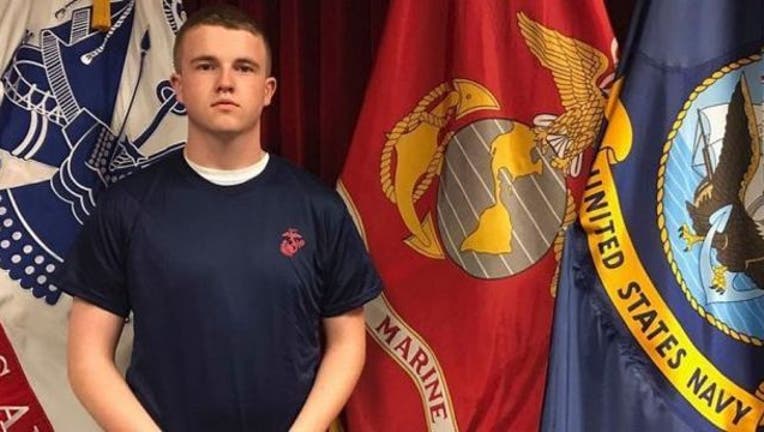 article
(FOX NEWS) - The 18-year-old man killed Wednesday when a thrill ride broke apart at the Ohio State Fair had joined the Marines less than a week before the tragedy.
The Ohio State Highway Patrol identified the lone person who was killed Thursday as Tyler Jarrell of Columbus. Seven others, who ranged in age from 14 to 42 years old, were injured when the Fire Ball ride malfunctioned and sent riders flying into the air.
The Marine Corps said in a statement that Jarrell, 18, enlisted on July 21 and wanted to be in the infantry or serve as a combat engineer. He was scheduled to attend basic training at Marine Corps Recruit Depot Parris Island, S.C. in June 2018.
"Our heartfelt condolences go out to Poolee Tyler Jarrell's family and all of those affected by his loss," the statement said. "The Marines here are greatly saddened by this tragedy. We are truly proud to have known him as one of the brave few willing to step up and serve his country in the United States Marine Corps."
RELATED: 1 dead, several others injured in ride malfunction at Ohio State Fair
On Saturday, Jarrell's local Marine Corps recruitment station posted to Facebook that he was the first senior from his high school to enlist into the Marine Corps this year.
"Give him one! Tyler Jarrell is the first senior from Franklin Heights high school to enlist into the United States Marine Corps this year. I'm proud to call him my brother," the post read.
Ohio Gov. John Kasich on Thursday promised a thorough investigation into what caused the thrill ride to send riders suddenly tumbling through the air.
Republican Gov. John Kasich  says he has ordered a full investigation and ordered that all fair rides be shut down until additional safety inspections can be completed.
Dramatic video captured by a bystander shows the ride swinging back and forth like a pendulum and spinning in the air when it crashes into something and part of the ride flies off, throwing riders to the ground.
In a statement posted on its Twitter page, the fair says it is investigating. It did not immediately respond to a request seeking further comment.
CAUTION: Below is video of the accident, it may be disturbing to some viewers