Officer killed in Clayton County car accident, officials say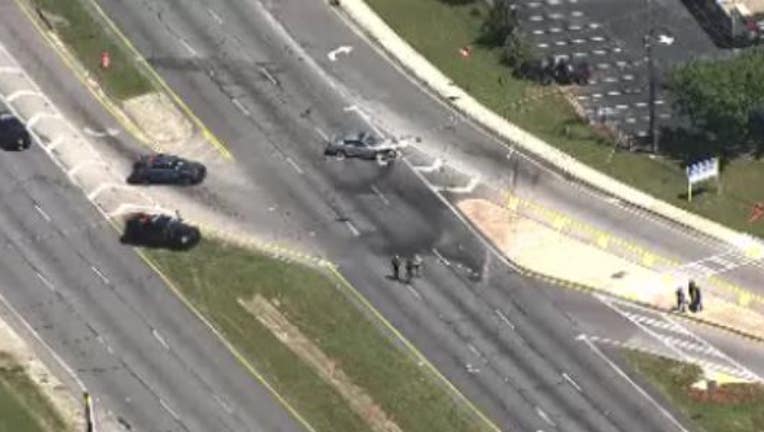 article
CLAYTON COUNTY, Ga. - Police in Clayton County are remembering one of their own who was killed in a car crash on Monday.
The accident happened near the intersection of Tara Boulevard and North Main Street around 9:40 a.m. Clayton County police said officers responded to a report of a two-car crash with injuries.
When officers arrived at the scene, they discovered one of their own was involved. The officer, later identified as Armando Mendoza, was rushed to an area hospital where he later died.
A police spokesperson called the discovery extremely sad.
"At the end of the day, we are of course a family but when you know the person personally it definitely hits a little different," said Officer Aubriel Stroud, Clayton County Police Department.
Officer Stroud gave some insight on Officer Mendoza. She said he joined the department after visiting with his mother.
"He came at one point to the department with his mother that catered an event for the department and we met him there," Officer Stroud said. "And that's when he realized he wanted to be a police officer, so we all talked to him and told him everything that it was about. And eventually joined the team."
Stroud also said Mendoza had a real passion and dedication for his job.
"This was something that he already wanted to do so, so he kind of already had an understanding of what it was but we were there to just help make that decision," the officer said.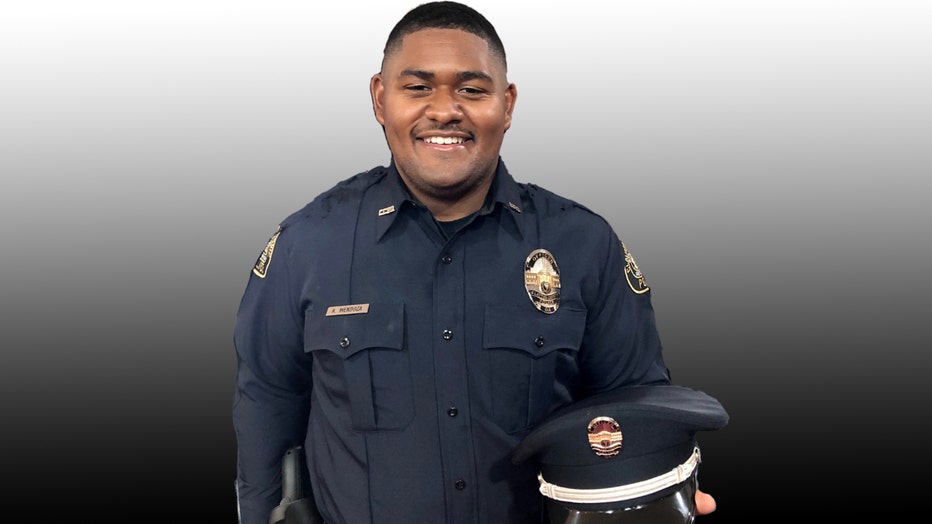 Officer Armando Mendoza (Family photo)
Officer Mendoza had been with the department for less than a year.
Sheriff Victor Hill released a heartfelt statement extending his condolences to Officer Mendoza's family as well as Chief Kevin Roberts and the Clayton County Police Department. It reads in part:
"I had the honor of meeting this young man when I would dine at the 'Plaza Gourmet' which is owned by his family, and where he worked prior to becoming a police officer. Mendoza always had an extremely positive attitude towards life and others and had notably good manners that is very rare today. Mendoza adored his mother and loved serving her gourmet food. On one of my visits to the 'Gourmet Plaza' I asked Mendoza what should I try on the menu and he is insisted that I try his mother's fish taco.  I told Mendoza I had never had fish on a taco and asked if he was sure about this choice. Mendoza told me to trust him and I was very glad I followed his judgment. From that moment on, Mendoza told me what to eat at his family's restaurant and never steered me wrong. Sometimes Mendoza would walk me out to my patrol car so that I could cut the blue lights on for him. I thought he just liked lights, but I should have seen the handwriting on the wall of what was to come.
"On one visit to [the] restaurant, Mendoza in his consistent polite manner asked if it would be ok to sit and talk to me while I ate. He had a concerned look on his face which in turn made me concerned. After serving me his suggested meal on the menu, Mendoza pulled up a chair so that we could talk. I thought he needed help with a problem. However, I was pleasantly surprised when Mendoza paid the highest compliment a young man could ever pay a Sheriff when he told me he wanted to be in law enforcement and wanted to know if I would hire him. Of course, my answer was yes, but not completely with what Mendoza wanted. I told Mendoza that it was customary at the Sheriff's Office to hire people with no road experience in the jail first before putting them on the streets. Mendoza was very clear with me that he only wanted to work on the streets and ask if I would still help him. I agreed to help and suggested Mendoza go apply at the Clayton County Police Department where I got my start and use me as a reference. Mendoza said after he got a few years under his belt he would come back to see me for a job.
"I can't honestly say that I helped Mendoza get the job with the County Police. He would have gotten hired with or without me. Anyone who interviewed this young man would have instantly seen his potential and knew he would be a tremendous asset to have on the force.
"Once Mendoza made it to patrol the streets, I would see him out on crime scenes and sometimes when he would bring prisoners into my jail. He was always smiling and would often tell me how much fun he was having. He simply loved being a Clayton County Police Officer and I was very happy for him, and very proud of him as well.
My fondest memory of Mendoza will always be when I was responding lights and siren to a man with a gun call on Mt. Zion Rd when I noticed a County Police Car trailing me every step of the way. When I arrived on scene and exited my patrol car, I was pleasantly surprised to see that the officer who had my back the whole time was Mendoza. After the scene was secured, we chatted and I complimented Mendoza on how well he was handling the job of policing. We shook hands, hugged, and as I walked off I will never forget the last words he said to me: 'Sheriff I'm still coming to work for you one day.'
"You can rest in peace son, although the time of your service was short, the job you did protecting Clayton County was well done."
The driver of the vehicle, whose name has not been released, was also rushed to the hospital with serious injuries.
The investigation of the crash has been turned over to the Georgia State Patrol.
WATCH: FOX 5 Atlanta live news coverage
_____
Sign up for FOX 5 email alerts
Download the FOX 5 Atlanta app for breaking news and weather alerts.