Missing 21-year-old Atlanta woman found in good health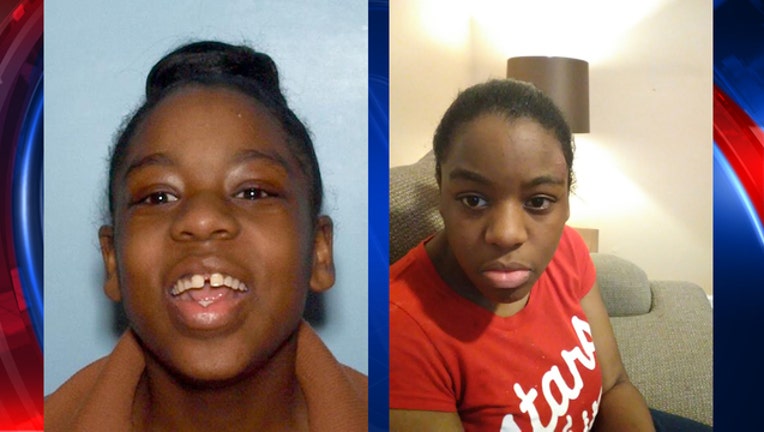 ATLANTA (FOX 5 Atlanta) - UPDATE: Atlanta Police late Monday evening said officers located 21-year-old Sallisha "Sally" Burras at Grady Memorial Hospital. Police said she is in good health.
-----
ATLANTA (FOX 5 Atlanta) -- Atlanta police are searching for a missing 21-year-old woman and they need your help to bring her home safely.
Officials said Sallisha Burras was last seen around 4 p.m. Sunday at a home on the 1400 block of Vaughn Street SE in Atlanta.
Burras' family said she has autism, is non-verbal, and has the mentality of a child.
"She has on this red shirt from the Fourth of July. She is 21 however she has the mind capacity of a 3-year-old," said Lydia Wilson, Burras' mother, who said she is beside herself worry for her missing daughter.
Wilson said they call her Sally and that she requires full-time care.
"Somebody could easily take advantage and it won't be hard to do," said Wilson.
Sally's grandmother showed FOX 5 News the bedroom window she believes Sally left from sometime Sunday night after getting upset about not getting pens and paper to draw.
Outside was a broken screen and Sally's bedding, dropped there to provide a scent for a police K-9. That K-9 lost her scene near a Dollar General store on Memorial Avenue, just a few blocks away from her home on Vaugh Street SE.
Police also said a helicopter searched the area from the air and officers on foot.
"She wouldn't know how to manage, how to maneuver outdoor by herself," said Jennifer Wilson.
Sally's grandmother and others spent much of Monday spreading fliers, hoping somebody can help locate Sally.
They said because of her challenges Sally doesn't have a cell phone or ID on her.
Sally's mother believes finding Sally becomes more urgent with every passing hour.
"I don't see her trying to give herself food and nourishment or trying to lay down somewhere so she's, somebody has my baby, you know what I mean," said Wilson.
Police said officers have checked area hospitals without any signs of Sally.
She is 5-feet-6-inches tall with a weight between 85 and 95 pounds. She has brown hair and brown eyes.
Burras was last seen wearing a red T-shirt, blue jean shorts, and black tennis shoes.
Anyone with information which could help police should call 911 or the Atlanta Police Adult Missing Persons Unit at 404-546-4235.