Atlanta airport gears up for busy Memorial Day travel crowds
ATLANTA - The unofficial kickoff to summer is here and officials are warning travelers to be ready for big crowds across the country.
This Memorial Day holiday weekend is expected to be the busiest on record with an estimated 42.3 million people expected to travel between Friday and Monday nationwide.
In Georgia, AAA estimates more than 1.2 million people will drive and over 115,000 will be taking to the skies.
 "Bookings are up over 200% as compared to 2022," said AAA spokesperson Claire Murdock.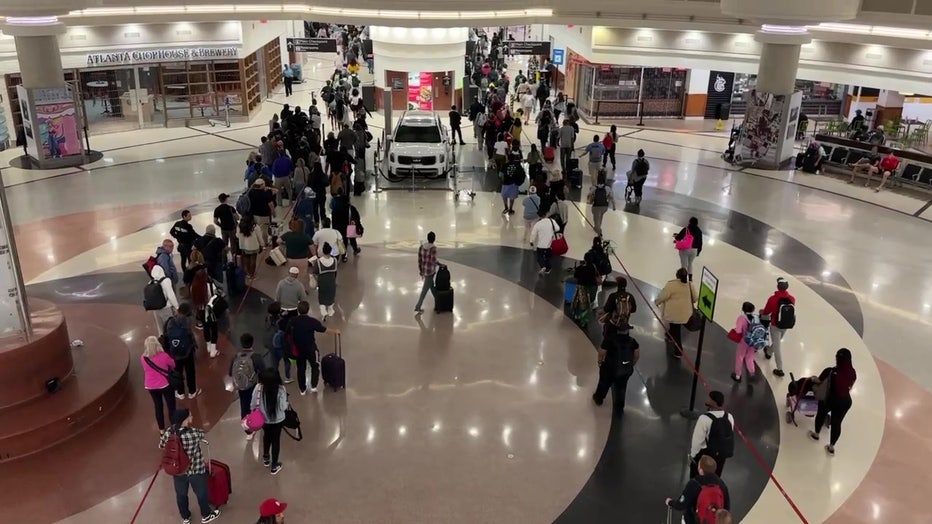 ATLANTA AIRPORT PASSENGERS' UGLY BEHAVIOR SOARS, DIRECTOR WARNS
At Hartsfield-Jackson Atlanta International Airport, officials are gearing up for the busiest travel day of the season.
In total, the TSA expects more than 2 million people to pass through the world's busiest airport over the weekend with more than 350,000 passengers passing through on Friday alone.
The early morning crowds led to long lines at the airport's main security checkpoint, but travelers told FOX 5 that they were prepared.
"I was expecting large crowds, so I left a few hours early," traveler Deborah Gousha said.
MEMORIAL DAY EVENTS, CEREMONIES IN METRO ATLANTA
Hartsfield officials are expecting travel numbers to get close to where they were before the COVID-19 pandemic.
"We are approaching pre-pandemic numbers. In 2019 for the Memorial Day holiday, we expected about 2 million passengers. This year, we're expecting 2.1 million, so we are getting busier, said Andrew Gobeil, the airport's director of communications.
Airport officials are encouraging travelers to check parking options before heading for their flights and to know that much of the parking is under construction.
Officials say drivers should consider taking MARTA or parking at ATL West or ATL Select.
Like every year, they also encourage you to get to the airport early
On the roads, AAA says gas prices are down about 90 cents compared to last year in Georgia. One thing that is not lower is flight prices. AAA says plane tickets are up 40% to top destinations, but even the increased price isn't deterring people with the travel bug.