Loaded gun found in 15-year-old student's backpack in Marietta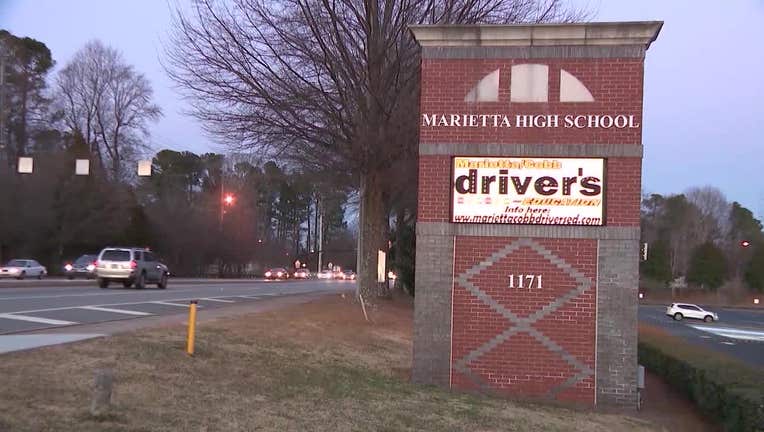 article
COBB COUNTY, Ga. - A gun was found in a student's backpack in Marietta, according to a letter sent to Marietta High School parents and guardians.
The letter states that a student told an assistant principal that another students was in possession of a gun. The school administrator contact the school's Marietta Police Department School Resource Officers. The school was then placed on "hold" to prevent class changes and the student in question was detained. A loaded gun was found during search of student's backpack.
Read the full letter below:
Dear MHS Families,
This email pertains to a situation that occurred at MHS today. It was important to me that I notify our families as soon as possible.
Today, a student reported to an assistant principal that another student was in possession of a gun. The school administrator immediately engaged our Marietta Police Department (MPD) School Resource Officers. At the directive of MPD and me, the school was placed on a "hold" to prevent the upcoming class change. The student in question was immediately detained by MPD and, upon search of a backpack, a loaded gun was discovered.
I want to acknowledge the student who did exactly what we teach — if you see something, say something. I remain grateful for the quick actions of our administrators and SROs. All worked quickly and collaboratively to address this situation.
In closing, I commit to you that we will continue to make safety our highest priority. Every day we work collaboratively with MPD to make sure that we have the appropriate safety measures for all our MCS schools — we will continue this partnership for the safety of our staff and students.
Marvin J. Crumbs, Ed.D.
Principal
Marietta High School
According to the Marietta Police Department, the 15-year-old student had a loaded Glock 19 handgun in his bag. He was booked into the Youth Detention Center and is facing two felony charges: possession of firearm on school property and possession of firearm in commission of a crime.