Kylie Jenner faces backlash for controversial lion head dress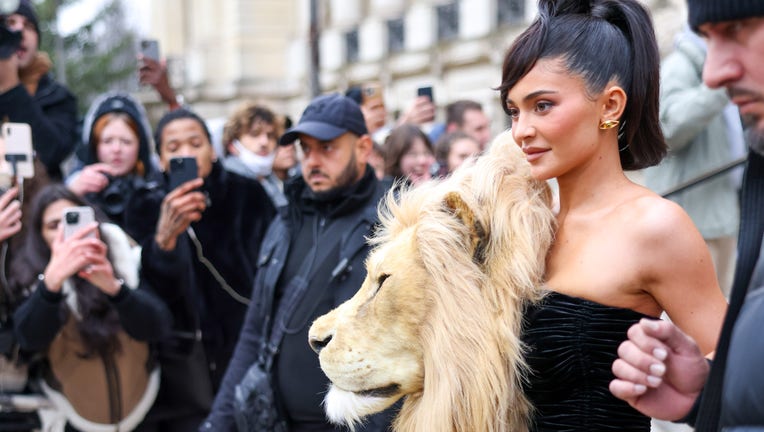 article
PARIS - Kylie Jenner was nearly engulfed by the massive lion head on her Schiaparelli Haute Couture gown at Paris Fashion Week on Monday. 
The reality-star and makeup mogul wore a striking black velvet cinched gown with an embroidered lion head attached to her neckline.
According to the designer's Instagram page, the animal head was created from "hand sculpted foam, wool and silk faux fur, and hand painted to look as life-like as possible, celebrating the glory of the natural world." They emphasized "NO ANIMALS WERE HARMED IN MAKING THIS LOOK."
The striking design garnered backlash on social media, with users claiming the animal heads might promote trophy hunting.
KYLIE JENNER SLAMS CLAIM SHE POSTED PICS OF HER KIDS TO 'COVER UP FOR BALENCIAGA': 'ALWAYS SOMETHING TO SAY'
One user wrote on Instagram, "The only thing this is glorifying is the killing of these animals, even if this is fake. The lion, cheetah and the wolf seem like they are literally meant to look as if they were killed and used for clothing. How is this celebrating the glory of the natural world. Make it make sense."
PARIS, FRANCE - JANUARY 23: (EDITORIAL USE ONLY - For Non-Editorial use please seek approval from Fashion House) (L to R) Alexia Niedzielski, Giovanna Battaglia Engelbert,Tatiana Santo Domingo, Lauren Santo Domingo and Bianca Brandolini d'Adda attend the Giambattista Valli Haute Couture Spring Summer 2023 show as part of Paris Fashion Week  on January 23, 2023 in Paris, France. (Photo by Pascal Le Segretain/Getty Images)
Another person expressed their dismay, writing "Sorry but it's a no for me. Whether it's fake or not, it promotes animal cruelty," while an additional comment read "Celebrate the glory of the natural world???? Doesn't make any sense. This is so wrong. You are promoting animal violence and supporting trophy hunting and poaching."
Jenner shared her look on Instagram and thanked Schiaparelli designer and creative director Daniel Rose Berry. "BEAUTY AND THE BEAST. thank you @danielroseberry and @schiaparelli for such a special morning. wow i loved wearing this faux art creation constructed by hand using manmade materials. beautiful beautiful," Jenner wrote alongside a series of photos.
However, some of her followers were critical of her decision to model the design, commenting, "There are times when you just say no. This was one of them." Another person wrote, "One of your worst fashion mistakes of all time."
A representative for Jenner had no comment.
The lifelike creation was one of several looks debuted at the Schiaparelli show, with models walking the runway with other animal faces attached to their ensembles.
CLICK HERE TO SIGN UP FOR THE ENTERTAINMENT NEWSLETTER
Naomi Campbell was photographed walking the runway in a furry black trench coat with a wolf's head on her shoulder. Irina Shayk wore a look similar to Jenner's as she strutted down the runway. Shalom Harlow wore a leopard print dress that had a snow leopard's head sewn into the bodice.
CLICK HERE TO GET THE FOX NEWS APP
Jenner may be receiving some backlash on social media for her controversial fashion choice, but she's also getting some love for finally sharing her baby boy's new name. 
She revealed her son's name is Aire. According to Nameberry.com, "Aire" is a Hebrew name meaning "lion of God."
As for how his name is pronounced, after an Instagram fan page shared the news, with the caption, "Do you think it's pronounced air or airey?" Kylie commented, "AIR" with a red heart emoji.
Jenner and Travis Scott initially named their son Wolf Jacques when he was born last February. However, a month later Jenner shared on her Instagram Story that his name "isn't Wolf anymore."
Aside from sharing her son's new name, the 25-year-old also debuted his face for the first time after nearly a year of shielding him from the public eye.
The proud mom shared some adorable photos of her and Scott's 11-month-old son on social media and simply captioned the series "AIRE" with a heart emoji.
Read more of this story from FOX News.