Hiker killed, 2 others injured in 'wet landslide' while hiking in California's Sierra Nevada
BIG PINE, Calif. - A hiker was killed, and two others were injured after they were caught in a wet landslide avalanche in the Sierra's Big Pine in California.
Deputies with the Inyo County Sheriff's Office were notified about 4:30 p.m. Sunday of an avalanche incident around 12,500 feet on Split Mountain above Red Lake.
Split Mountain is one of the 11 California peaks that is over 14,000 feet tall. It's also considered by hiking professionals as likely the most difficult of the group to get to.
Authorities said three hikers had become stranded while descending the mountain after summitting earlier in the day. 
Before responding to the scene, the Inyo County Search and Rescue team said they studied the weather, terrain and access route. 
"They concluded the avalanche hazard to the team was low later in the day, and they should proceed with the mission," the sheriff's office said in a release. "However, access by vehicle and foot was problematic and time consuming, due to road conditions and the steep trail."
DRONE VIDEO CAPTURES AMAZING POWER OF AVALANCHE AS IT SWEEPS DOWN CANADIAN MOUNTAIN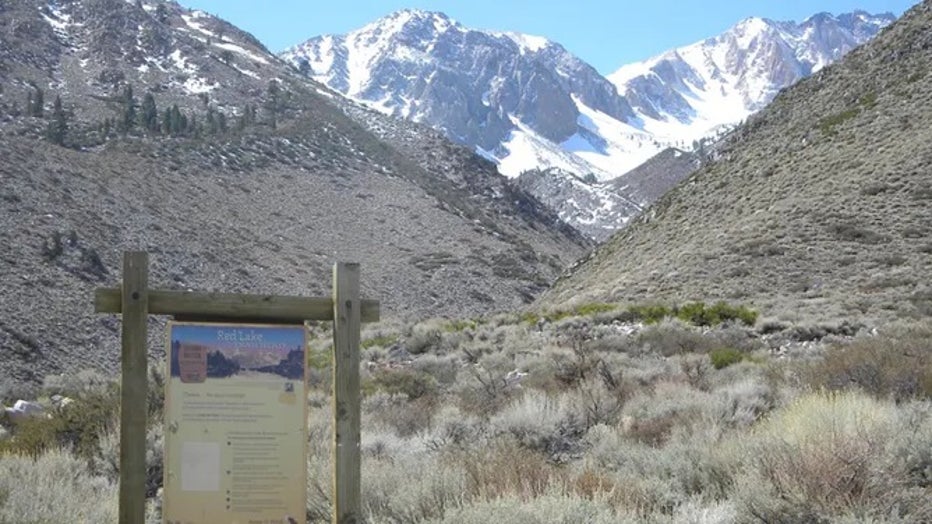 Infrequently traveled, the primitive trail to Red Lake is steep, rugged and un-maintained. (NPS)
A helicopter at the neighboring China Lake Naval Air Weapons Station helped with the transportation of four volunteers to 10,466 feet elevation at Red Lake later that evening. The team then ascended nearly 2,000 vertical feet on foot to the avalanche site. 
After locating the hikers, they found one had died and two others were hurt. The group came back down to Red Lake to spend the night and a helicopter later evacuated the two injured hikers from near the lake.
Weather conditions the following morning were too bad for a California Highway Patrol Helicopter to retrieve the hiker's body. After a few hours of ascending to the scene again by foot, rescue crews managed to lower the body down to Red Lake by a roped litter.
Fourth death in the region due to 'unforgiving' snow conditions
The sheriff's office said this was their fourth serious mission in three weeks. Three additional fatalities and one serious injury were reported where the snow was the primary contributing factor. 
"Combine snow with inexperience, and you have a formula for an accident," deputies said. "The warm temperatures are creating very unforgiving snow conditions."
Getting formal snow travel and avalanche training before going on steep snow slopes could save your life, the sheriff's office warns. 
"Also, please remember rescues can take many hours or even days," they said. "Especially when weather, terrain, and conditions are not ideal."