Hiker dies in Grand Canyon National Park during an attempt at a difficult trek, NPS says
GRAND CANYON - The National Park Service says a woman who was attempting to hike to the Colorado River and back in a day died in Grand Canyon National Park on May 14.
At around 9 p.m., the park's communications center got a report of an unresponsive hiker on the Bright Angel Trail above the Three-Mile Resthouse.
First responders trekked down the trail and reportedly found the woman without a pulse.
"All attempts to resuscitate the individual were unsuccessful. The victim has been identified as a 36-year-old female from Westfield, Indiana …" NPS said.
Park rangers are sending a warning as summer months near, saying it "strongly urges visitors, especially inner canyon hikers and backpackers to be prepared for excessively hot days in the coming weeks. In the summer months, temperatures on exposed parts of the trail can reach over 120°F (49 °C) in the shade."
Rangers don't recommend hiking the inner canyon between 10 a.m. and 4 p.m. They also say it's not a good idea to try to hike from the rim to the river and back in a day.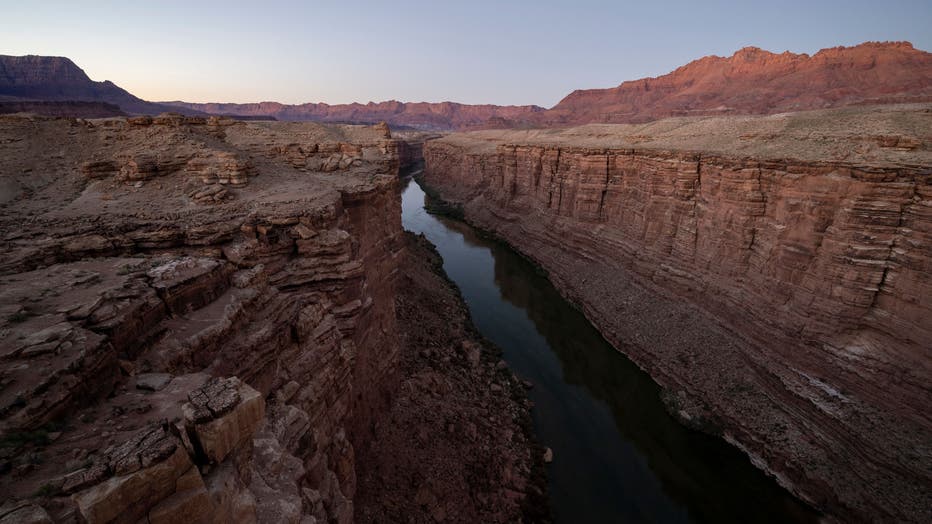 A view of the Colorado River from the Navajo Bridge in Marble Canyon, Arizona, August 31, 2022. - Amidst the drought and water shortages plaguing the country, last month the US government declared a water shortage on the Colorado River for the first
Below is more information from NPS about staying safe while hiking.
Hiking in extreme heat can lead to serious health risks including heat exhaustion, heat stroke, hyponatremia (a life threatening electrolyte imbalance from drinking too much water and not consuming enough salt), and death. Be aware that NPS efforts to assist hikers may be delayed during the summer months due to limited staff, the number of rescue calls, employee safety requirements, and limited helicopter flying capability during periods of extreme heat or inclement weather.
Park staff remind visitors that there are ways to safely hike below the rim, for those who are prepared, well-acclimated to the climate and elevation, have the appropriate gear, and who have prior experience hiking in steep, desert terrain. Important tips for a successful hike include the following: balancing food, electrolyte, and water intake; drinking when thirsty; getting wet to stay cool; and stopping hiking if you start to feel ill.
Visitors should evaluate their level of experience and plan accordingly. For more information on hiking in the summer months in Grand Canyon, visit: https://www.nps.gov/grca/planyourvisit/hike-tips.htm