Gulf Shores police dog dies in hot car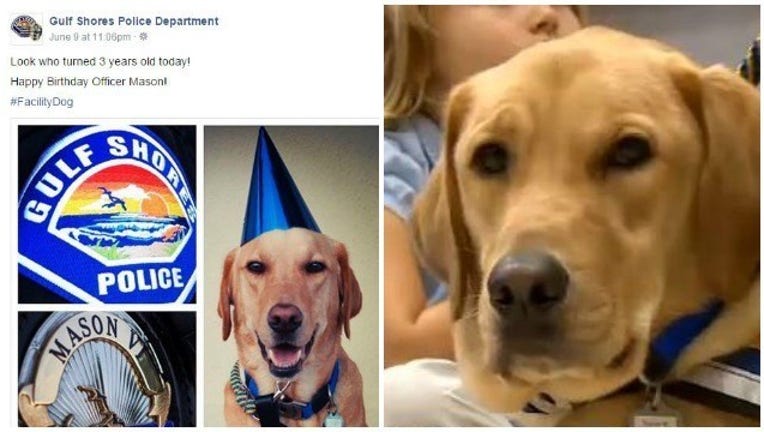 article
FOX 5 News has learned an Alabama police facility dog has passed away after being left in a hot vehicle.
According to a news release from the Gulf Shores Police Department, Officer 'Mason' died on Thursday. The dog's handler, Corporal Josh Coleman, forget the pup was in the back seat of his patrol car, according to police.
While Mason was not an enforcement K-9, he did serve as the Community Relations dog for Gulf Shores Police. Police say because of this, his handler's car wasn't equipped with heat alarms, water bowls and other protective measures that would exist in a K-9 handler's vehicle.
Investigators say when Corporal Coleman found Mason he was in serious distress. Coleman rushes the dog to a local vet. The dog was then transferred to an advanced facility in Pensacola where police say he was treated aggressively for his condition.
Police say there were hopeful signs of improvement Friday morning, but his condition started to deteriorate that evening. At 11:00 p.m. Friday night, Mason passed away after going into respiratory failure.
Police say no criminal charges are being filed, but the Department and City have taken "sanctions against Corporal Coleman."
The following statement was included in the news release:
This situation has been devastating for Cpl. Coleman and his family and we hope that they are able to work through their understandable emotions. This is a tragic occurrence that has left the entire organization mourning a terrible loss. It also illustrates how easy it is to become distracted, and how quickly heat can affect those that we love that are particularly vulnerable to it. Please keep this in mind when transporting children, pets, or the elderly.
FOX 10 WALA spoke with Gulf Shores Police Department's Sgt. Jason Woodruff. Watch the interview in the video above.
APP USERS: Click here to view the photos and video, courtesy of WALA.