Google Maps to show real-time information on bikesharing stations in Bay Area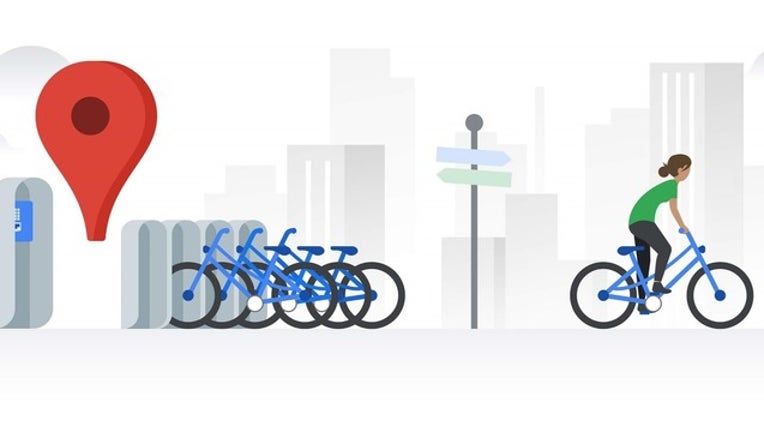 article
San Jose, Calif. (KTVU) - Google is launching a new feature that will let users search for a bikeshare system in Google Maps and see available bikes nearby. The feature, initially launched in New York City a year ago, will roll out Wednesday to 24 cities in 16 countries, including San Francisco Bay Area. 
This new feature, which will be available on Google Maps on Android and iOS, provides a bird's eye view into bikesharing will help users locate bikeshare stations, and give real-time information on how many bikes are available at the station, and if there's an empty space at a station near the destination for users to leave the bikes. 
This new capability comes courtesy of Google's partnership with Ito World, a UK-based company that aims to solve transportation challenges such as congestion, pollution, and private car dependency with real-time transit data feeds.
The 24 cities this feature is being rolled out to on Wednesday are: Barcelona, Berlin, Brussels, Budapest, Chicago, Dublin, Hamburg, Helsinki, Kaohsiung, London, Los Angeles, Lyon, Madrid, Mexico City, Montreal, New Taipei City, New York City, Rio de Janeiro, San Francisco Bay Area, São Paulo, Toronto, Vienna, Warsaw and Zurich. 
Google Maps has been steadily working to make its app more of a real-time indicator of the transit situation, be it road traffic, or timings of buses and trains. The app recently launched a feature that predicts how crowded a bus, train or subway ride will be.
Bikesharing is a global megatrend, with more than 1600 bikeshare systems and 18 million shared bikes in urban centers worldwide, according to Statista.