Georgia ports report 2nd straight month of record growth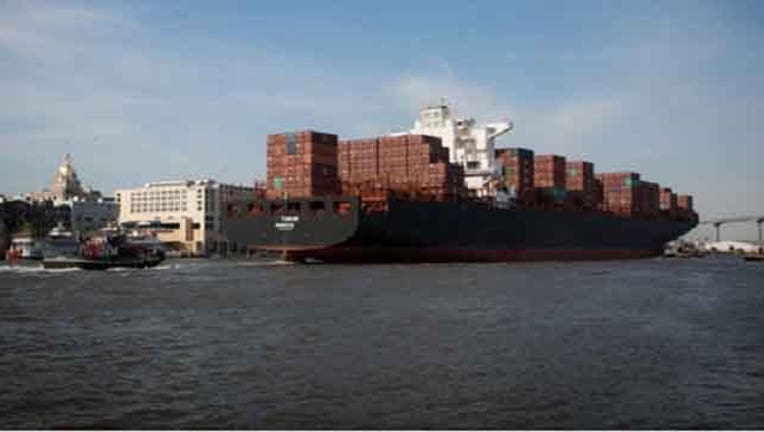 article
SAVANNAH, Ga. (AP) - The Georgia Ports Authority reported its second consecutive month of record growth Monday, saying an expanded Panama Canal is driving up cargo volumes more rapidly than expected.
The state's seaports in Savannah and Brunswick handled 2.94 million tons of imports and exports in February, up nearly 10 percent from the same month last year. It was also the Georgia ports' second-highest monthly tonnage ever, just shy of the record 3.02 million tons recorded in January.
The growth is being driven by a spike in cargo containers, used to ship everything from consumer electronics to frozen chickens, since the Panama Canal finished a big expansion last summer. While Savannah, the fourth-busiest U.S. container port, has years to go before finishing a $706 million harbor deepening to make room for larger ships, they're already arriving at higher tides and with lighter loads.
"A lot of the growth is coming from the canal," said Griff Lynch, the authority's executive director. "That's what we expected to happen. It's happening probably a little faster and stronger than we thought."
Savannah handled 330,539 container units last month, its highest February volume and the port's sixth-best monthly total ever.
Overall, the ports moved 21.5 million tons of cargo in the first eight months of fiscal 2017, an increase of 6.5 percent compared to the same period last year. Savannah has handled 2.52 million container units since the fiscal year began July 1, up 4.3 percent from fiscal 2016.
While the ports' core container business is booming, bulk cargo that's key to the Port of Brunswick has been suffering.
A reduction in bulk goods such as rubber, lumber and automobiles led to a 9.5 percent monthly decline for February and a 3.9 percent drop for the fiscal year to-date. Other bulk goods such as biodiesel, vegetable oil and soybean meal were down 11.1 percent for February and 15.7 percent for the past eight months.
Port officials said bulk shipping has been hurt by cheap prices for containers. Port officials said the price difference is so drastic that containers are now being used to ship goods such as logs and grain that are normally shipped in bulk.
"Anything that was going in the hull of a ship is going into containers now," said Jimmy Allgood, board chairman for the port authority.
Lynch said he expects prices for containers to level off compared with bulk shipping eventually. He also noted that the Port of Savannah's container terminal accounts for 87 percent of the revenues generated by Georgia's seaports.
"The good news is where the lion's share of our business is, that's growing," Lynch said.
___
This story has been corrected to show that Georgia ports reported two months of record growth.