Florida Chick-fil-A Offers Incredible Nugget Deal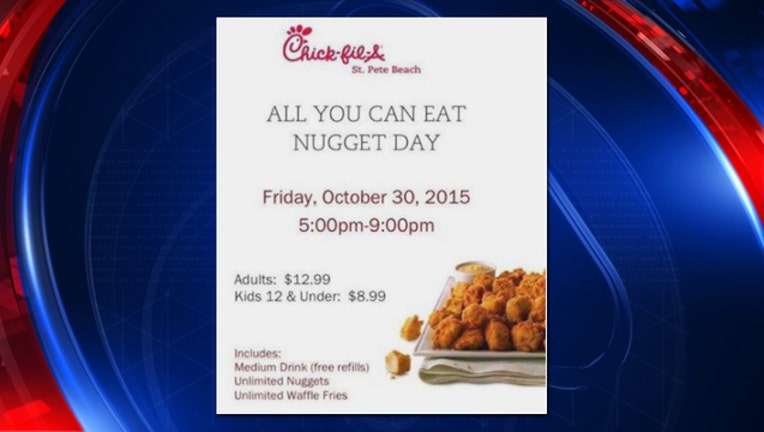 article
Chick-fil-A foodies across the country had broken hearts on Tuesday when they found out the sweetest deal, possibly ever, was only available at a Florida location!
A Florida Chick-fil-A got more than they bargained for after they announced an incredible deal.
The St. Pete Beach Chick-fil-A Facebook page shared a post stating for just $12.99 on Tuesday, you could purchase all-you-can-eat chicken nuggets and waffle fries. Kids under the age of 12 for just $8.99
A deal that's too good to be true and a bummer for us folks in Georgia, because it's only available at the St. Pete Beach location.
However, if you head over to their Facebook page you might notice the post no longer exists. That's because it had more than 100,000 Facebook shares Tuesday afternoon. 
Many people who shared the post with family and friends assumed it was a worldwide event (again, we're still bummed about that).
"We want to clarify that this is a promotion valid only at the St. Pete Beach Chick-fil-A restaurant, which is hosting the promotion as a way to celebrate and thank the community and customers they serve each day. This is not a national promotion and is not being offered at any other Chick-fil-A restaurants," said Mark Baldwin, spokesperson for Chick-fil-A, Inc.
Though the post no longer exists, the St. Pete Beach Chick-fil-A restaurant is still planning to honor the offer only at their location.