Elton John's touring goodbye: The icon's last show played in Sweden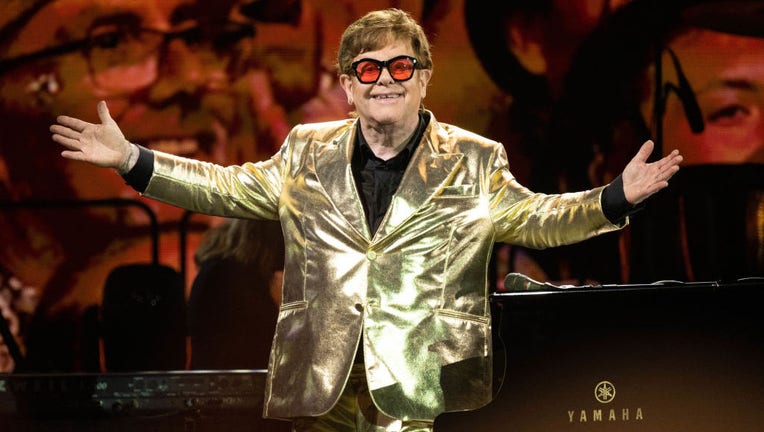 article
One of the most iconic performers of our time said goodbye to the stage Saturday. 
Sir Elton John wrapped up his 50-plus year career with a farewell tour, which came to a close on July 8 in Stockholm, Sweden. 
"What a journey this tour has been and now we find ourselves at the end of it. Tonight is the final night," John shared on social media ahead of the show. 
His post included a highlight reel of the tour, mentioning that 330 shows and more than 6 million fans were a part of the historic Farewell Yellow Brick Road tour. 
The British pianist and vocalist is now 76 years old. Little did he know when he kicked off the tour in September 2018 at the age of 71 that his long goodbye would take even longer. 
The tour was suspended in 2020 because of the COVID pandemic and resumed in 2021 in New Orleans.
But ahead of his final show in the U.S., John said the demands of taking the stage hadn't gotten to him. 
"I'm not tired," John told the Associated Press. "The audiences are absolutely amazing. They dress up, it's like a big party. And so rather than seeing it as a chore ... I'm going on stage every night thinking, 'What are they going to be wearing tonight? What's going to be the reaction tonight?' At the stage of my career, it's just an astonishingly rewarding thing to happen."
Record-breaking tour
His tour has been one for the record books as well. 
According to figures reported to Billboard Boxscore, the tour grossed $910.4 million on June 18, making it the first tour to ever cross the $900 million barrier. 
Behind it are previous record-holders Ed Sheeran with $776.4 million, and U2's U2 360 Tour with $736.4 million. That separates John from his closest competitors by $134 million, Billboard reported.
John's last show in the United States was in November at L.A.'s Dodger Stadium — the site of two career-highlight gigs in 1975 — and featured guests including Dua Lipa, Kiki Dee and Brandi Carlile.
The final leg of the tour included dates in Australia, New Zealand and Europe before concluding Saturday in Stockholm, Sweden.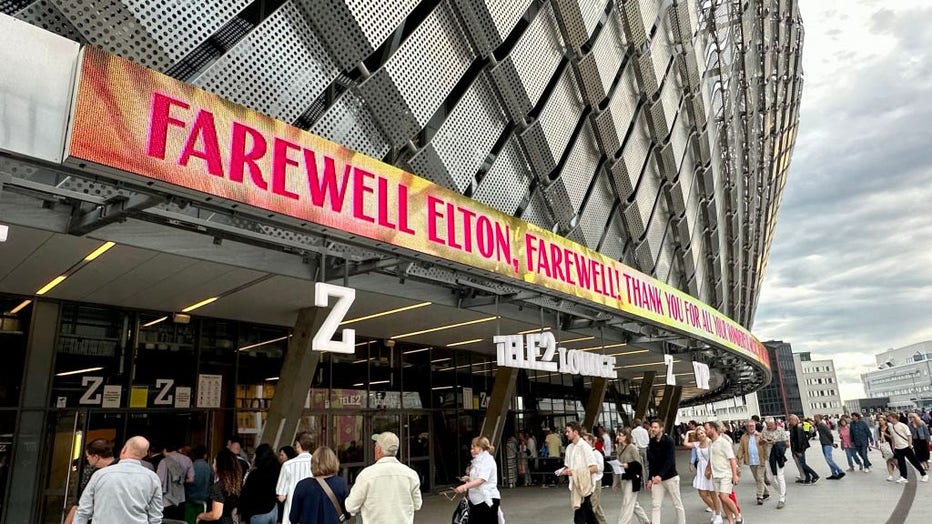 Music fans arrive for the last concert of Elton John's multi-year farewell tour. The sign at the concert hall reads, "Farewell Elton, farewell! Thank you for all your wonderful music, we will miss you." After almost five years, the British pop star i
Is this really goodbye?
Is the Yellow Brick Road tour really goodbye? 
"It is definitely the farewell tour," he said in November to the AP, although he added that a short-term residency, such as Kate Bush's three weeks at London's Hammersmith Apollo in 2014, had its appeal.
"But to be honest with you, when I come off stage in Stockholm next July 8, I'll be looking forward to having a holiday, I'll be looking forward to taking a breather," he said. 
Then it's back to work on projects already in progress, including "The Devil Wears Prada: The Musical."
This story was reported from Detroit. The Associated Press contributed.