Deputies: Clayton County man accused of beating mother to death
CLAYTON COUNTY, Ga. - Clayton County police have arrested a man accused of beating his mother to death.
Officials tell FOX 5 they were called to a home on Amberly Road in Conley Tuesday night for a domestic dispute.
When they got to the scene, officers say they found Khalil Newby sitting on the street drinking water.
According to the Clayton County Sheriff's Office, Newby had visible blood on him.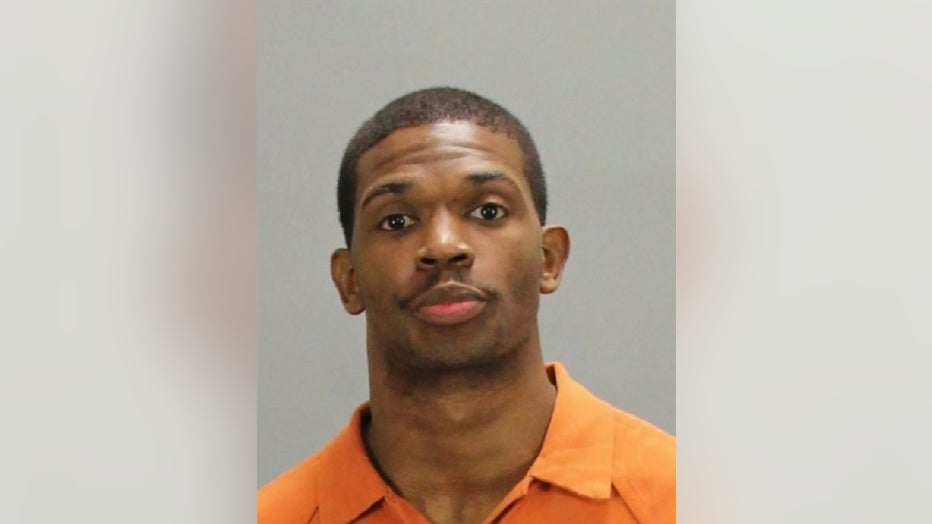 Khalil Newby has been charged with murder. (Clayton County Sheriff's Office) (Clayton County Sheriff's Office)
When they entered the home, officers say they found the body of Newby's mother. Police say she had been beaten to death.
Sisters Delinda and Brandy Byrd continue to try and process why their nephew would take the life of his own mother.
"There were blows to the right side of the head and blows to the left side of the head with an object and in her eye. He stabbed her multiple times with a key going from her face to her neck," Brandy Byrd said.
"He has a history of mental illness. He has a long history of mental illness," Delinda Byrd said.
Family members said Newby was in a mental institution just a week before.
Through it all family members said Kimberly, his mother, was always by his side.
"She kept saying 'I love you son. You have to get ahold of this demon' and trying to encourage him," Delinda Byrd said.
"She was talented. She would light up the room," Jaylin Walker said.
Family members describe the 47-year-old as funny and loved to roller skate but her pride and joy was her 22-year-old son who she leaves behind.
The son now has to process not one, but two losses.
"He loss a mom and a brother," Delinda Byrd said. "He's taking it very hard. Very very hard. They were best friends. That was her baby."
The family wants others to be aware and alert when it comes to mental illness.
"If you have someone that is threatens your life and says they will kill you. Even if you aren't scared of the person. It's not about being scared. Humble yourself and don't be afraid to reach out for help," Brandy Byrd said.
WATCH: FOX 5 Atlanta live news coverage
The family has set up a GoFundMe to help with expenses and the younger son. if you would like to donate, click here. 
Detectives secured a murder warrant for Newby. He's currently in custody at the Clayton County Jail. 
Download the FOX 5 Atlanta app for breaking news and weather alerts.