DeKalb County police officer shot, suspect killed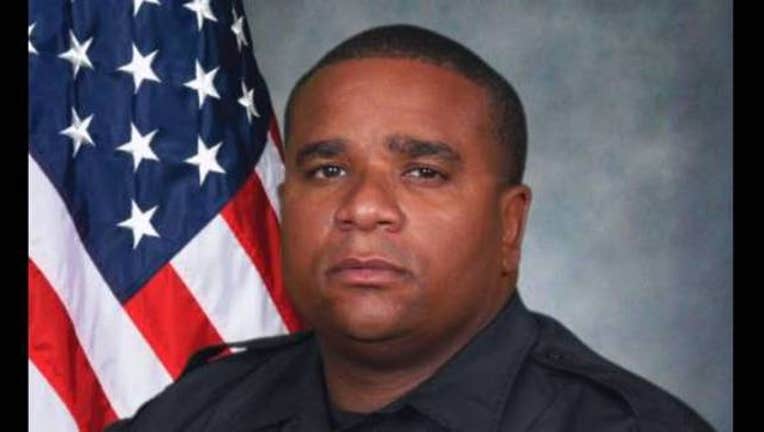 article
An early Sunday morning shootout left a DeKalb County Police officer injured and the suspect dead.
Medics rushed Officer Chester Lamb to Grady Memorial Hospital with five gunshot wounds.
An early Sunday morning shootout left a DeKalb County police officer in serious but stable condition and the suspect dead. The incident took place at the Marquis Point Apartments in Stone Mountain.
Late Sunday afternoon, the Georgia Bureau of Investigation identified the dead man as Frederick Farmer, who was in his 20's.
Interim DeKalb County Police Chief James Conroy told FOX 5 News that several residents called 911 at around 2 a.m. to report a man firing a gun into an apartment building. But by the time officers arrived, the man had left the complex.
Officers discovered several bullets from the first incident had damaged the interiors of apartments. But police went to the complex a second time about an hour later, after a resident reported the man who had been shooting was knocking on her door. Police said officers arrived, the suspect opened fire.
Chief Conroy said, "Before the officers could even enter the building, the suspect immediately and unexpectedly came out and began firing at the officers."
Chief Conroy said suspect Farmer shot Lamb multiple times. Lamb fired back, killing Farmer in the breezeway of building 1306. By Sunday afternoon, a yellow crime scene marker tagged the location of a handgun used in the shootout.
Visitors poured in all day Sunday to Grady Memorial Hospital to get the latest information on Officer Lamb who has been with the department for seven years.
"Farmer's body will be taken to the DeKalb County morgue where an autopsy will be performed," G.B.I. spokeswoman Sherry Lang said in an email to FOX 5.
DeKalb County Police placed Lamb and the other officer involved in the incident on administrative leave, pending the outcome of the GBI investigation.
Officer Lamb was released from the hospital Tuesday evening.