Coast Guard rescues 2 men from capsized boat in Georgia
SAVANNAH, Ga. - The Coast Guard says it rescued two people from a capsized boat in southeast Georgia after receiving a 911 call about their late return and their phones going unanswered.
The lifesaving effort involving a Coast Guard Air Station Savannah aircrew unfolded Sunday about four miles east of Jekyll Island. 
"Coast Guard Sector Charleston watchstanders received a report of distress through 911 dispatch, Saturday evening, that two men were late returning to Jekyll Harbor from Christmas Creek Marina and the phones of both men were going directly to voicemail," the Coast Guard said in a statement. 
The crew that responded to the area on board an MH-65 Dolphin helicopter later "spotted both men waving their arms, one in the water and one on the capsized boat," according to the Coast Guard. 
"The aircrew hoisted the men and transported them to Jekyll Island Airport to awaiting emergency medical services personnel," it added. "No medical concerns were reported."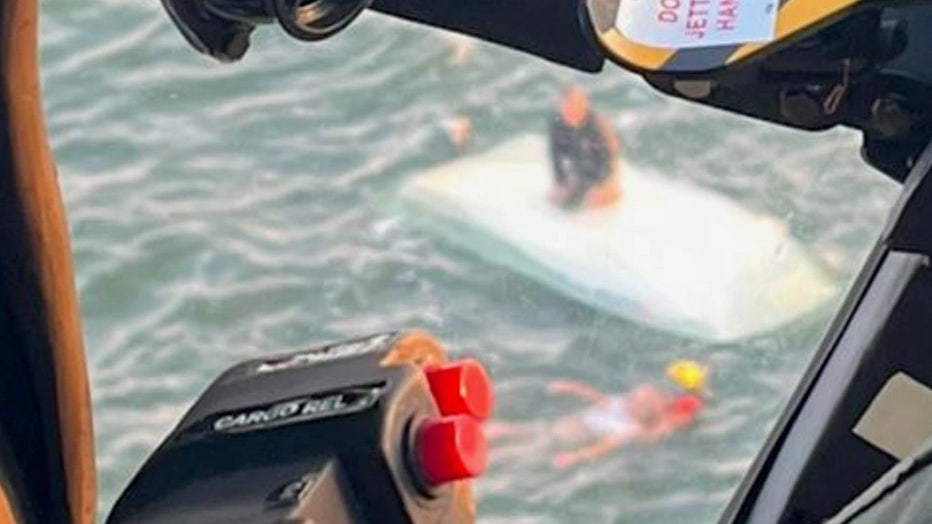 The U.S. Coast Guard responds to a capsized 16-foot boat offshore of Jekyll Island in Georgia on July 23. Officials say two men were rescued. This image was taken from the cockpit of a helicopter. (Coast Guard Air Station Savannah)
Lt. Tucker Williams, Air Station Savannah's public affairs officer, said in a statement that "[o]ur aircrew was able to conduct the rescue safely and efficiently with the best possible results." 
"The southeast is prone to powerful storms that aren't predictable and are capable of capsizing smaller vessels," he also said. "We recommend all mariners carry a radio, flares and other distress signals in case they encounter an unexpected situation." 
The rescue happened just days after a Coast Guard crew rescued a man who jumped into the Delaware Bay after flames engulfed his boat.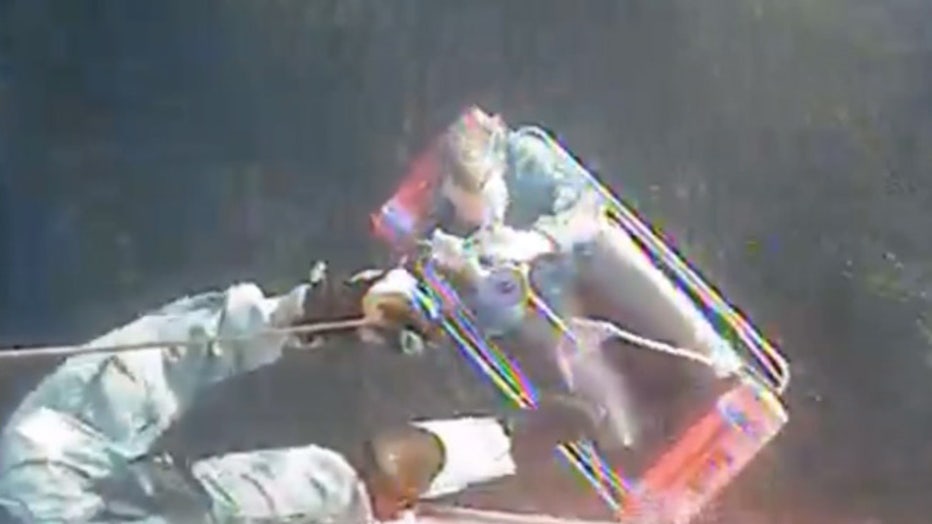 One of the boaters is seen being hoisted into the helicopter near Jekyll Island on Sunday. (Coast Guard Air Station Savannah)
In that incident, the 42-foot sport fisher, Done Deal, caught fire near the Delaware Bay's main shipping channel on July 18, the Coast Guard said. 
A good Samaritan reported the incident and provided updates to officials as a Coast Guard crew raced to the burning boat.  
The good Samaritan said the boat was fully engulfed and that the vessel's sole occupant had reached the bow. At some point, the man jumped into the water. 
The Coast Guard response boat arrived and pulled the man from the bay.  
Other vessels arrived from the Downe Township Fire and Rescue in New Jersey and the Little Creek Fire Company in Delaware and extinguished the fire. 
The victim was taken ashore to New Jersey for treatment, but no medical concerns were reported other than possible smoke inhalation. 
Get the latest updates to this story on FoxNews.com