Christmas in July: Here are things to do to get in the holiday spirit
For many, the countdown to Christmas begins early. 
Christmas is a time of year filled with joy and celebration, leaving many to miss the season after it passes. 
There's good news: You don't have to wait until December to get back into the Christmas spirit. 
Christmas in July has become a common occurrence of celebrating Christmas activities in the summer.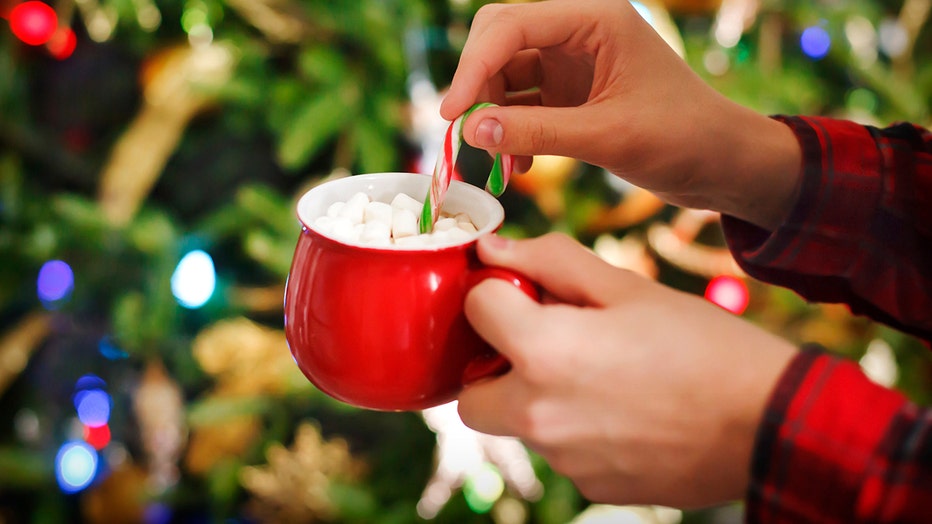 Young man hand holding cup of hot cocoa or chocolate with marshmallow. (Credit: Anjelika Gretskaia/REDA&CO/Universal Images Group via Getty Images)
It is a celebration intriguing to many who put a summer twist on Christmas classics. 
If you want to celebrate Christmas in July, but need inspiration for how, here are things that you can do. 
Start blasting the Christmas tunes
Begin to shop around for decor
Decorate Christmas cookies
Watch a Christmas movie while in the pool or outside
Make a summer themed Christmas tree
Throw a Christmas party
Whip up frozen hot chocolate
1. Start blasting the Christmas tunes
It's never too early to start listening to Christmas music. 
Sprinkle in Christmas music to your drive to work in July to boost your mood. 
For those who love the holiday hits, a month just isn't enough time to listen to the catchy tunes. Adding Christmas music listening sessions into the mix in July can get you in the spirit of the season. 
SUMMER ACTIVITIES FOR ADULTS THAT WILL REMIND YOU OF YOUR OLD CAMP DAYS
2. Begin to shop around for decor
Stores start putting out their holiday decor quite early, so you can definitely get your hands on new holiday merchandise in the summer. 
Check out your local stores and see what they have available. It may not be much, but it'll still be exciting to look. 
If you don't want to buy any new decor, dig through your old stuff and put little Christmas touches around the house to celebrate Christmas in July. 
3. Decorate Christmas cookies
Decorating Christmas cookies is such a fun activity that typically happens during the winter. Decorate Christmas cookies in July that also have elements of summer.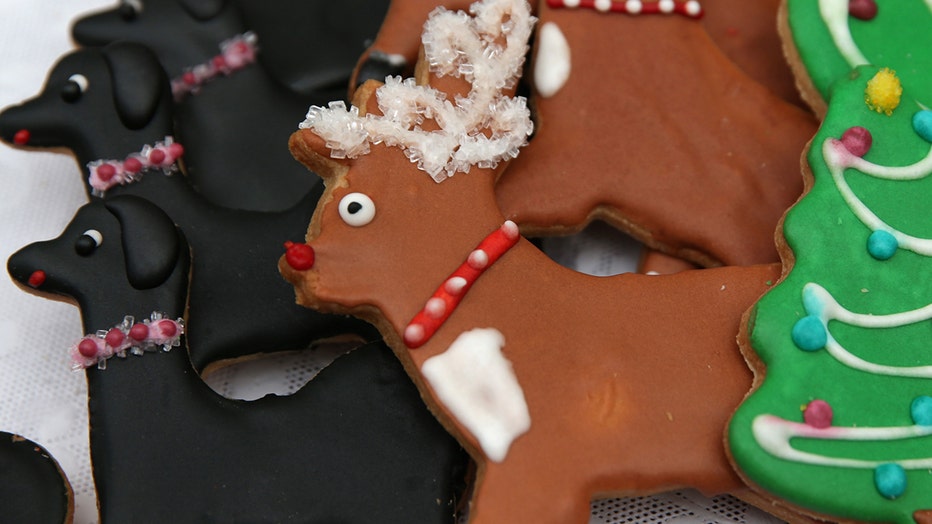 Holiday cookies are seen during a preview of the 2013 holiday decorations December 4, 2013 at the White House in Washington, DC. (Credit: Alex Wong/Getty Images)
Maybe frost your cookies with bright colors, or add sunshine designs to your cookies.
4. Watch a Christmas movie while in the pool or outside
A movie marathon is a Christmas in July must, but watch your movie outside in the nice weather. 
Set up a projector and screen outside, so you can watch movies like "Elf," "Christmas Vacation" and "The Polar Express" outside on a beautiful summer night. 
For extra fun, if you have a pool, set your projector up in a spot where you can watch the movie and enjoy a night swim. 
CLICK HERE TO SIGN UP FOR OUR LIFESTYLE NEWSLETTER
5. Make a summer-themed Christmas tree
To make a summer-themed Christmas tree, you take a mini- or full-sized tree, whatever you prefer, and decorate it with summer themed ornaments. This could be with store bought products, homemade or a combination of the two. 
For an extra summery feel, you can even add beach balls to your tree, pool floats, sunglasses and any other summer themed item you can think of. 
6. Throw a Christmas party
Get your friends and family in on the fun with a Christmas in July party. Bring everyone together for an outdoor party filled with food, decorations, music and activities that get everyone in the Christmas spirit. 
7. Whip up frozen hot chocolate
One staple drink during winter is a warm cup of hot chocolate. 
While you may not be in the mood for a steaming hot drink in 90 degree heat, frozen chocolate is always a good option.