Chevrolet Corvette E-Ray hybrid revealed as the quickest Chevy in history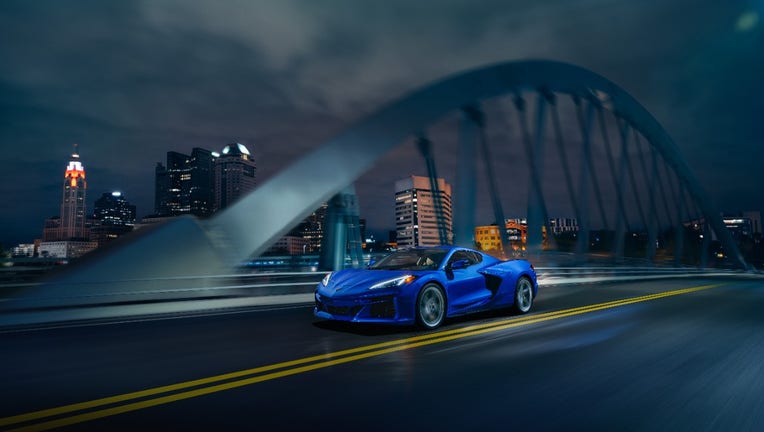 article
It's the most electrifying Corvette ever.
The 2024 Chevrolet Corvette E-Ray is the first hybrid version of the sports car, but it wasn't built for fuel efficiency, just speed.
"This is less of a hybrid and more of an electrification of the Corvette," E-Ray engineer Steve Padilla told Fox News Digital during an exclusive sneak peek at the new model.
The E-Ray combines the V8 powertrain of the Corvette Stingray that drives the rear wheels with an electric motor mounted up front that turns it into an all-wheel-drive vehicle.
There isn't a plug, The E-Ray is a mild hybrid that charges the 1.9-kilowatt-hour battery pack running down the middle of the car with excess energy recovered from the engine and braking system.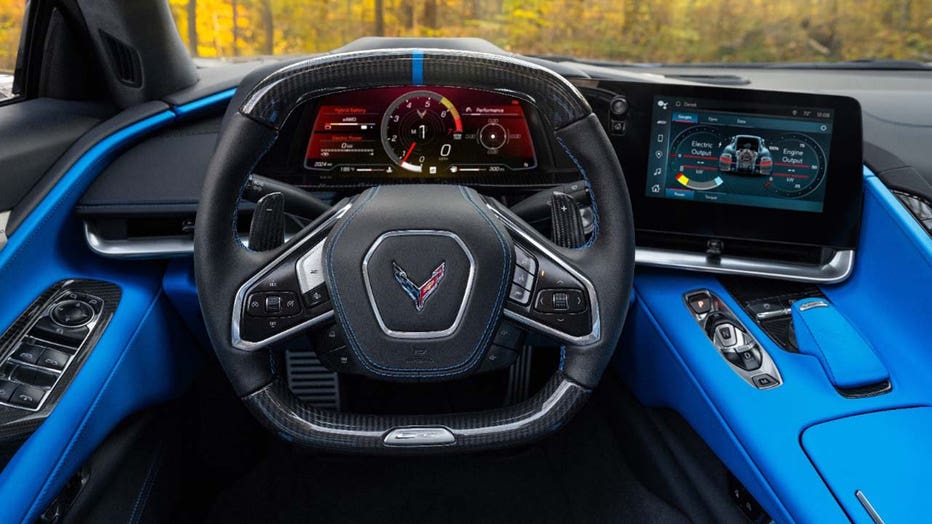 View from driver's seat in 2024 Chevrolet Corvette E-Ray 3LZ coupe in Silver Flare with Two Tone Blue Interior. Pre-production model shown. (Credit: Chevrolet)
The name isn't just a play on Stingray. There's a fish called an electric ray that's capable of stunning its prey with a jolt of electricity, while the E-Ray's electric motor adds 120 kw, which is 160 hp, to the V8's 495 hp that will help it shock unsuspecting competitors at the drag strip. 
Thanks to the traction provided by the all-wheel-drive system, it's capable of putting the power to the pavement without spinning the tires and can accelerate to 60 mph in 2.5 seconds and cover a quarter-mile in 10.5 seconds, making it the quickest car Chevrolet or any General Motors brand has ever made.
It's also a more capable all-weather ride than a rear-wheel-drive Corvette, and the stability control system uses the power delivered to the front wheels to help balance the handling while driving through curves.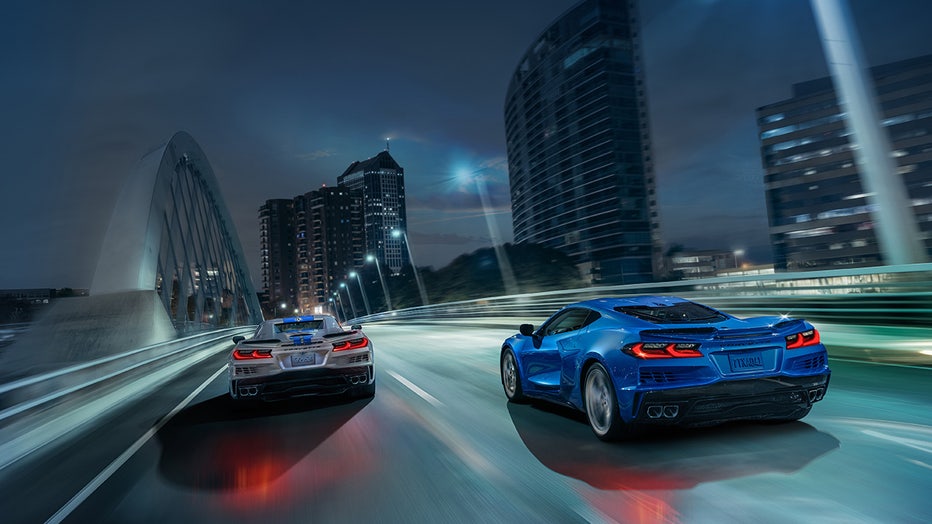 ear view of 2024 Chevrolet Corvette E-Ray 3LZ coupe in Riptide Blue and convertible in Silver Flare with Electric Blue stripe package driving across a city bridge at nighear view of 2024 Chevrolet Corvette E-Ray 3LZ coupe in Riptide Blue and converti
Padilla said "it's actually quite amazing in snow," and that making the two ends work in unison was one of the toughest parts of the project. "It was definitely a lot of work and a lot of challenge, it takes a team of engineers working with propulsion, electrification and chassis controls, vehicle dynamics to get all that to work together seamlessly," he said
The E-Ray's electric motor is unique and not related to the ones used in GM's growing Ultium family of electric vehicles, like the GMC Hummer EV and Cadillac Lyriq. It's so compact that they were able to fit it in without encroaching on the Corvette's front trunk storage area.
RELATED: Tesla delivers its first electric Semi trucks promising 500 miles of range
The E-Ray is less than 200 pounds heavier than the Stingray despite wearing the wider bodywork of the 670 hp Corvette Z06, which is a hardcore racing-inspired model that's tailored for track driving and has the most-powerful naturally-aspirated V8 in the world.
The E-Ray gets more body-color trim than the Z06, rather than black accents, to give it a dressier, upscale look. Matched with a more compliant suspension setup, the E-Ray is meant to be more of a comfortable grand touring car than a stiff and edgy boy racer.
"In the past, the higher you went up the Corvette ladder, the more extreme the cars got," Corvette marketing manager Harlan Charles said.
"The E-Ray is for a different kind of customer, so we wanted it to have a more sophisticated style." It can also play it very cool.
CLICK HERE TO SIGN UP FOR THE FOX NEWS AUTOS NEWSLETTER
While the V8 makes all the noise you'd expect of a Corvette when it's running, the E-Ray has an all-electric Stealth mode. It's meant to be used when you want to be quiet, like driving through town or pulling out of the garage in the morning, but only works at speeds up to 45 mph for a couple of miles, depending on the battery's state of charge.
As far as the fuel economy is concerned, Chevrolet doesn't have the final numbers in yet, but Padilla said not to expect it to be much better than the Stingray's, if it even is at all. The electrification was primarily the means to create an all-wheel-drive performance car, not a green machine.
The E-Ray will start at $104,295 for a coupe and $111,295 for a hard-top convertible when deliveries start late this year. That's a few grand less than the Z06 and it comes well-equipped at that price, with standard features like lightweight carbon ceramic brakes and a computer-controlled suspension system that cost thousands as options on other cars.
Chevrolet's marketing director, Bradford Franz, expects the E-Ray to broaden the Corvette's appeal, rather than just cannibalize existing owners.
"We find that every time we add a new model we keep checking boxes on new types of customers," he said.
And there are more models on the way.
While the team isn't ready to talk about it, Chevrolet has confirmed that there's an all-electric Corvette in the works. It's not known if it's a version of the current car, or an all-new vehicle, but GM President Mark Reuss teased an upcoming Corvette at the company's investor day last fall that he said "you won't be able to imagine from a performance standpoint."
Sounds like the E-Ray's days as the quickest Corvette may already be numbered.
Gary Gastelu is Fox News Digital's automotive editor.