Cap'n Crunch's Peanut Butter Crunch recalled for possible salmonella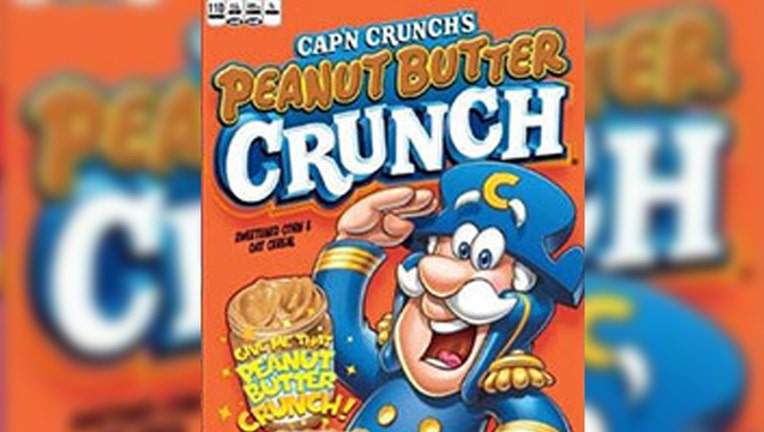 article
WASHINGTON - The Quaker Oats Company is issuing a voluntary recall of a small quantity of Cap'n Crunch's Peanut Butter Crunch cereal due to the potential presence of salmonella.
Quaker Oats says no illnesses related to salmonella have been confirmed to date.
The company says it is recalling 17.1 ounce boxes of Cap'n Crunch's Peanut Butter Crunch cereal with UPC code 0 30000 6211 1 and Best Before Dates of JUL 30 19 or JUL 31 19.
The recall includes 21 outstanding boxes purchased after Nov 5.
The impacted cereal was sold at five Target stores:
Super Target    4001 N 132nd St    Omaha    NE    68164
P-Fresh    4250 Rusty Rd    Saint Louis    MO    63128
Super Target    10800 E 21st St N    Wichita    KS    67206
Super Target    8201 S 40th St.    Lincoln    NE    68516
P-Fresh    1040 NE Coronado    Blue Springs    MO    64014
The recall was initiated as the result of a routine sampling program by the company, which revealed the finished product may contain bacteria.
The Food and Drug Administration (FDA) says symptoms of salmonella include fever, diarrhea (which may be bloody), nausea, vomiting and abdominal pain. In rare circumstances, infection with salmonella can result in the organism getting into the bloodstream and producing more severe illnesses such as arterial infections (i.e., infected aneurysms), endocarditis and arthritis.
There are no other Quaker products being recalled.
The company is working closely with the FDA to further investigate this issue and ensure the recalled products are removed from store shelves and are no longer distributed.
Anyone who purchased the affected product are asked to not eat it and should dispose of the cereal or return it to the place of purchase for a full refund.
Anyone with questions can call 800-234-6281, Monday – Friday, 8:30 a.m. – 5:00 p.m. (EST), or find more information online.