Medical examiner identifies 'targeted' woman gunned down in Buckhead; 911 calls released
ATLANTA - The Fulton County Medical Examiner has identified the female victim found shot to death on Lindbergh Drive in Buckhead early Tuesday morning. Authorities have also released the 911 calls.
The medical examiner identified the woman as 31-year-old Teisha Brewley. Police believe she was gunned down in a targeted shooting. Her body was found in the back of an Uber SUV after 4:30 a.m. on May 30.
The black Cadillac Escalade she rode in was riddled with bullets.
"It sounded like about 40 shots," a nearby resident told FOX 5.
On Wednesday, officials released two 911 calls in which police learned the car was stopped in the middle of the road and someone inside was injured.
In one call, it appeared the woman's Uber driver called emergency services. He frantically told them someone had been shot in the back seat of his car. At one point he told the dispatcher she was still breathing.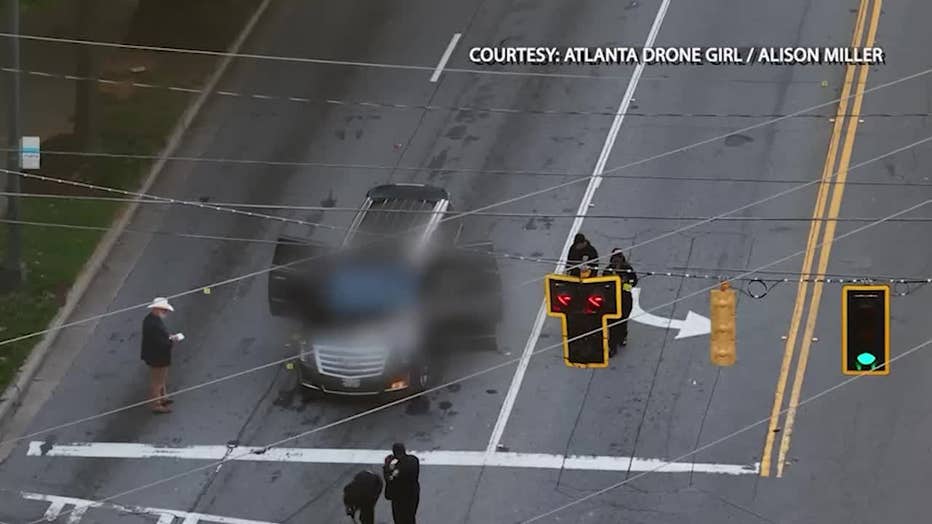 Lindbergh Drive shooting aerial (Credit: Atlanta Drone Girl / Alison Miller)
In another call, a representative from ADT Security told the dispatcher she was calling on behalf of a male who ordered the Uber ride for the victim, his friend. The representative said the male was at home tracking the ride through the Uber app and became worried when he saw the car stopped moving toward his friend's destination.
Authorities believe there were multiple shooters and are still looking for leads to make arrests.
Although officials identified the victim as "Teisha Brewley," family and friends have said her name is Tisha Brodie. They said she was a Guyanese social media influencer who posted content under the name "Tavi Badiee."