Shots fired as man wanted for making threats tussles with Brookhaven officer
ATLANTA - No one was injured after Brookhaven Police say an officer fired his gun during a fight with a suspect along Ashford Dunwoody Road on Monday afternoon.
Officers were called out shortly before 4:45 p.m. to the Hilton Garden Inn Atlanta Perimeter Center about a man making threats to employees at the hotel bar.
"He was inside a hotel, at one of the bars, consuming alcohol, and then he was asked to leave," said Brookhaven Police Sgt. Jake Kissel.
Investigators later learned he began to threaten people after being asked to leave by hotel managers.
"He asked to buy a beer and wine from my pantry," hotel employee Adrianna Jimerson said.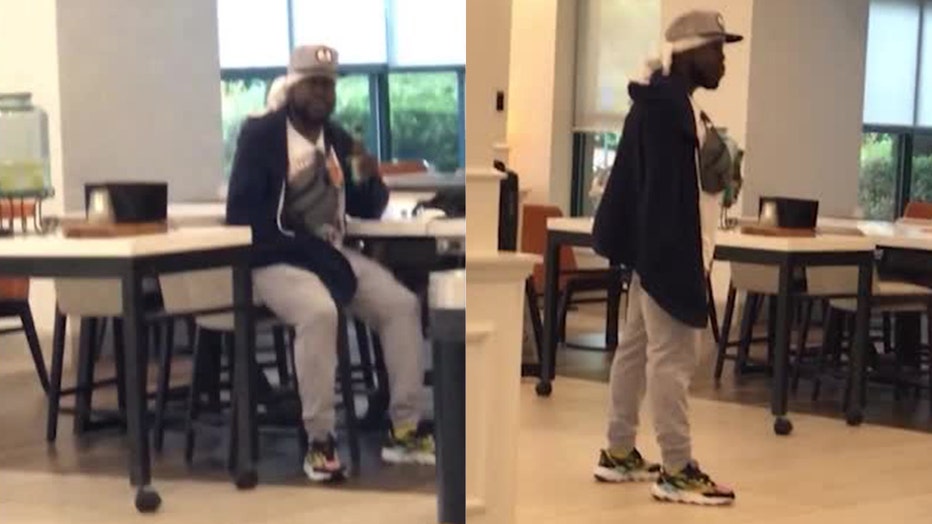 Images shared with FOX 5 shows a man becoming irate at a Brookhaven hotel as managers asked him to leave. (Courtesy: Adrianna Jimerson)
The man would then sit down at a table in the lobby.
"He opened his beer, he was singing gospel music, after that the liquor hit, he changed his attitude immediately," Jimerson said.
When asked to leave, he became irate and began to yell at employees and guests. 
"'I'm going to blow you up, I'm going to blow your head off,'" Jimerson recalled the man said.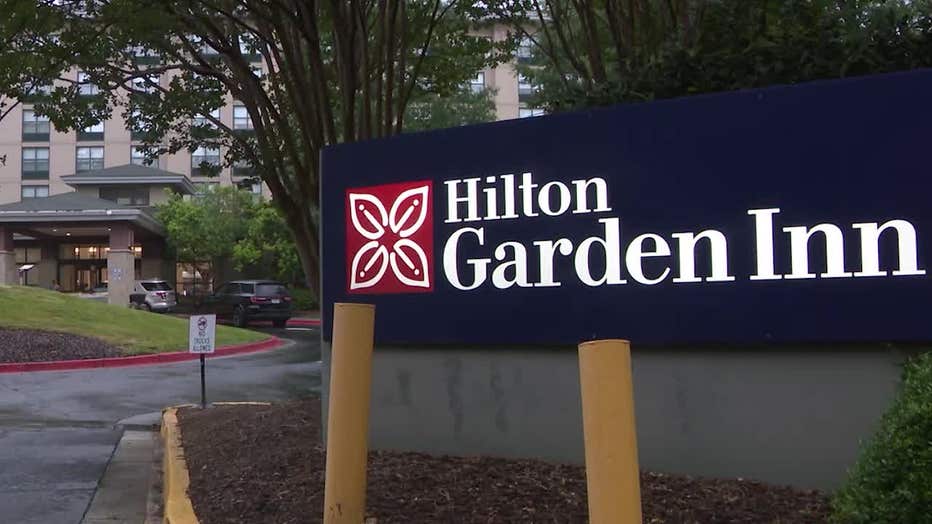 A man made several threats after being asked to leave a Brookhaven hotel, police say.
While officers were on the way, they came across the man walking down Ashford Dunwoody Road near Rustic Ridge Drive. Sgt. Kissel says the officer stopped and attempted to speak with him. The man became uncooperative, and the two ended up in a fight, police say. 
The officer unsuccessfully attempted to use a Taser on the man. That is when police say the shot was fired.
No one was injured, but the shooting did cause some damage to a car parked in the driveway of the home.
Police say a gun believed to belong to the man was recovered.
Brookhaven police investigate the first officer-involved shooting within city limits on May 22, 2023. (FOX 5)
The department's Internal Investigation Team was called into investigate the incident. 
Sgt. Kissel says this is only the second officer-involved shooting inside the city limits since the city incorporated in 2012.
The man, whose name has not been released, was taken into custody.
Charges are pending.
This story has been updated to correct information provided by police about the number of officer-involved shootings in the city of Brookhaven.