Britney Spears admits she 'couldn't take the pain anymore' in first statement on Sam Asghari divorce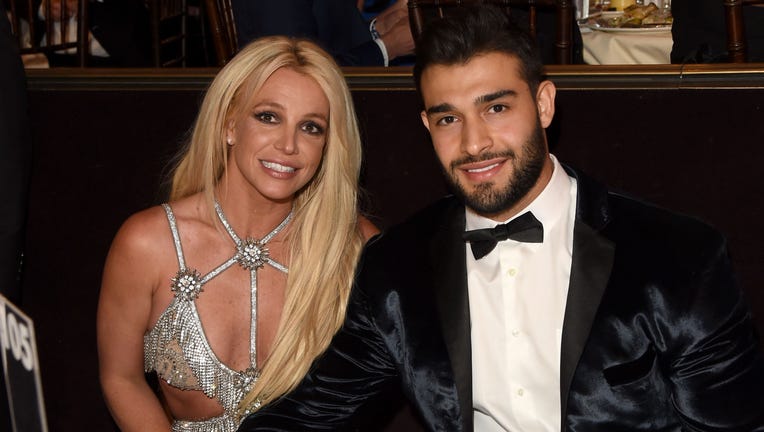 article
Britney Spears is ready to speak her truth.
Earlier this week, the world learned that the pop star was divorcing her husband of one year, Sam Asghari. Soon after, rumors began swirling about what had happened between the two and what would happen in the wake of the split. Now, Spears is revealing the first glimpse at her side of the story.
The "… Baby One More Time" singer shared a video to Instagram late last night of herself dancing in minimal clothing, and along with it, she shared a lengthy message about her situation.
BRITNEY SPEARS, SAM ASGHARI SPLIT: POP STAR'S ROCKY RELATIONSHIP HISTORY
"As everyone knows, Hesam and I are no longer together," she began. "6 years is a long time to be with someone so, I'm a little shocked but … I'm not here to explain why because its honestly nobody's business !!!"
She continued, "But, I couldn't take the pain anymore honestly !!!"
APP USERS CLICK HERE TO VIEW INSTAGRAM VIDEO
After thanking her friends for thoughtful messages that she said she'd been receiving "in some sort of telepathic way," she explained, "I've been playing it strong for way too long and my Instagram may seem perfect but it's far from reality and I think we all know that !!! I would love to show my emotions and tears on how I really feel but some reason I've always had to hide my weaknesses !!!"
"If I wasn't my dad's strong soldier, I would be sent away to places to get fixed by doctors !!! But that's when I needed family the most !!! You're supposed to be loved unconditionally … not under conditions !!!!"
BRITNEY SPEARS SPEAKS OUT FOR FIRST TIME FOLLOWING SAM ASGHARI DIVORCE NEWS: 'BUYING A HORSE SOON'
Spears finished up her statement by telling her followers, "So I will be as strong as I can and do my best !!! And I'm actually doing pretty damn good !!! Anyways have a good day and don't forget to smile !!!"
This is the second Instagram post she's made since it was revealed that she and Asghari had filed for divorce – in the first, she simply stated that she was "buying a horse soon" as she shared a photo of herself going horseback riding on a beach.
Asghari filed for divorce Wednesday, citing "irreconcilable differences," according to court documents obtained by Fox News Digital.
The couple's date of separation was listed as July 28.
He asked for spousal support and attorney's fee in his filing, and after certain rumors began swirling, his rep told Fox News Digital, "There are many claims that Sam is challenging the prenup and threatening to exploit his ex-wife with videos. However, all these claims are false, as no negative intention has ever been directed towards her and never will be. Sam has always and will always support her."
Asghari was the first to publicly talk about the divorce, writing in a post on his Instagram story, "After 6 years of love and commitment to each other my wife and I have decided to end our journey together."
He continued, "We will hold onto the love and respect we have for each other. And I wish her the best always."
Without going into detail, the "Special Ops: Lioness" actor wrote, "S--- happens. Asking for privacy seems ridiculous so I will just ask for everyone including media to be kind and thoughtful."
Spears and Asghari met in 2016 after he appeared in her "Slumber Party" video and the couple married in June 2022 at her mansion in Thousand Oaks, California, with a star-studded guest list that included Madonna, Selena Gomez, Drew Barrymore, Paris Hilton and Carter Reum, Kathy Hilton, Maria Menounos, Ansel Elgort and Donatella Versace.
Spears was previously married to Kevin Federline from 2004 to 2007. Months before they wed, she was famously married to childhood friend Jason Alexander for just 55 hours before getting an annulment. This is Asghari's first marriage.
Fox News Digital's Lauryn Overhultz and Brie Stimson contributed to this report.