Students across metro Atlanta head back to school for 1st day of classes
ATLANTA - Tens of thousands of students across Georgia will head back to class Tuesday for the start of the new school year.
Tuesday is the first day of school for kids in Atlanta, Decatur, and the counties of Cobb, Banks, Bartow, Pickens, Cherokee, Paulding, Rockdale, Newton, Barrow, Lumpkin, Morgan, and Polk. Students in 14 more districts go back on Wednesday.
Many students will see changes to school security with new safety drills to get used to.
That's due to Georgia's new Safe Schools Act that took effect on July 1.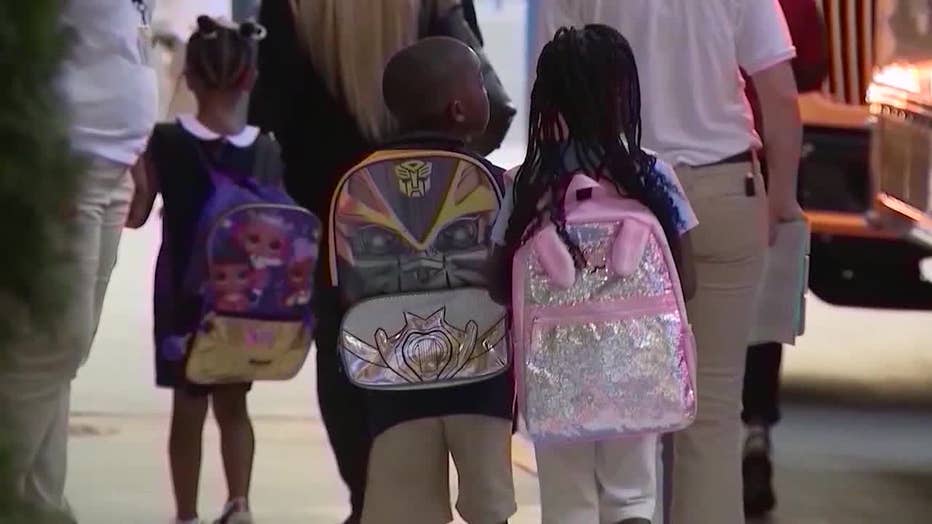 It requires schools to hold annual drills to practice how to respond to an active shooter on campus. Schools must complete the drill by Oct. 1.
The state also set aside $115 million in school safety grants that were available to every K-12 school in Georgia.
The Atlanta Public Schools System has three new K-9 officers who are trained to keep schools safe by sniffing out bombs and weapons.
Another big change is the addition of 17 officers who are trained in the Gang Resistance Education and Training program will travel throughout the district.
"I am not saying that gang activity is very active in APS, but we have gangs in Atlanta. Some of our kids are in gangs. That is one of the big things and then fights. Our gang intelligence officer came in and was able to decipher what was really going on," APS Safety and Security Chief Ronald Applin said.
Evolv screening, which detects weapons as large numbers of students enter the building, will be expanded to more schools.
The technology reduced weapons on campus from 31 guns in 2021-22 to just 12 weapons last year.
Atlanta searching for new superintendent
In Atlanta, Tuesday will also be the start of the final year Dr. Lisa Herring will serve as APS superintendent.
In early June, the Atlanta School Board surprised many when it decided against renewing Herring's contract.
She came to the system in May 2020 and helped the state's seventh-largest school district navigate through the COVID-19 pandemic.
During Herring's tenure graduation rates increased and students made measurable academic progress, but she also ruffled some feathers, leading to a group starting a petition in February calling for her removal.
That petition cited a number of reasons including low test scores, attendance ratings, discipline, and school safety.
More than 1,300 people ended up signing the petition.
Herring seemed blindsided by the board's decision. In her letter to parents, she pointed out she recently got a satisfactory review and "worked diligently to honor the work and expectations of our board and community."
A dueling petition to try to get the board to change its mind has already received more than 2,500 signatures.
The APS school board has been quiet about why it decided to let Herring go but announced in July that it would hire a firm by September to lead a nationwide search to find her replacement. 
The Associated Press contributed to this report.