Atlanta's mayor gives timeline for airport's power outage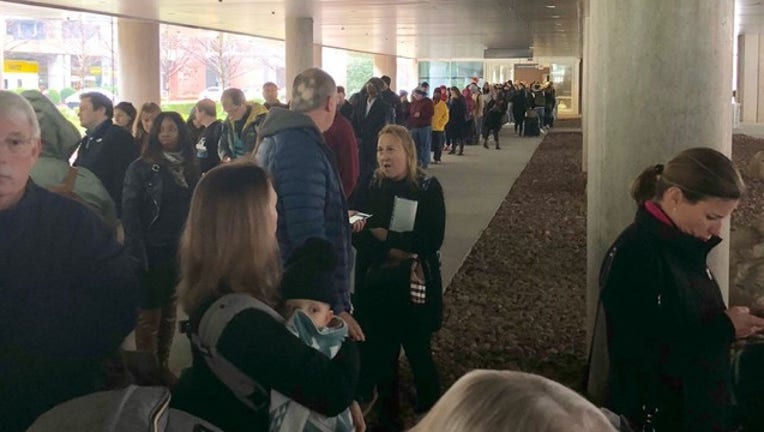 ATLANTA - Atlanta Mayor Kasim Reed gave his official timeline of events throughout the crippling power outage at Hartsfield-Atlanta Airport Sunday.
App users: View full article here
The power outage left thousands stranded and hundreds of flights canceled across the country.
%INLINE%
Here is what Mayor Reed said happened:
1:04 p.m. - Atlanta firefighter arrive at the scene of the fire and begin to fight it.
"Our firefighters got there at about 1:04 p.m. It took them about an hour and a half to contain the situation. That puts us at about 2:30," said Mayor Reed.
2:30 p.m. - After an hour and a half of battling the underground fire, the blaze was finally contained, but the fumes left behind were too toxic for workers to begin to restore service. The process of venting the underground facility began.
"The fumes were so poisonous that we could not access the facilities that are under the airport to determine what was wrong," said Mayor Reed. "I asked Georgia Power 'How quickly can you get a team down?' 'We can't send our people into harm's way until the system gets out.' We then put fans to vacuum out tunnels that are underground."
6 p.m. - Workers were able to re-establish power to the F Terminal by switching one of the two substations at the airport.
"By about 5:30-6:00, we knew we would be able to get F [Terminal] up because we have two substations that Georgia Power owns. one near F [Terminal] and one near A [Terminal]. We got F [Terminal] up and operations, and then by 6:30 we were able to make an assessment, that we would get the entire airport up and operational by midnight," said Mayor Reed.
11:45 p.m. - Power was restore to the Atrium, Concourses, and Terminals.
Mayor Reed also defended the decision not to immediately evacuate the airport.
"If we had given an evacuation order last night, there is a real chance that people would have become overly alarmed," said Mayor Reed.
%INLINE%
Reed also added airport official learned a lot from the experience and are currently beginning to implement changes. The first has to do with the emergency lighting. The current system proved inadequate, lighting up just a small section. Airport officials have been directed to immediately purchase portable lights.
Georgia Power is also considering incasing the switch and a portion of the backup in concrete to prevent damage if ever there was another fire.
"They are considering a series of concrete casings that will prevent a fire from spreading," said Mayor Reed. "The fire was so intense, so hot, that it caused the switching system, which switches to the backup, to malfunction. And so what is being discussed right now is building out a casing in the future to make sure that never happens again."
The airport was without power for about 11 hours leading to about 1,400 flights to be canceled leaving more than 30,000 passenger stranded.