Alabama boat fight: Folding chair suspect becomes 5th person charged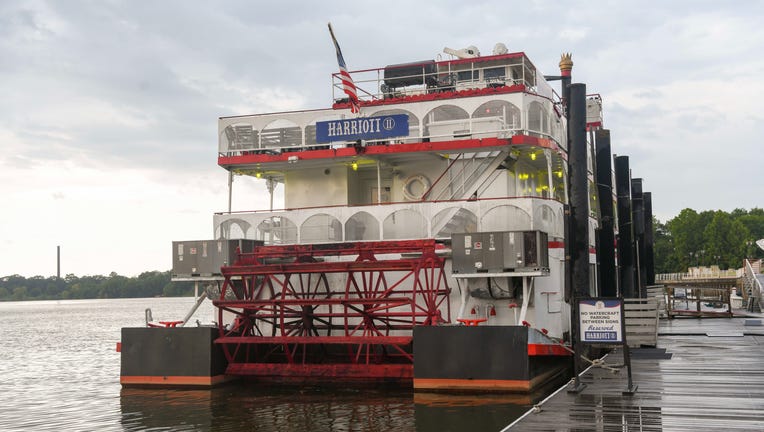 article
Five people are now facing charges in connection to a brawl that broke out on an Alabama riverfront dock last weekend and drew national attention. 
Those facing charges now include the man who was allegedly seen on video wielding a folding chair, a standout moment that sparked countless memes and internet jokes. 
The fight began the evening of Saturday, Aug. 5, when a pontoon boat blocked a city-owned riverboat called Harriott II from docking in its designated space after returning from a dinner cruise. More than 200 passengers were aboard the three-story boat and needed to disembark. 
The riverboat co-captain took another vessel to shore to move the pontoon boat and was attacked by several white people from the private boat, police said. Video showed him being punched and shoved.
RELATED: Alabama boat fight: Woman who recorded asks, 'What did they think was going to happen?' 
Riverboat crew members later confronted the pontoon boat party, and more fighting broke out, police said, that was largely along racial lines. 
Video of the brawl circulated on social media, sparking memes and eliciting conversation about racial solidarity to create a broader cultural moment. 
The brawl spawned a multitude of memes, jokes, parodies, reenactments and even T-shirts. "Lift every chair and swing," read one shirt in a play on " Lift Ev'ry Voice And Sing," the late-19th century hymn sometimes referred to as the Black national anthem. That joke in particular called to the moment a Black man was seen hitting a white person with a folding chair. 
The 42-year-old man turned himself in Friday after Montgomery Police Chief Darryl J. Albert said last week during a press conference that they were looking to speak with him after he was seen "wielding that folding chair." 
The man has been charged with disorderly conduct and is currently being held at the local jail, Montgomery Police confirmed to FOX Television Stations. 
Four other people, who are all white, have also been charged: 
A 48-year-old man, with two counts of misdemeanor assault
Two men in their 20s, with misdemeanor assault
A 21-year-old woman, with misdemeanor assault
Montgomery Police had been consulting with the local FBI on the possibility of issuing hate crime charges, but that has been ruled out, according to The Associated Press. 
This story was reported from Detroit. The Associated Press contributed.