16-year-old wanted for July murder in Cobb County
COBB COUNTY, Ga. - A 16-year-old is currently wanted for murder in Cobb County.
"The suspect wanted in connection with this homicide is 16-year-old Christopher McMutry of Marietta," said Cobb County Police Officer Aaron Wilson.
Officer Wilson say McMutry is suspected of being one of two teenagers involved in the death of a person who was shot on the afternoon of July 30 at the Stratford Ridge Apartments on Delk Road.
"Officers responded to the Stratford Ridge Apartments in reference to a person shot call. Upon arrival, they found a 17-year-old victim suffering from gunshot wounds," said Officer Wilson.
Evidence found by investigators at the scene led to the arrest of 17-year-old Jacob Coggins, who was charged with aggravated assault and murder.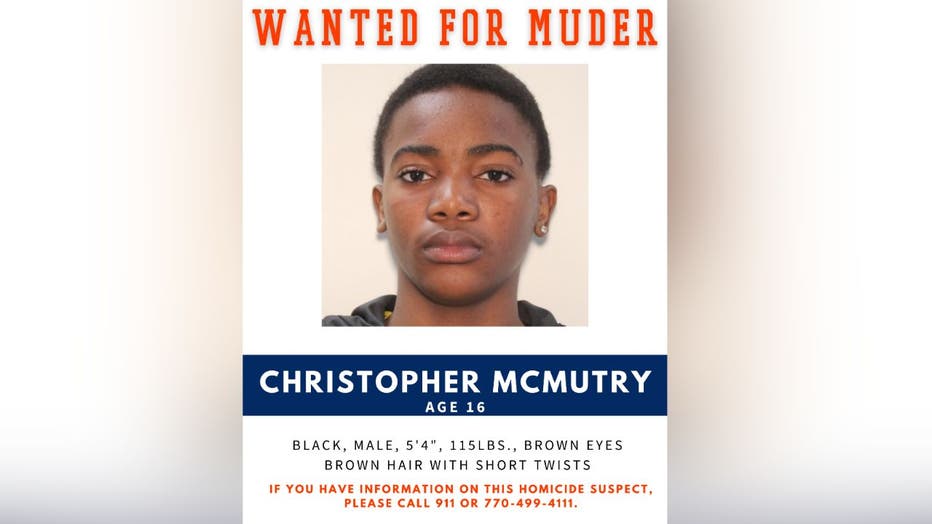 Efforts to track down McMutry in the months since have been unsuccessful.
"We've come to a point in this investigation where we need the public's help on trying to figure out where he's at," said Officer Wilson.
He says there's no piece of information too small to share with police.
"The information that you have could very well bring a conclusion to this case," said Officer Wilson.
That information could also help bring closure and healing to the victim's family.
"It's tragic for them to lose their loved one the way that they did especially as young as they were," said Officer Wilson.
McMutry is approximately 5-feet-4-inches tall and weighs 115 pounds. His brown hair is in short twists. 
CCPD is asking anyone with information to call the tip hotline at 770-499-4111.