Irma kills 3 in South Carolina and 2 in Georgia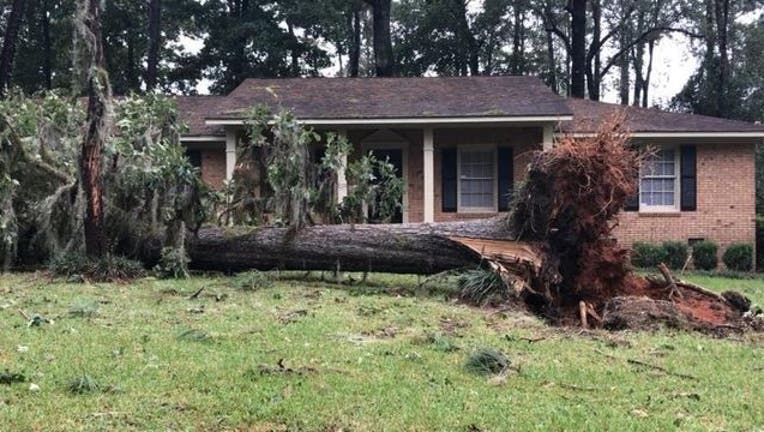 article
ATLANTA (AP) -- The remnants of Hurricane Irma forced Atlanta's international airport - the world's busiest passenger airport - to cancel nearly 200 flights early Tuesday. The storm also claimed three lives in South Carolina and two in Georgia.
The flights canceled at Hartsfield-Jackson Atlanta International Airport put the total number of interrupted trips there due to Irma at about 1,300, spokesman Andrew Gobeil said. The airport remained operational, with flights taking off and landing. However, some passengers were forced to spend the night at the airport. Gobeil said he didn't have the exact number.
Meteorologist Keith Stellman said Atlanta's airport recorded sustained winds of 45 mph (72 kph) with gusts up to 64 mph (103 kph). The National Hurricane Center said it expects Irma to drop 5 inches to 8 inches (13 to 20 centimeters) of rain across South Carolina and the northern regions of Georgia, Alabama and Mississippi through Tuesday.
Georgia's Gov. Nathan Deal lifted a mandatory evacuation order for six coastal counties. The order allows local authorities to determine when residents may return home. Deal called the storm an "unusual" in that it affected the entire state, rather than being localized. For that reason, Deal said, recovery "could be a bit slower."
"This is a different kind of natural disaster. We have not had one like this in the state of Georgia for a long time," Deal said in a news conference on Tuesday.
More than 1.2 million Georgia Power and Electric Membership Corp. customers were without power Tuesday morning. The utility companies said they would continue to assess damage as power is restored. The Alabama Power reported 20,000 outages mostly in eastern Alabama as the remnants of Irma toppled tree and power lines, but didn't cause major damage. The utilities said repairs could take several days.
In Atlanta, people nervously watched towering oak trees as the city, 250 miles inland, experienced its first tropical storm warning. Metropolitan Atlanta Rapid Transit Authority resumed full service Tuesday.
Weakened into a tropical depression after strafing the Caribbean and Florida, Irma still had enough force when it swirled into Georgia to cause significant damage.
Heavy rain and strong winds caused flooding along the coast, downed power lines and sent trees crashing onto homes. Traffic flowed easily on normally jammed Atlanta highways.
In Georgia, a man in his 50s was killed just outside Atlanta when a tree fell on his house, Sandy Springs police Sgt. Sam Worsham said.
A woman died when a tree fell on a vehicle in a private driveway, the Forsyth County Sheriff's Office said on its website. Martin Eason said in an interview with the AP that the victim was his mother, Nancy.
Some 540,000 people were ordered to evacuate days earlier from Savannah and the rest of Georgia's coast. Irma sent 4 feet of ocean water into downtown Charleston, South Carolina, as the storm's center passed 250 miles (400 kilometers) away. City officials urged residents to stay off the streets.
Charles Saxon, 57, became South Carolina's first recorded death when he was struck by a tree limb while clearing debris outside his home in Calhoun Falls amid wind gusts of about 40 mph (64 kph), according to a statement from Abbeville County Coroner Ronnie Ashley. Another man was killed in a wreck on a wet and windy interstate as Irma moved past. Public Safety Director Leroy Smith said 21-year-old Zhen Tain died in the crash on Interstate 77 just east of Columbia.
Sumter County Coroner Robert Baker Jr. said 54-year-old William McBride was pronounced dead Tuesday of carbon monoxide poisoning. Baker said McBride had been running a generator inside his mobile home for at least several hours, with only a single window cracked for ventilation.
Communities along Georgia's coast were swamped by storm surge and rainfall arriving at high tide Monday afternoon. On Tybee Island east of Savannah, Holland Zellers was grabbing a kayak to reach his mother in a home near the beach.
"In the street right now, the water is knee-to-waist deep," Zeller said.
Tybee Island City Manager Shawn Gillen said waters were receding quickly, but many of the 3,000 residents' homes were flooded.
"I don't think people who have lived here a long time have ever seen flooding this bad," Gillen said.
The tidal surge sent damaged boats rushing more than three blocks onto downtown streets in St. Marys, just north of the Georgia-Florida state line, St. Marys Police Lt. Shannon Brock said.
In Alabama, hotels remained full of evacuees, most coming from Florida. A convoy of 180 FEMA trucks carrying relief supplies began making its way to Florida.