Georgia severe storms: Thousands left without power after heavy rain, wind
ATLANTA - Pack your umbrella and your patience Thursday morning as another round of severe storms brings more heavy rain and wind to North Georgia.
The FOX 5 Storm Team has been tracking this system as it approached the state on Thursday in what was an expected one-two punch.
The cluster of thunderstorms spent the overnight hours rolling through the Mississippi Valley causing severe weather alerts throughout parts of Alabama and Tennessee.
The solid line of severe weather crossed the state line at around 5 a.m. and began to heading through northwest Georgia. As of 7:45 a.m., over 30,000 customers were reportedly without power. 
KEEP UP WITH THE LATEST BY DOWNLOADING THE FREE FOX 5 STORM TEAM APP AND FOLLOWING @FOX5STORMTEAM ON TWITTER
The main threat from the storm is damaging winds, but there's possibility of hail and the small risk of pop-up tornadoes.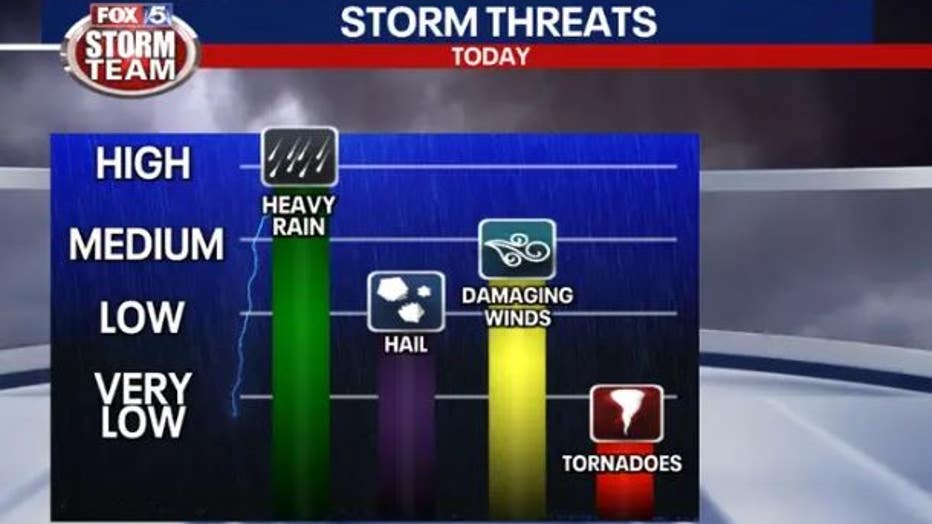 Will storms impact Thursday morning's commute?
This second round may weaken as it pushes its way into the heart of metro Atlanta, but portions of extreme northwest Georgia could see some severe storms.
The strongest storms will happen from 5 a.m. through around 8 a.m., throughout metro Atlanta and North Georgia. After that point, the heaviest part of the line of storms will have weakened south of Interstate 20.
Most of the FOX 5 viewing area will be under a Marginal Risk, but extreme northwest Georgia will be under a Slight Risk.
The greatest threat from these storms is damaging winds with gusts ranging near or over 45 to 50 mph. Hail and localized flooding can also not be ruled out.
The state could see a quarter to a half of an inch of rain.
After 8 a.m., the storms will weaken, but plenty of rain will still spread across South Georgia over the next few hours.
Don't put the umbrella away Thursday evening
The storms on Thursday morning will move out making way for partially cloudy skies with highs in the upper 80s, thanks to the rain-cooled air.
It will be a little gusty during the day.
Then as the day progresses, the chance of storms do as well.
A Marginal Risk will continue along a line from Columbus to Vidalia northward.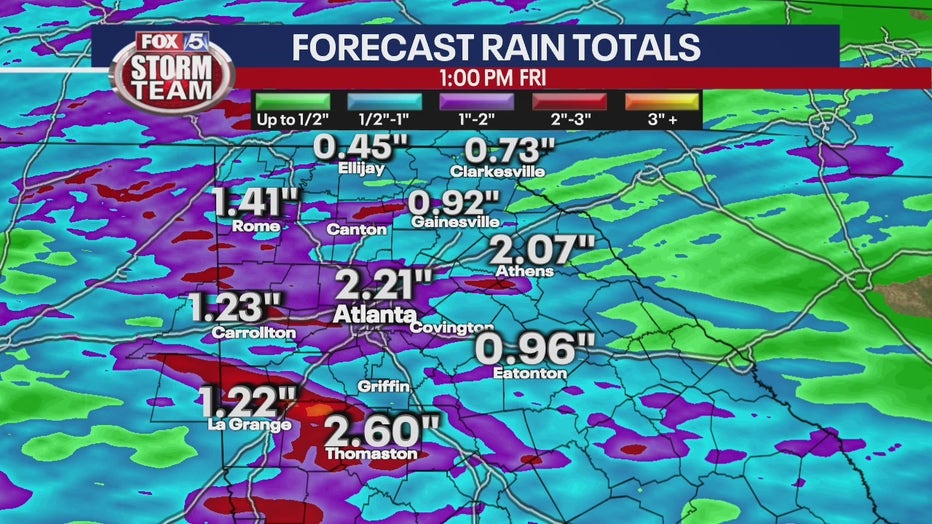 Another quarter to half inch of rain could fall.
Georgia weather forecast this weekend
Looking ahead to the weekend, expect things to warm up a bit.
While the heat and humidity are here to stay for a while, so are the afternoon storm chances.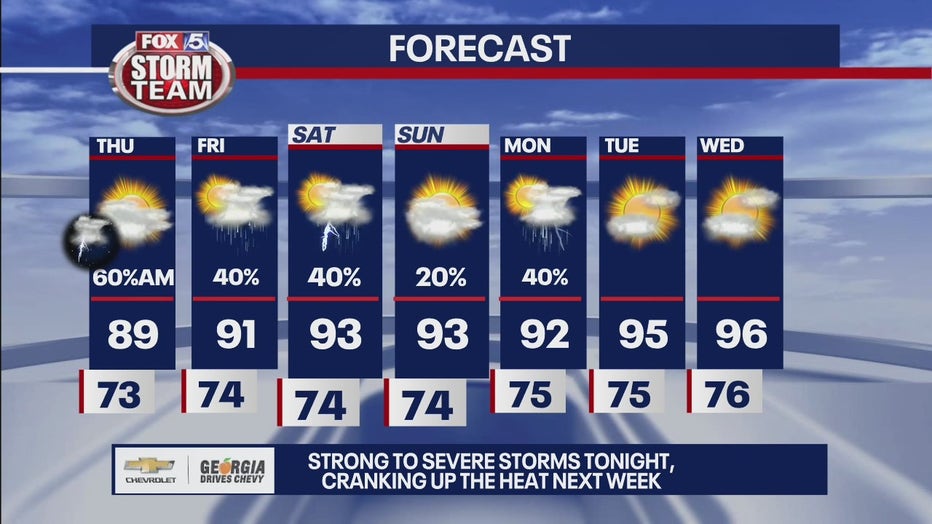 Periods of afternoon and early evening storms will persist into next week with the greatest risk through Tuesday.
This is a developing weather system. Check back for updates and changes to the forecast as they become available.