Georgia weather: Arctic blast timeline
ATLANTA - The official low temperature on Friday was 16 degrees. That is just 8 degrees warmer than the record set in 1989, 18 degrees cooler than the average, and 24 degrees colder than Thursday's low. The cold will continue through the week.
Most of Georgia north on Interstate 20 is under a Wind Chill Advisory until 1 p.m. 
Lows in the single digits and lower teens are expected Sunday morning, according to the National Weather Service. 
Keep up with the latest by downloading the FREE FOX 5 Storm Team app and following @FOX5StormTeam on Twitter.
Here's a timeline of what we expect:
Saturday morning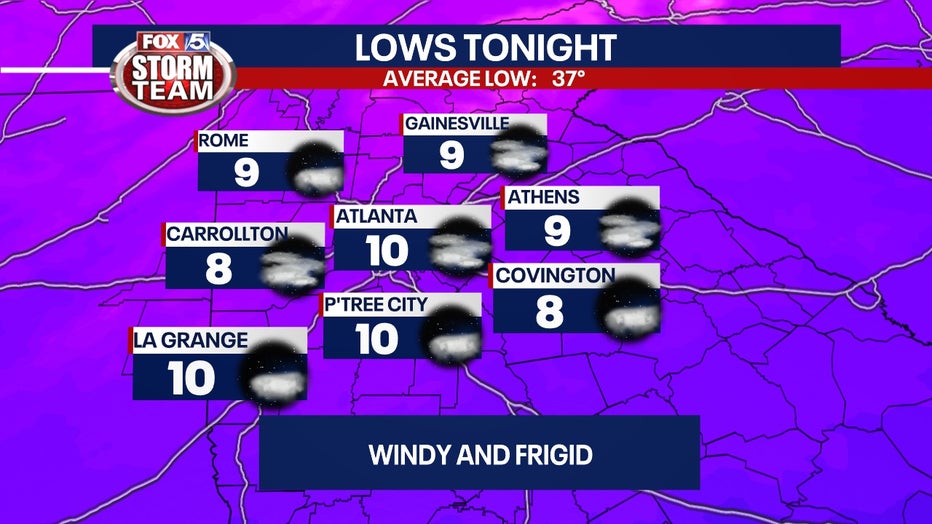 The bone-chilling cold continues with temperatures in the teens to single digits.
A Wind Chill Advisory will remain in effect through noon.
Wind chill values in the extreme north Georgia mountains could be between negative 10 to negative 20 degrees.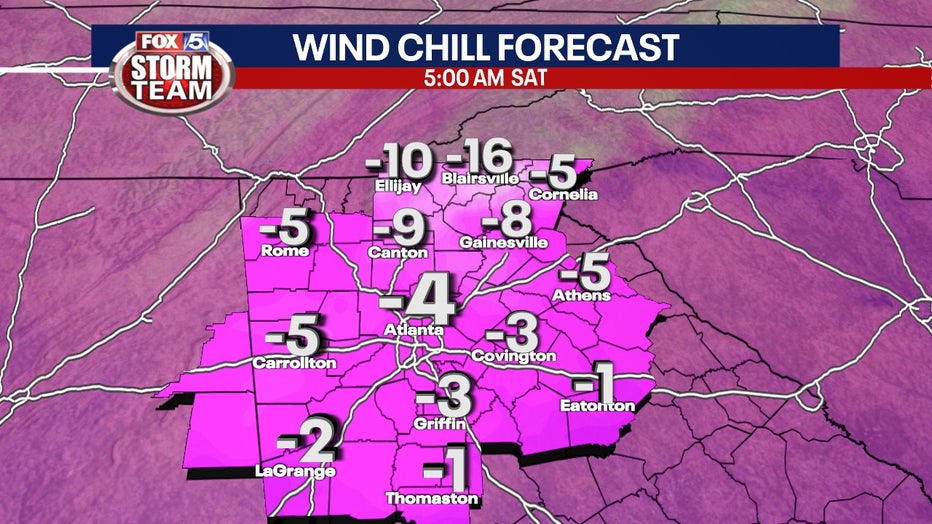 Closer to metro Atlanta, wind child values as low as negative 10 degrees are possible. 
It will still be around 5 to 20 degrees below zero for north Georgia and zero to ten degrees above in central Georgia.
Saturday afternoon
There could be some slight warming progress but don't expect air temperatures to exceed freezing levels. 
There could still be high winds until early afternoon.
Winds will be out of the west at 10 to 15 mph with gusts up to 25 mph.
At night, more low temperatures fall back into the teens with winds around 10 mph with gusts up to 20 mph.
Sunday morning
The sun return unhindered by clouds on Sunday as Georgians wake up on Christmas Day.
Sunday could be the first time in nearly three days that temperatures will exceed freezing levels, but don't expect it to get too much warmer.
Winds will be out of the northwest around 10 mph with gusts up to 20 mph.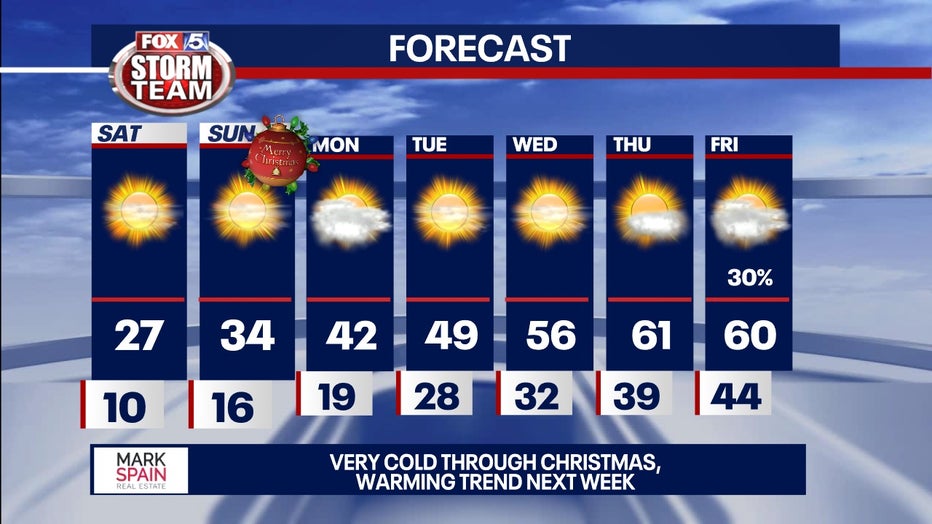 Sunday afternoon
The Arctic air could give way as highs peak at about 35 degrees. It's not cozy, but it's an improvement. 
Lows might fall back to the teens overnight before peaking slightly above 40 degrees on Monday.
The winds are expected to die down a bit being out of the northwest only at 5 mph.
Keep your eyes on Wednesday afternoon, when temperatures make it back into the mid-50s.