Georgia braces for coldest temperatures of the season overnight
ATLANTA - Georgia is bracing for a powerful blast of Arctic air set to move through the state Friday and Saturday, but not as much chance of any winter precipitation with it.
The cloud cover will dominate the sky throughout the day with light precipitation possible at times. The best chance for seeing flurries or light snow showers will be in extreme north Georgia. Minor accumulation of up to a half-inch could take place in the higher elevations, but not much chance of it sticking closer to the city.
DOWNLOAD THE FOX 5 ATLANTA APP FOR BREAKING NEWS AND WEATHER ALERTS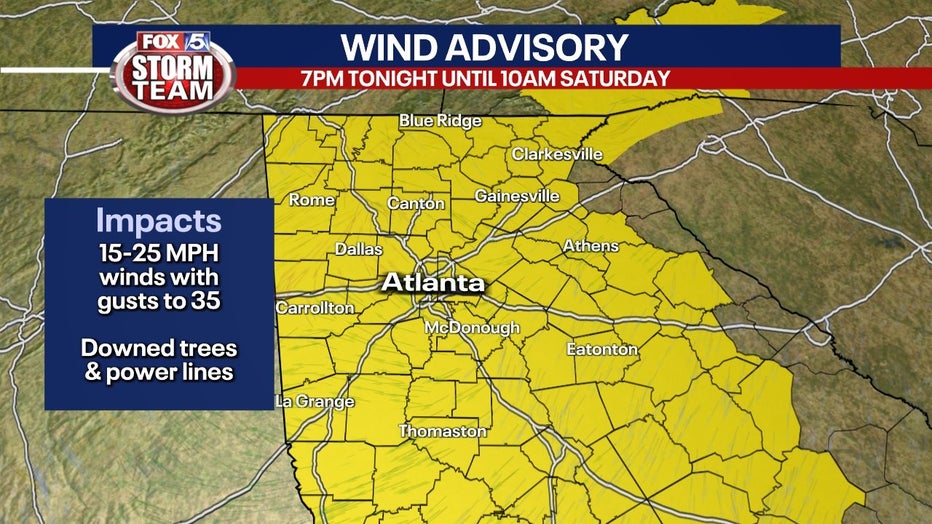 A Wind Advisory is in effect for all of the FOX 5 viewing area starting at 7 p.m. Friday and lasting through 10 a.m. Saturday. Winds will be out of the northwest at 10 to 20 mph with gusts between 30 and 35 mph.
The winds could toss loose objects around, down limbs or trees as well as power lines leading to outages.
All of Georgia is also under a Red Flag Warning, Relative humidity will be low and with the high winds, outside burning is not advised through 7 p.m. Saturday.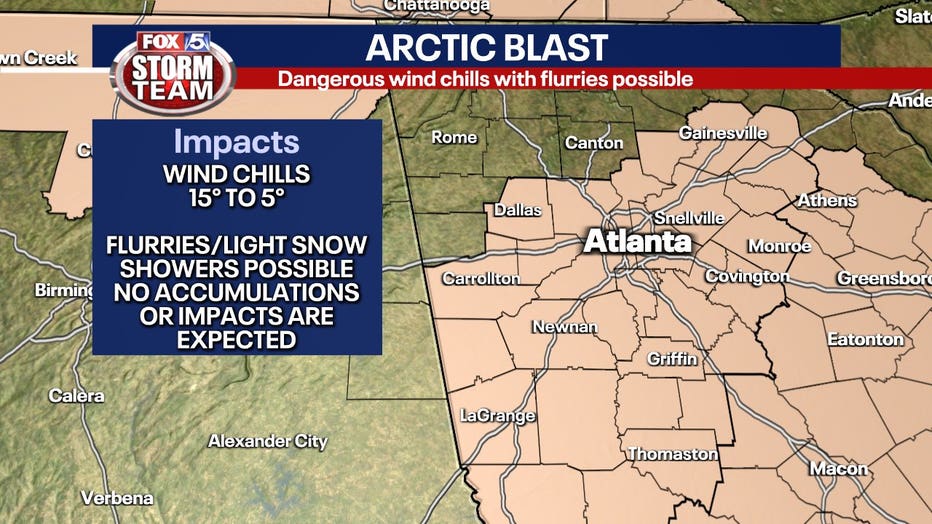 A Wind Chill Advisory is in effect for Dade, Walker, Catoosa, Whitfield, Murray, Fannin, Gilmer, Union, Towns, Chattooga, Pickens, Dawson, Lumpkin, White, Cherokee, Gordon, Floyd, Bartow, Polk, and Haralson counties until 1 p.m. Saturday. Wind chills in the area could go into the mid-single digits.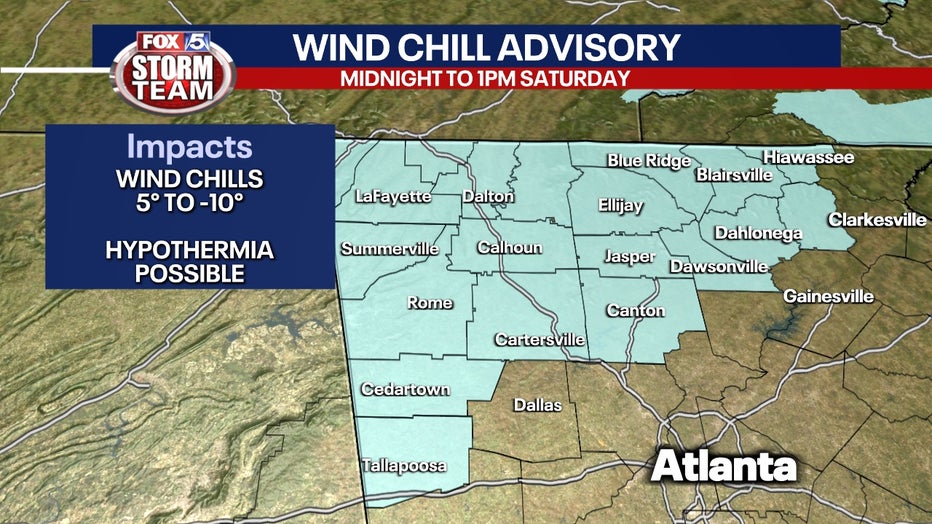 The winds will increase into the overnight hours bringing in a few stray showers and snow showers. Not much chance of accumulation closer to Atlanta, but higher elevations could see more than just a dusting.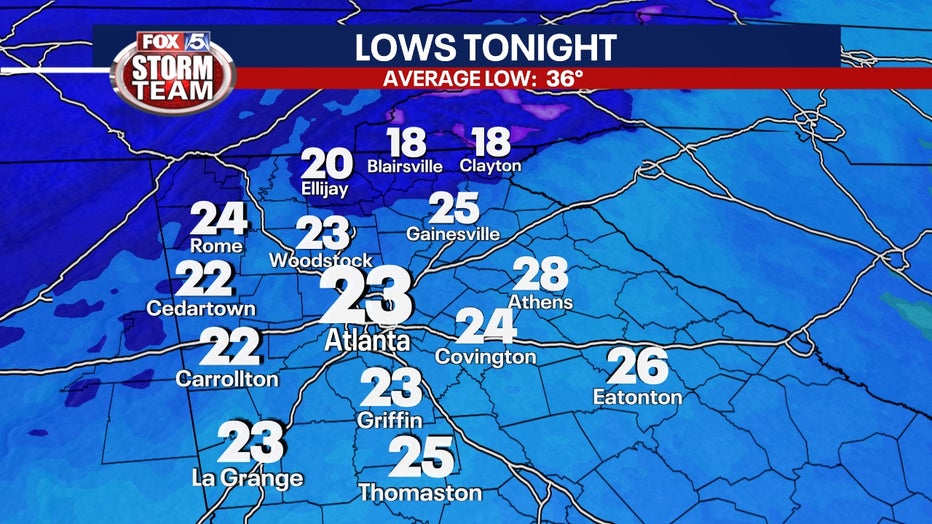 Once the front moves through, temperatures will be dropping dramatically.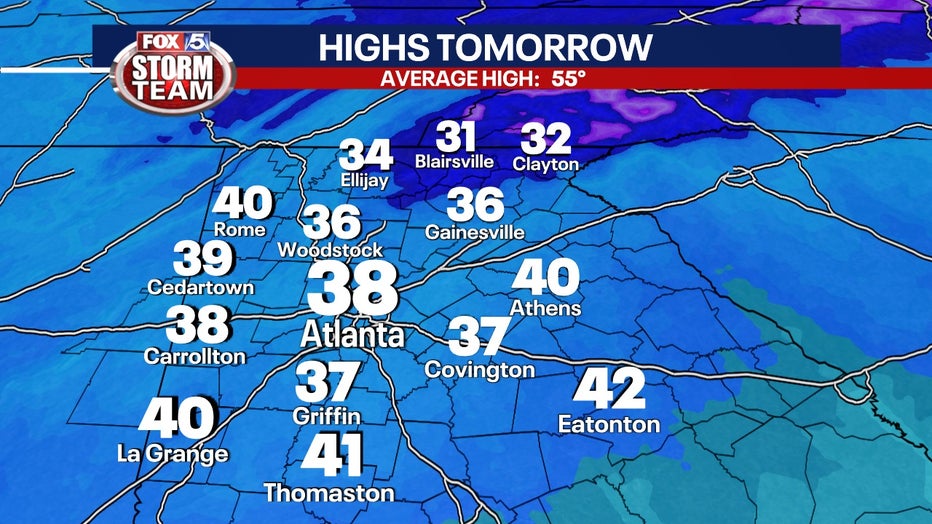 By early Saturday morning, temperatures will be dipping into the 20s and winds will be gusting over 20 mph. That will make it feel like temperatures in the teens or single digits at times.
The winds can gust up to 35 mph in the mountains and over 25 mph elsewhere.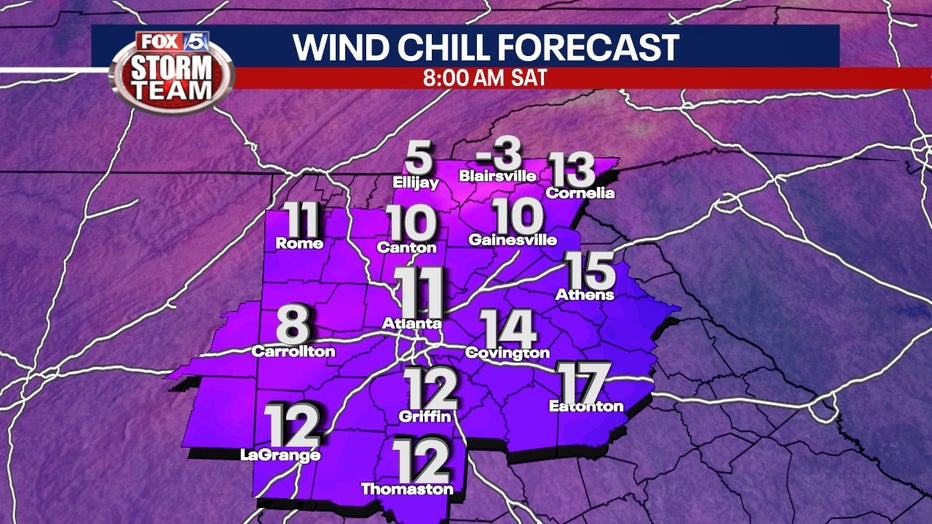 The high on Saturday afternoon is expected to only be in the mid to upper 30s with the wind chill making it feel like the 20s.
The cold will be rather short-lived with temperatures turning back up to near 50 on Sunday and slowly increasing the next few days from there.
Keep up with the latest by downloading the FREE FOX 5 Storm Team app and following @FOX5StormTeam on Twitter.
WATCH: FOX 5 NEWS LIVE COVERAGE
_____