Country star Jason Aldean suffers heatstroke during Connecticut concert, representative says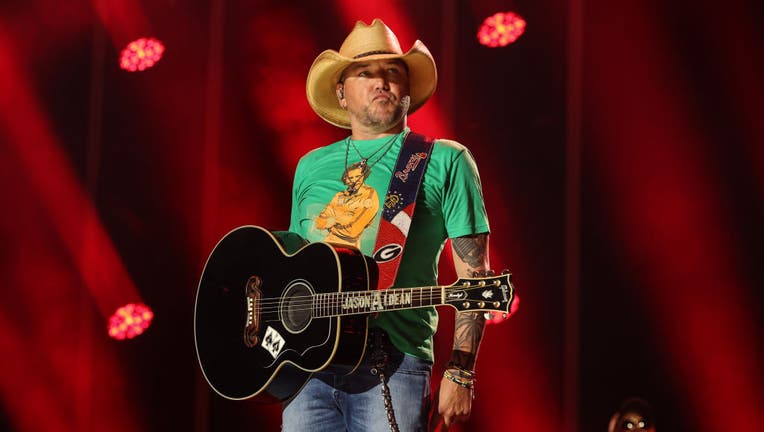 article
HARTFORD, Conn. - The opening weekend for country star Jason Aldean's Highway Desperado Tour was cut short when he ran offstage after suffering heatstroke during Saturday night's show in Hartford, Connecticut.
A video shared by K.C. Schweizer obtained by TMX shows Aldean running off the stage while performing his hit "Crazy Town" at the Xfinity Theatre in Hartford.
"Jason has become ill and can't continue the show," the concert venue tweeted just before 11 p.m. Saturday night. "We are in the process of attempting to reschedule the performance. Please stay tuned on all social media channels for updates."
A representative for Aldean confirmed to the venue on Sunday that the country artist experienced heatstroke during Saturday night's show.
"We appreciate your patience as we work on rescheduling a new date, as well as the outpouring of well wishes for Jason," the Xfinity Theatre posted on its social media pages. "A rep has confirmed he is now doing well after experiencing heat stroke during last night's performance."
HELLISH HEAT WAVE SEARING U.S. LIKELY TO DRAG ON FOR WEEKS
Temperatures in Hartford during the concert were in the upper 70s and lower 80s, but with dew points in the lower to mid-70s, feels-like temperatures were in the lower to mid-80s when factoring in the tropical humidity.
The Hartford show was just the second stop on Aldean's Highway Desperado Tour, which kicked off Friday night in Bethel, New York. Aldean is currently scheduled to perform Sunday night in Saratoga Springs, New York.
SOUND OF SUMMER: WE'VE ENTERED THE PEAK TIME OF YEAR FOR COUNTRY MUSIC LISTENING
What is heatstroke?
Heatstroke is a life-threatening condition. It involves the body temperature rising up to about 103 degrees or higher, harming the central nervous system.
Doctors say heatstroke can be difficult to diagnose because it shares similar symptoms to heat exhaustion, such as dizziness, headaches and nausea. What sets heatstroke apart from heat exhaustion are symptoms such as hot or dry skin and a fast, strong pulse, according to the Centers for Disease Control.
HOW TO TELL THE DIFFERENCE BETWEEN HEAT EXHAUSTION AND HEATSTROKE
Doctors advise people who might have heatstroke to seek emergency medical care immediately. While waiting for medical help to arrive, the CDC recommends trying to lower the individual's temperature by putting them in a cool bath, placing a cool cloth on them and moving them to a cooler location.
Read more of this story from FOX Weather.