After Irma, reverse migration back to Florida begins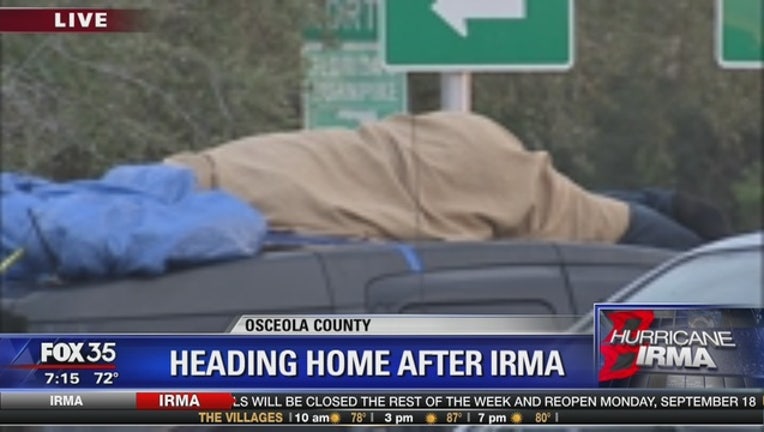 article
ATLANTA (AP) - With Irma having weakened into inland rainstorms, Floridians are beginning a mass migration back to a battered, water-logged state where millions remains without power.
But traffic maps, social media reports, gasoline trackers and the ever-reliable eye test all say it isn't an easy trip Tuesday and won't be in the days ahead.
"As soon as we hit the state line, it was traffic jams and accidents," said Elizabeth Priore of Fort Lauderdale, as she continued her return drive from Alpharetta, Georgia, late Tuesday afternoon.
Priore said she had managed to find gas and open restaurants along the way, and she said Interstate 95 south of Jacksonville was "moving well."
But traffic cameras elsewhere in the state, particularly along Interstate 75 where it meets the Florida Turnpike 60 miles north of Orlando, showed gridlock.
"We were expecting a nightmare," Priore said, explaining that she decided it was better to brave it than to wait.
Other Floridians are opting to wait it out, fearing the congestion, lane closures, fender benders, shuttered restaurants and gas stations without fuel.
"We're not leaving until Thursday because of the gas situation," said Nick Westbrook, a Coral Gables resident who has settled in Knoxville, Tennessee with his wife and children.
"We have friends on the road, and they're letting us know it's just what I feared it would be."
Adam Bolanos, a high school teacher from Fort Lauderdale, Florida, says he's talking to neighbors and friends on the road, particularly about fuel access. "The shortage is very real," he said.
Bolanos and his family - a three-car caravan with multiple generations and pets - also is waiting in Tennessee.
Florida Gov. Rick Scott and other authorities are urging evacuees not to be in a rush to return, particularly those who live in the hardest-hit areas, from Key West and the southwest coastline near Naples to the flooded neighborhoods of Jacksonville in state's northeast corner.
As power crews dispersed Tuesday, an estimated 15 million Floridians - about 5.6 million residential and commercial customers - were without electricity. Bridges were being inspected around the state, power outages left traffic signals inoperable on key surface roads, and some roadways remained closed due to standing water, downed power lines or debris.
Still, interstates across the southeast filled with traffic, with metro areas in multiple states reporting backups and slower-than-usual traffic.
The gasoline monitoring app GasBuddy reported Tuesday morning that Florida stations were beginning to replenish their supplies, which were depleted from a mass exodus after Scott asked more than 6.5 million residents to evacuate.
The shortages, though, remained high in several Panhandle and northern Florida locales: 62 percent of stations in Gainesville had no gas; 47 percent in Jacksonville; 51 percent in Tallahassee. Those are key junctures for travelers looking to return to the southern peninsula.
Christopher Krebs, head of infrastructure protection for the federal Homeland Security Department, told reporters Tuesday in Washington that Harvey, which made landfall in Texas and Louisiana in late August, took a "significant amount" of the nation's refining capacity offline and affected distribution. "As a result," he said, "there may be some fuel supply shortages throughout the Southeast."
In Georgia, transportation officials hoped to ease the traffic burden. They announced plans to suspend construction-related lane closures on interstates and state routes throughout the entire state until Wednesday.
But Irma didn't allow that everywhere. South Carolina road officials said they had to close a lane of southbound Interstate 95 because the storm's winds apparently damaged a culvert that required repair. The resulting backups had already started Tuesday morning.
Some Floridians say they have no choice but to begin their trip home now.
Pam Szymanksi of Fort Myers, Florida, had to leave her Atlanta hotel Tuesday. "They're booked," she said, adding that she planned to stop in Valdosta, Georgia, for at least one night with her mother, two children and two dogs.
"I don't want to run into closed roads," she said of the final 350 miles between Valdosta and her home, "but I want to get home and start cleaning up."
Stephanie Clegg Troxell remained near Nashville, Tennessee, where her family caravan includes three cars and a trailer, five adults, five children, 13 dogs, three mini-horses and a pet pig. The trek from New Port Richey, Florida, north of Tampa Bay, took more than 17 hours, beginning last Wednesday.
She said she's watching another storm, Jose, before deciding when to leave. Jose is still offshore well east of the U.S. mainland.
"I'm trying to sneak out when it's not 30 miles (48 kilometers) per hour-plus winds," she said.
Meanwhile, she's got another worry: a homesick pig. Tank, the 70-pound pet, usually lounges beside the pool in Florida. In Tennessee, Troxell said, "He's missing his tropical scenery."
___
Associated Press writer Jonathan Mattise in Nashville, Tennessee, and Gary Fineout in Tallahassee, Florida, contributed to this report.
___
Follow Barrow in Twitter at https://www.twitter.com/BillBarrowAP .
___
HURRICANE NEWSLETTER - Get the best of the AP's all-formats reporting on Irma and Harvey in your inbox: http://apne.ws/ahYQGtb