Women's World Cup: USA holds on for draw against Portugal, advances to knockout stage | August 1, 2023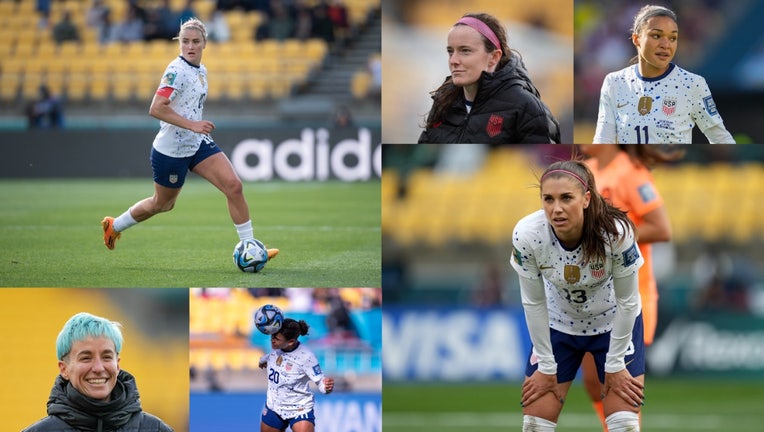 article
CHICAGO - The FIFA Women's World Cup only happens once every four years, and whether you're a soccer devotee or someone who just tunes in when the Cup comes around, you won't want to miss the action. Never fear: We've got you covered.
Every day through the Final on August 20, FOX Digital will be breaking down the details on all the can't-miss matches, players to watch and other essential details. What's next: Team USA needs a win (or draw) against Portugal in a tournament that's had its share of upsets. 
Watch the 2023 FIFA Women's World Cup only on FOX and FS1.
Women's World Cup matches on August 1, 2023
Day 13 of the 2023 FIFA Women's World Cup features four matches.
United States (1 wins, 0 losses, 1 draw)  vs. Portugal (1-0-1) Final score: United States 0 Portugal 0
           Watch the replay of the United States vs. Portugal here
Vietnam (0-2-0) vs. Netherlands (1-0-1), 3:00 a.m. EST Final score: Netherlands 7 Vietnam 0
          Watch the replay of the Netherlands vs. Vietnam here 
China PR (1-1-0) vs. England (2-0-0) Final score: England 6 China 1
          Watch the replay of England vs. China here
Haiti (0-2-0) vs. Denmark (1-1-0) Final score: Denmark 2 Haiti 0
         Watch the replay of Denmark vs. Haiti here
For details on the results of concluded matches, scroll down to the 'Soccer spoilers' section. 
RELATED: What result does USA need against Portugal to win Group E?
Match spotlight: United States vs. Portugal
We're nearing the end of the group stage, with the fates of some of the world's best teams still to be decided. Often the final match in the group round is less important to the giants of the sport than to the would-be giant-slayers, but that's not the case for 2023 – of the teams in the top 10 of FIFA's most recent global rankings (June 2023), more than half have yet to guarantee a spot in the round of 16, and only one of the teams that has (Sweden) managed to punch their ticket in only two games. (They play their final group stage match on August 2 against Argentina.)
Spain and Australia secured their spots in the knockout phase with their final group stage matches (and reigning Olympic champions Canada, ranked 7th, have already been eliminated). But the mighty teams from Germany, England, France, Brazil, the Netherlands and, of course, the United States still have something to prove – and the 2023 Women's World Cup has been fertile ground for upsets. 
So while it might seem that the U.S. team is all but guaranteed a spot in the next round (per FOX Sports, "The U.S. has earned 10 wins out of 10 games played against Portugal" and "has outscored Portugal 39-0 in those games"), an upset isn't out of the question. 
"As Colombia's stunning upset of Germany — the world's second-best team behind the Americans both historically and in FIFA's current ranking — showed, anything can happen over 90 minutes," writes FOX Sports analyst Doug McIntyre in his scouting report on the energetic Portuguese side, adding, "Indeed, four of the biggest 10 upsets in Women's World Cup history have occurred at Australia-New Zealand 2023."
RELATED: USA vs. Portugal by the numbers: 2023 Women's World Cup
To be clear, the U.S. doesn't need a win to advance out of the group stage. The match, which McIntyre says "isn't a must-win as much as it's a must-not-lose," can end either in a win for Team USA or a draw (okay, it's more complicated than that, if only just). But this match – and that between Vietnam and the Netherlands – will determine who wins group E and avoids probable group G victors Sweden in the knockout phase, based largely on goal differential. The U.S. can get by with a tie. But what they'll be chasing is a decisive, multi-goal victory. 
So, yes, ordinarily a US-Portugal match might not be the most suspenseful sporting event on the planet. But in the context of a Cup that's been full of surprises, it's can't-miss television. Coverage starts at 1 a.m. EST, only on FOX and the FOX Sports app. 
RELATED: 8 teams that could stop USWNT from three-peating at 2023 World Cup
Players to watch on August 1, 2023
USA: Sophia Smith, forward
This 23-year-old superstar is likely to become an even bigger name after her first Cup appearance – something made clear by her two goals in Team USA's opening match of the tournament. Smith led the Portland Thorns to a 2022 championship, and was named MVP of the National Women's Soccer League. FIFA calls her "one of the best and most complete forwards on the planet," while FOX Sports put it this way: "She is sensational with the ball at her feet and a superior finisher. This is her first World Cup, and she is primed for a breakout on the global stage."
Portugal: Jessica Silva, forward
Benfica standout Silva is "Portuguese women's football's biggest star and the first female player from the country to win the UEFA Women's Champions League, a feat she achieved in 2020 with Olympique Lyonnais," per FIFA; she's also just plain fun to watch. Odds are that in Portugal's first-ever WWC appearance, she'll be as entertaining as ever.
China: Wang Shanshan, forward
The star of the Steel Roses, Wang Shanshan is a flexible player with defensive skills to spare – but she's also an imposing threat as a scorer, netting two goals in the 2015 Cup and helping China earn a ticket to the quarter-finals.
England: Georgia Stanway, midfielder
With megastar Keira Walsh out with an injury for at least one match, this Bayern Munich star will likely step up to fill the gap. FIFA says that she's become "an influential presence in England's engine room, with her boundless energy and insatiable work-ethic setting the tone for [coach Sarina] Wiegman's team. She is also a fine technician, equally capable of assisting team-mates with eye-of-the-needle passes or scoring herself with blockbuster long-range efforts." 
Netherlands: Lieke Martens, forward
Called "one of the most exciting attacking players of her generation" by FIFA, this former UEFA Player of the Year isn't her team's only source of firepower, but she's formidable – and not just as a goal-scorer. Now playing in her third WWC, FIFA praises the Paris Saint-Germain star's "exceptional ability to pass her way out of tight spaces," adding that her "pinpoint accuracy from long range and excellent reading of the game pulls opposition defenses out of shape, allowing the 30-year-old to create opportunities for her team-mates in the penalty area."
Vietnam: Huynh Nhu, forward
Vietnam may not have made it out of the group stage in their debut Cup appearance, but we're still excited to watch their lightning-fast team captain in the team's final 2023 appearance. FIFA notes that the Lank Vilaverdense star "is her country's all-time record goalscorer – she has netted at a rate of almost a goal per game at international level – and last year became first female Vietnamese player to join a professional European club."
Haiti: Nerilia Mondesir, forward
This 24-year-old has experience to spare – FIFA notes that she's represented Haiti "every age-group (U-15, U-17 and U-20) prior to receiving her first call-up to the senior side." Haiti's captain played a key role in their journey to Cup qualification, and the star Haitian fans call "Nerigol" is (per FIFA) "something of a penalty-box predator, scoring 93 per cent of her goals from inside the area during the 2022/23 season."
Denmark: Pernille Harder, midfielder/forward
One of the world's most exciting players when fit, Harder is back after an injury and is ready to rocket Denmark out of the group stage. FOX Sports notes that "the 30-year-old, Denmark's all-time scoring leader, averages a goal every other game at the international level."
What teams are in the next round of the 2023 Women's World Cup?
All group matches played 
Switzerland (won group A)
Norway
England (won group D)
Australia (won group B)
Nigeria
Japan (won group C)
Spain
USA (finishes second in Group E)
Netherlands (won group E)
Denmark
Guaranteed to advance with one match remaining
Sweden
RELATED: Women's World Cup Group scenarios: How each team advances to round of 16
What teams have been eliminated from the 2023 Women's World Cup? 
All group matches played 
New Zealand (first host nation eliminated in WWC history)
Philippines 
Canada (first reigning Olympic Champion to not advance to the knockout stage in the following Women's World Cup)
Ireland
Zambia
Costa Rica
China
Haiti
Portugal
Cannot advance with one match remaining
Vietnam
Panama
Where is the 2023 Women's World Cup taking place?
The eyes (and cameras) of the world have turned toward host countries Australia and New Zealand. 
In what time zone is the Women's World Cup taking place?
Well, there's more than one time zone involved, as the battles for the Cup will take place in 10 stadiums in two countries. But suffice it to say that you're looking at times that are anywhere from 12 hours (for matches in Perth, Australia) to 16 hours (all New Zealand-based matches) ahead of EST. 
That means some matches – like Nigeria vs. Canada, the first match of day two (July 21) – will be played early in the day locally but air on what's technically the evening before in the U.S. (in this case, July 20). Who said there's no such thing as time travel?
RELATED: Who could be the breakout star for this young, talented USWNT squad?
Where can you stream the FIFA Women's World Cup?
We're living in the future, baby! All matches will be live-streamed on FOXSports.com and via the FOX Sports app, and full replays will also be available. So if you're not into watching soccer at 3 a.m., you're covered! 
How can I watch the FIFA Women's World Cup on live TV?
The FIFA Women's World Cup will air on FOX and FS1. The complete schedule awaits your perusal at FOXSports.com. In addition to all FIFA Women's World Cup matches, head to your preferred FOX platform for game highlights, replays, stats, player stories, analysis and more. 
How does the elimination round work in the Women's World Cup?
Good question! As with the men's World Cup, it's a wee bit complicated. The 32 qualifying teams have been split into eight groups, each assigned a letter (A-H). In the first round, the groups compete against each other: each "side" (team) will participate in three in-group matches. A win is worth three points, a draw worth one point and a loss is worth (you guessed it) zero points. 
At the end of the round, the top two teams (as determined by point total) in each group proceed to the knockout round. That's 16 teams total. 
RELATED: 2023 Women's World Cup betting primer: How to bet on soccer
When does Team USA play next?
USA advances to the Round of 16 as runner-up in the group with five points, going 1-2-0; will play winner of Group G in Round of 16. 
Soccer spoilers: today's results
England vs. China: Lauren James has scored twice as England advanced to knockout stage of the Women's World Cup with a 6-1 rout of China. The Chelsea forward scored her second and third goals of the tournament with two strikes as the Lionesses finished atop Group D. 
Denmark vs. Haiti: Denmark added a second goal late in the match. Mille Gejl found Sanne Troelsgaard on a through ball on a fast break down the pitch. Troelsgaard was able to finish the opportunity, shooting into the left side of the net from the right side of the box to make it 2-0. With the result, Denmark advanced to the Round of 16 as the runner-up in Group D, finishing second to England.
United States vs. Portugal: A stunning conclusion to Group E in the 2023 Women's World Cup saw the United States slip from its perch atop the group and narrowly advance to the Round of 16 as the second-place finishers behind the Netherlands. Outplayed for the second consecutive match, the Americans held on for a 0-0 draw with Portugal. After the Netherlands' dominant win over Vietnam, the USA finishes second in Group E and will move on to the Round of 16.
Netherlands vs. Vietnam: The Netherlands came up with five goals in the first half, including four in the first 23 minutes of play. Those five goals came from five different players, with the squad getting off 25 shots (12 on goal), compared to Vietnam's four shots (one on goal).  Even with multiple defenders in the area and a small window on the right side of the net, Esmee Virginia Brugts powered in a sixth goal for the Netherlands. Stefanie Van der Gragt smacked a header in the direction of Jill Roord, who knocked in the close-up header score for the Netherlands.
Watch this space!
Watch the 2023 FIFA Women's World Cup only on FOX and FS1.