QB Schaub gives Falcons 'cool' backup to starter Ryan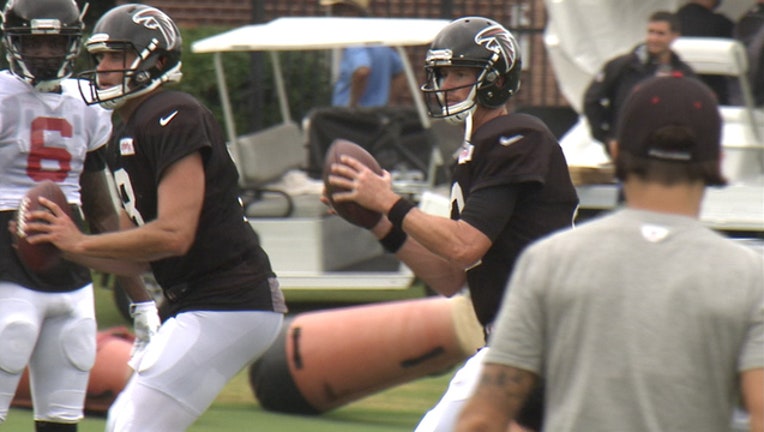 article
FLOWERY BRANCH, Ga. (AP) - Matt Schaub's cool presence in the huddle has the Falcons believing the offense can keep moving should starting quarterback Matt Ryan's long string of consecutive starts end this season.
Schaub, 35, is entering his 13th season with a return to Atlanta, his first NFL home, and the confidence earned from starting 92 of 141 career games with the Falcons, Houston, Oakland and Baltimore.
Falcons coach Dan Quinn says the experience is valuable — even though Ryan hasn't missed a start since 2009. Schaub has made a strong first impression with Quinn, who says the veteran has "a real coolness about him."
"When the pressure is on, he kind of looks at you and smiles and says 'This is what we're going to do,' " Quinn said last week. "That's an assuring feeling, knowing that's an important job for us."
Quinn hasn't decided on a plan for rotating his quarterbacks in Thursday night's preseason opener against Washington, he said. Sean Renfree and Matt Simms also are competing for a backup job.
Ryan's streak of 103 consecutive starts, including four playoff games, is the league's third-longest among active quarterbacks, behind Eli Manning (194) and Philip Rivers (169). Even so, Ryan has taken a beating: He was sacked at least 30 times each of the last three seasons — the most in his career.
If Ryan's streak continues, Schaub will be just another backup in a baseball cap. Even so, he said he likes being back in Atlanta and never considered retiring after last season.
"Keep going? There was never any doubt," Schaub said. "It was just a matter of the opportunity."
Schaub previously played with offensive coordinator Kyle Shanahan and quarterbacks coach Matt LaFleur in Houston. He said his relationship with Ryan also made Atlanta a good fit.
"I talked with him and my ability to lend a hand, help out, be ready to go and if called upon I can be there and cut loose for these guys," Schaub said.
When Schaub began his career with Atlanta in 2004 as a backup to Michael Vick, the Falcons were still holding training camp at Furman University. Now, he's enjoying camp life in the team's comparatively luxurious dormitory on the grounds of their practice facility, where, he said, "the air conditioning is always on and the beds are comfortable over here."
Tight end Jacob Tamme said Schaub "has been hitting people all over the field" in practice.
"Look, I don't know what age you're supposed to play to as a quarterback," Tamme said. "I don't think his age is doing anything to him. ... He understands the offense, as a veteran knows the ins and outs of this offense and football at this level. He adds a great presence here."
NOTES: S Keanu Neal, the rookie first-round pick, has a "trunk" injury and is "50-50" for Thursday night's game, Quinn said. Neal did not practice Monday. ... Also held out Monday were TE Levine Toilolo (hand) and RB Terron Ward (ankle). Quinn said he didn't know if Toilolo and Ward would be cleared for the game, but that "all of them don't look like long-term things," Neal included.
___
Online: AP NFL website: www.pro32.ap.org and AP NFL Twitter feed: www.twitter.com/AP_NFL