Panthers and Steelers test their mettle in prime time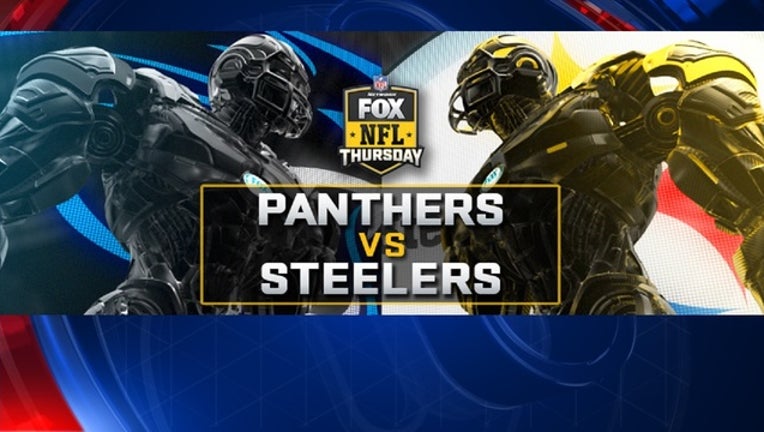 article
Two teams headed for January football, the Panthers and Steelers, get to test their mettle on Thursday night. It should be a good one in prime time.
Pittsburgh coach Mike Tomlin, who's 1-1 in Super Bowls, isn't admitting any postseason thoughts are in the minds of his players or himself. But he has to like how the Steelers have performed in four straight victories.
"I'm not trying to look for specific areas, I just try to challenge these guys to get better every day," Tomlin says.
"That's what we're focused on. I think that if we do that daily that will give us a chance to produce consistent performances that are on the rise. Not only in the second quarter (of the season) but as we continue through this journey."
WATCH: FOX 5 Atlanta starting a 7 p.m. for FOX 5 Thursday Night Kickoff followed by NFL on Fox Pre-Game Show at 7:30 p.m. Coverage of the big game starts just after 8 p.m. on FOX 5 Atlanta, the FOX Sports app and Amazon Prime.
That journey has Carolina (6-2), ranked fifth in the AP Pro32, at No. 7 Pittsburgh. The Steelers (5-2-1) are a 5½-point favorite in the week's best matchup.
The Panthers have won three straight and five of six. They are particularly strong running the ball, though Pittsburgh is stingy in that area on defense.
Carolina trails New Orleans by one game in the NFC South and leads the wild-card chase. Pittsburgh has a half-game lead in the AFC North over Cincinnati.
This could come down to the final play, which would be a treat to begin Week 10.
STEELERS, 33-31
KNOCKOUT POOL: Pro Picks is on a roll, and the Bears kept it going. This time, we'll buy into underachieving (or under skilled perhaps) GREEN BAY.
No. 20 Dallas (plus 6 1-2) at No. 11 Philadelphia
Yes, it's a bitter-rivalry game. But Eagles come off a bye, Cowboys off a poor showing.
BEST BET: EAGLES, 27-16
No. 1 New Orleans (minus 4 1-2) at No. 12 Cincinnati
With Eagles up next, Saints could stumble here. They won't.
SAINTS, 31-23
No. 13 Seattle (plus 10) at No. 4 Los Angeles Rams
That's a lot of points for a game that many Seahawks fans will attend.
RAMS, 30-23
No. 29 Arizona (plus 16 1-2) at No. 2 (tie) Kansas City
Pro Picks rarely is afraid to lay so many points. So ...
CHIEFS 40, CARDINALS 22
No. 22 Detroit (plus 6 1-2) at No. 10 Chicago
First of two meetings in less than three weeks.
BEARS, 22-14
No. 15 Washington (plus 3) at No. 25 Tampa Bay
Redskins' record could plummet with all those O-line injuries.
BUCCANEERS, 33-31
No. 2 (tie) New England (minus 6 1-2) at No. 17 Tennessee
Brady has Patriots in their usual fine November form.
PATRIOTS, 31-19
No. 14 Atlanta (minus 4) at No. 27 Cleveland
Are the injury-ravaged Falcons in midst of a turnaround?
FALCONS, 26-20
No. 6 Los Angeles Chargers (minus 10) at No. 32 Oakland
We ask once again: Have Raiders given up?
CHARGERS, 33-16
No. 19 Miami (plus 10) at No. 16 Green Bay
Dolphins have better record, Packers have much better team.
PACKERS, 34-20
No. 21 Jacksonville (plus 3) at No. 23 Indianapolis
Could there be a worse matchup this weekend? Well, see below.
JAGUARS, 21-20
No. 31 Buffalo (plus 7) at No. 26 New York Jets
Could there be a worse matchup? Well, see Monday night.
JETS, 8-5
No. 30 New York Giants (plus 3 1-2) at No. 28 San Francisco, Monday night
The worst matchup. And in prime time.
UPSET SPECIAL: GIANTS, 19-13
___
2018 RECORD:
Last Week: Against spread (9-4). Straight up (9-4)
Season Totals: Against spread (65-62-4). Straight up: (90-42-2)
Best Bet: 3-6 against spread, 7-2 straight up
Upset special: 6-3 against spread, 5-3-1 straight up
___
More AP NFL: https://apnews.com/tag/NFL and https://twitter.com/AP_NFL