Overreactions: There's no stopping Matt Ryan and the Falcons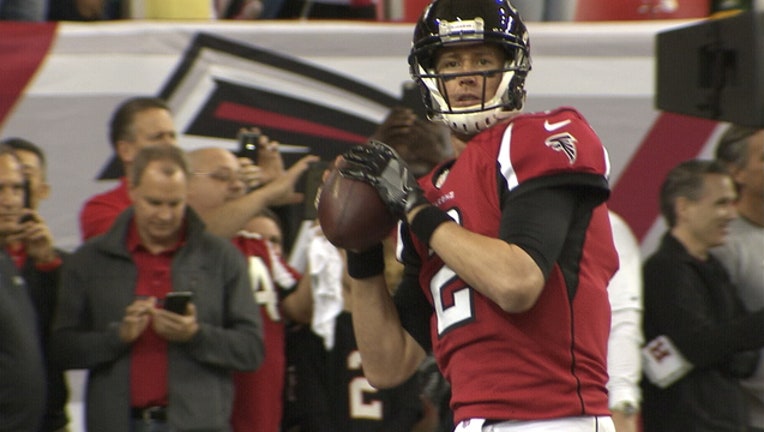 article
There's no stopping Matt Ryan and the Atlanta Falcons.
After piling up 540 points in the regular season, the NFL's highest-scoring offense has been even better in the playoffs. The Falcons scored 36 points against Seattle last week and 44 more against Green Bay in a lopsided NFC championship game.
Next up are the New England Patriots in the Super Bowl.
Surely, Matty Ice, Julio Jones and Co. can put 40 on the scoreboard in Houston to bring the city of Atlanta its second championship ever - and first in football.
Not so fast, Dirty Birds fans.
These Patriots (16-2) are more than just Tom Brady . They have a defense that allowed the fewest points in the NFL this season, an average of 15.6 points per game.
Yes, the Falcons (13-5) are rolling. They've won six in a row, scoring at least 33 points in each. They scored at least 23 in every game this season except a 24-15 loss at Philadelphia in Week 10.
But we've seen this before in the Super Bowl and it usually doesn't work out well for the team with the best offense.
The last time the NFL's top-scoring offense played the league's stingiest defense in the Super Bowl was three year ago when Denver met Seattle.
Peyton Manning and the Broncos set an NFL record with 606 points in 2013 but managed one touchdown in a 43-8 loss to the Seahawks.
Carolina led the league in points last season and lost 24-10 to Denver.
Remember how Brady, Randy Moss and the Patriots fared against the New York Giants after scoring a then-record 589 points in 2007 and steamrolling to an 18-0 record. They lost 17-14 in the Super Bowl.
Of the top 25 scoring offenses in NFL history (average points per game), 13 have reached the Super Bowl. Those teams are 4-9. The 2009 Saints were the last one to win.
Conversely, 13 of the 25 stingiest defenses (average points per game allowed) have reached the Super Bowl. Those teams are 8-5.
Here are other overreactions following Championship Sunday:
OVERREACTION: Brady will carve up Atlanta's secondary. The Falcons allowed the fifth-most points and sixth-most yards passing this season.
REALISTIC REACTION: Many of those yards came in garbage time because the Falcons scored a ton of points and were winning so opponents had to pass against them to try to catch up. Brady can pick any defense apart, but Atlanta shut down Aaron Rodgers and nobody was playing better.
___
OVERREACTION: The Patriots can't cover Jones. Did you see those nine catches for 180 yards against Green Bay?
REALISTIC REACTION: Did you see New England's secondary led by CB Malcolm Butler and Pro Bowl safety Devin McCourty against Antonio Brown? He had only 77 yards on seven catches.
___
OVERREACTION: The Patriots will win because they want to stick it to Roger Goodell and the NFL for the "Deflategate" punishment.
REALISTIC REACTION: Coach Bill Belichick is a master at keeping his team focused on the task at hand. Vendettas don't propel teams to victory; talent does. The Patriots are motivated by winning their fifth Super Bowl title.
___
OVERREACTION: Goodell handing Belichick, Brady and Patriots owner Robert Kraft the Vince Lombardi Trophy will be the most awkward presentation moment in sports history.
REALISTIC REACTION: The "technology and stuff" guy who presented 2014 World Series MVP Madison Bumgarner with a Chevrolet truck will be hard to top.
___
OVERREACTION: More people will be talking about Lady Gaga's hair color than the game because it'll be another rout.
REALISTIC REACTION: Oddsmakers made the Patriots only a 3-point favorite. This should be a tight game like all six of New England's Super Bowl appearances with Belichick and Brady.
___
AP NFL website: www.pro32.ap.org and www.twitter.com/AP_NFL
___
Follow Rob Maaddi on Twitter: https://twitter.com/AP_RobMaaddi