Mubadala CITI DC Open offers equal status for women and men but unequal prize money
WASHINGTON - A poster hanging at the DC Open site shows Frances Tiafoe — a competitor in the field from nearby Maryland — flanked by other men such as Andy Murray and Taylor Fritz and women such as Coco Gauff and Jessica Pegula.
It is a simple visualization of a complicated change to a tournament that began Monday and has been around for men since 1969, added women via a simultaneous but lower-tier and less-promoted event in 2009 and now is taking a further step by touting itself as the first combined ATP-WTA 500 event. That is two levels below Grand Slams and one level below Masters 1000s and was accomplished by elevating the women's portion through the lease of what had been a hard-court tourney in San Jose, California, played during the same week.
While ostensibly that puts the men and women on equal footing in Washington — where players both will be trying to win a trophy and to prepare for the U.S. Open, the year's last Grand Slam tournament — it still is not equal all the way around.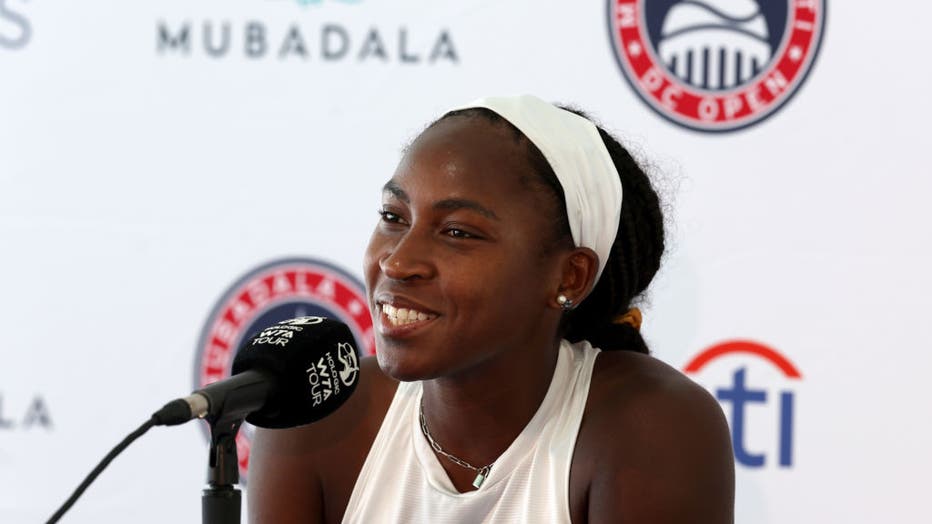 WASHINGTON, DC - JULY 30: Coco Gauff of United States answers questions during a press conference during Day 2 of the Mubadala Citi DC Open at Rock Creek Tennis Center on July 30, 2023 in Washington, DC. (Photo by Rob Carr/Getty Images)
Most notably: The men's champion receives a check for $353,445; the women's champion earns $120,150. That is not an anomaly. There are other stops on the professional tennis tours that include female and male players but do not pay them evenly.
"Our main goal is to work toward equal prize money. That is what we want on the WTA side and what we think is fair. Especially at the combined events, we don't want to see a discrepancy there. We want to see that we're earning the same at the same event," said Pegula, an American who is No. 3 in the rankings and seeded No. 1 in Washington and a member of the women's tour's player council. "The fans are coming to watch both of us, and we should be making the same."
All four Grand Slam tournaments offer equal prize money across the board, something the U.S. Open started doing 50 years ago and others as recently as 2007. That won't happen at the DC Open until 2027 as part of a wider plan the WTA recently announced to get equal paychecks at certain events by that year and at others by 2033.
"That will give everyone a chance to hopefully get revenues to grow to be able to afford it," said Mark Ein, who has been the tournament chairman since 2019 and is part of the group that recently bought the NFL's Washington Commanders from Dan Snyder.
"When we took over the tournament, one of my top goals was to secure a women's event at an equal level as our men's," Ein said. "One of the things I love about tennis is it's really the only sport where athletes of both genders compete on the same playing surface at the same time."
There are other discrepancies between the men's and women's brackets in Washington.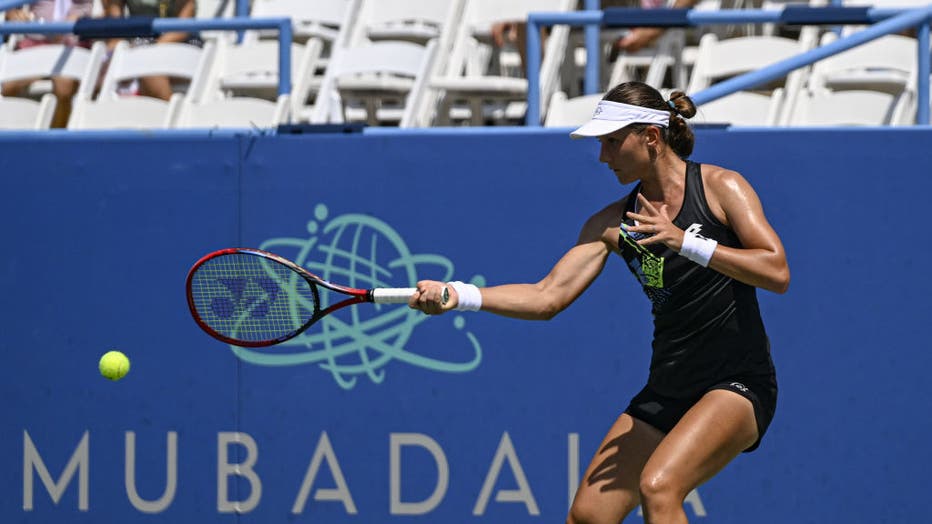 WASHINGTON DC, UNITED STATES - JULY 29: Varvara Gracheva of France against Leylah Fernandez (not seen) of Canada in the Womenâs Qualifying Singles on first day of The Mubadala Citi DC Open Tennis Tournament in Washington DC at Rock Creek Park on July
The men's field is 48 players; the women's is 28. The rankings points available are nearly the same, but the men's champion gets 500, the women's 470.
Like Pegula, three-time major champion Murray, who is seeded 15th in Washington, said that all players "at the same event, on the same courts," should be vying for the same payouts.
"But I think for it ever to become like truly equal, the WTA and the ATP are actually going to have to come together and work as one before that's the case, because I don't think it's that straightforward just now that both tours have different sponsors, different TV deals and all of that stuff, too," Murray said. "There is a few things that still need to change, but I feel like things are going in the right direction, like with the move to this event becoming a 500 for both. Can obviously still get better."
The Associated Press contributed to this report.