Miller loses 15th straight, Braves get blanked by Mets 4-0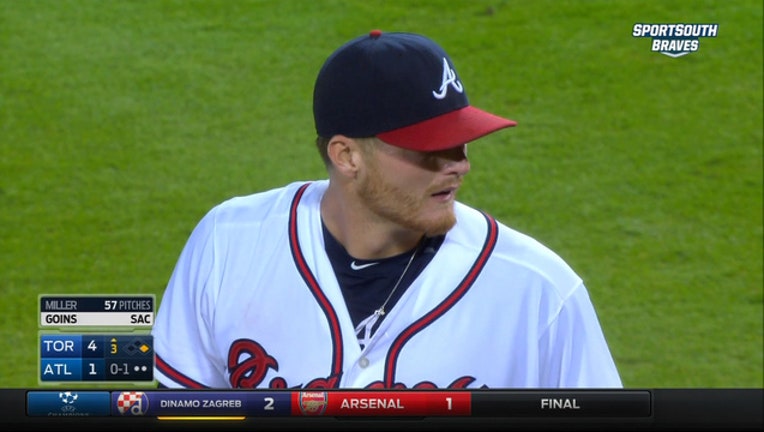 article
NEW YORK - Shelby Miller's 100th major league appearance ended like the previous 22 -- without a win.
Hard to imagine this could happen to an All-Star.
Miller was handed his 15th consecutive defeat Monday night when the Atlanta Braves were shut out for the 16th time this season in a 4-0 loss to the New York Mets.
"As bad as my streak's been, we're still playing hard baseball and that's all that matters to me," Miller said. "It'd be a lot different if things were kind of going this way and it didn't seem like anybody was trying or something like that."
Jonathon Niese won for the first time in a month and Michael Conforto homered for the Mets, who inched closer to an NL East title. Daniel Murphy lined a two-run double and Yoenis Cespedes had three hits.
Miller (5-16) lost his seventh straight start. He threw a season-high 113 pitches in six innings, allowing two runs and seven hits -- including Conforto's homer.
"I'm not going to say wins and losses don't matter because at the end of the day, a loss is a loss. We play the game to win," Miller said.
The 24-year-old right-hander is winless in his last 23 outings, the longest drought for a starter in Atlanta history, since coming within one out of a no-hitter in a 6-0 win May 17 at Miami.
"He's had a lot of bad luck and I thought today he pitched really good," Braves manager Fredi Gonzalez said.
It was the 13th time in those 23 starts Miller yielded no more than two earned runs. He has received by far the worst run support in the majors.
His winless streak already was the longest for any big league pitcher in a season he was an All-Star.
"At the end of the day, where I sit with myself and where my stuff is and where my year is, it's been good," Miller said. "Obviously I've had some ups and downs, but at the same time you learn from those things and you take the positives and develop yourself into a better pitcher and person and teammate."
Freddie Freeman lined out to center field with the bases loaded to end the third inning. Atlanta put its first two batters on in the fourth before Nick Swisher grounded into a double play.
Thanks in large part to Niese, the Mets rebounded nicely from a disappointing loss to the crosstown rival Yankees in the Subway Series. New York stretched its division lead to 6 1/2 games over the second-place Nationals with 12 to play.
"We needed this one bad," manager Terry Collins said. "I'm not trying to hide anything. There are big wins. This one is a big win for us. It kind of rights the ship a little bit."
Niese (9-10) had an 8.77 ERA in his previous five starts, though the Mets won four of those games. This time, the left-hander tossed three-hit ball for six innings during an encouraging outing. He retired his first eight batters on grounders and got 13 of his 18 outs on the ground.
Addison Reed, Tyler Clippard and Jeurys Familia finished the five-hitter for New York, which had dropped four of five since an eight-game winning streak.
OUCH!
Plate umpire Fieldin Culbreth was hit flush in the right knee -- on the fly -- with Dan Winkler's first major league pitch in the bottom of the eighth. Culbreth was shaken up but stayed in the game.
  
TRAINER'S
Braves: RF Nick Markakis missed his second consecutive game with stiffness in his upper back and neck. But he was feeling better and should be ready to play Tuesday, Gonzalez said. ... C Christian Bethancourt sat out after bruising his left wrist on a play at the plate Sunday. X-rays were negative and he is day to day, the Braves said.
UP NEXT
Braves: Rookie RHP Matt Wisler (5-8) is 1-1 with a 1.93 ERA in two starts against the Mets. He beat All-Star Jacob deGrom 2-1 at home in his major league debut June 19.
Mets: RHP Logan Verrett (1-0, 1.91 ERA) fills in for deGrom, pushed back for rest, in the middle game of the series Tuesday night. The rookie has pitched well in two spot starts for Matt Harvey within the last month.