Mark Cuban offers to help Mavericks season ticket holder cancel his account over Trump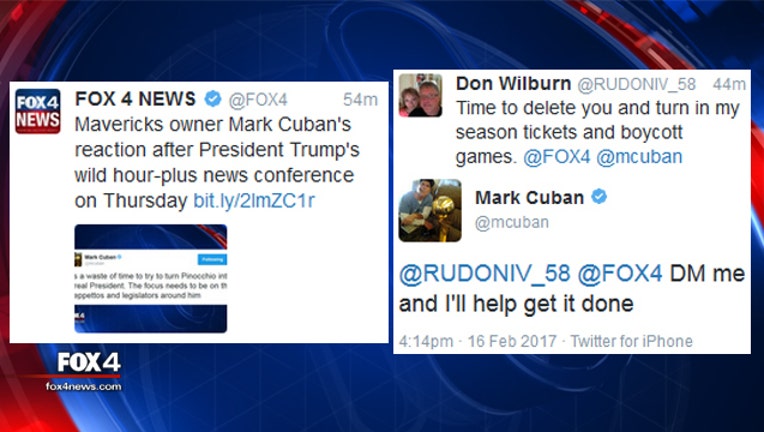 article
Mavericks owner Mark Cuban offered to help a season ticket holder cancel his tickets after a tweet about Donald Trump.
FOX4 tweeted a screenshot of a tweet sent by Cuban reacting to Trump's wild hour-plus news conference: "It's a waste of time to try to turn Pinocchio into a real President. The focus needs to be on the Geppettos and legislators around him."
The president denounced media reports of a chaotic start to his administration marked by his contentious executive order - rejected by a federal appeals court - to place a ban on travelers from seven predominantly Muslim nations.  He also criticized of the news media, accusing it of being "out of control" and promising to take his message "straight to the people."
Mavericks season ticket holder Don Wilburn replied to FOX4's tweet of Cuban's criticism and also tagged Cuban, saying "Time to delete you and turn in my season tickets and boycott games."
Less than an hour later, Cuban succinctly replied: "[Direct message] me and I'll help get it done."
Cuban recently told KTCK 1310-AM "The Ticket" that only a small number of people have canceled their Mavericks season tickets due to his outspokenness against Trump.
"I think we had 12 season tickets cancelled and I had eight people tell me they bought because they heard other people were giving me a hard time," Cuban told BaD Radio last week. "But I will say, in the bigger scheme of things, our season ticket holders haven't cancelled."
The Associated Press contributed to this report.