Loss of Horford will leave Hawks with new look in 2016-17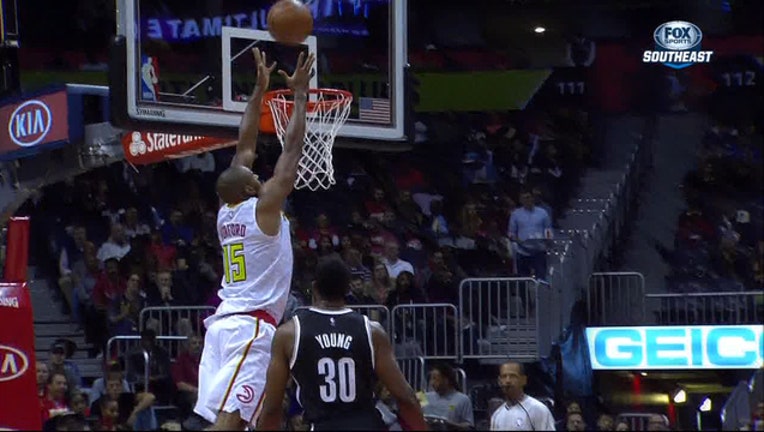 article
ATLANTA (AP) - The remaking of the Atlanta Hawks has taken a more dramatic turn than planned.
Al Horford's four-year, $113 million agreement with the Boston Celtics on Saturday has left the Hawks without their respected leader, fan favorite and player with most seniority.
The Hawks reached the playoffs in each of Horford's nine seasons since he was the No. 3 overall pick from Florida in 2007. Horford, a four-time All-Star, led Atlanta to its first Eastern Conference finals appearance in 2015.
The Hawks hoped to re-sign Horford even after reaching an agreement Friday with center Dwight Howard on a three-year contract worth $70.5 million. After so many years playing small with the 6-foot-10 Horford in the middle, the Hawks wanted a big front line that included both Howard and Horford.
Instead, Horford changed his Twitter account to Celtics green on Saturday.
At last week's NBA draft, Hawks general manager Wes Wilcox was asked if re-signing Horford was the team's top priority in free agency.
"Yes, certainly," Wilcox said.
Wilcox was banking on the team's long relationship with Horford. Wilcox said last week the Hawks "believe in the quality of our relationships that we have built over the years."
The Hawks are believed to have made a last contract offer to Horford on Saturday, even though keeping the center would have meant making other moves to create space under the salary cap.
After emphasizing wing players in last week's NBA draft, Wilcox also emphasized that re-signing Kent Bazemore was a priority. The Hawks reached an agreement with Bazemore on Friday for a four-year, $70 million deal.
Barring more moves, the Hawks' new-look lineup will include Howard, power forward Paul Millsap, Bazemore, and new starting point guard Dennis Schroder.
The Hawks traded another longtime starter, point guard Jeff Teague, to Indiana in a three-team deal last week. Atlanta received the No. 12 pick in the draft, used by Utah to select small forward Taurean Prince. The deal, including the Hawks' rights to Prince, cannot be announced officially before the free-agent moratorium ends on Thursday.
Prince, another first-rounder who plays on the wing, DeAndre Bembry, and veteran Thabo Sefolosha should join Bazemore and others to give coach Mike Budenholzer size and versatility.
It is possible Millsap could be the only starter at the same position next season. Shooting guard Kyle Korver's scoring average fell off about three points per game to 9.2. At 35, Korver could move to a backup role which would allow Bazemore to shift to shooting guard — where he started against Cleveland in the playoffs.