Lammers has 20 as Georgia Tech tops Pitt 61-52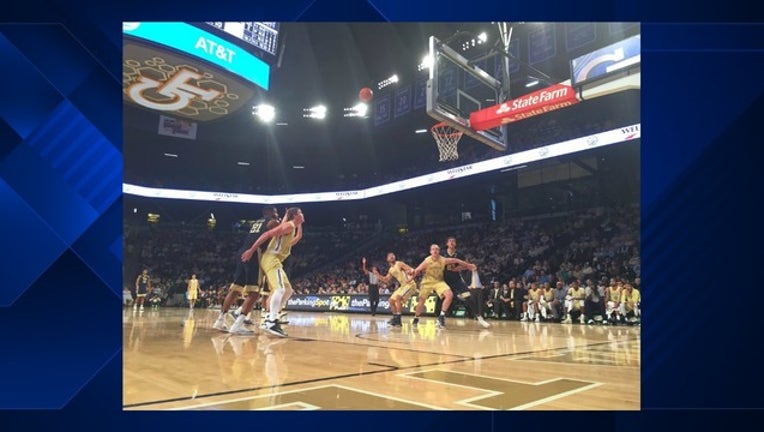 article
ATLANTA (AP) - Josh Pastner proclaimed that Georgia Tech's eighth Atlantic Coast Conference win is "literally a modern miracle."
Then again, Pastner also suggested his overachieving Yellow Jackets already should be a lock for the NCAA tournament.
The first-year coach can be excused an exaggeration or two.
Ben Lammers scored 15 of his 20 points in the second half, Josh Okogie added 14 points and Georgia Tech beat Pittsburgh 61-52 on Tuesday night, adding another win to its season of surpassed expectations.
Georgia Tech (17-13, 8-9 ACC), expected to finish near the bottom of the ACC in a rebuilding year, will aim for a .500 finish in the league when it closes its regular season at Syracuse on Saturday.
"I really believe eight wins in the ACC should automatically get you in the NCAA tournament," Pastner said.
Even Pastner was forced to acknowledge that his Yellow Jackets, who began the night with a No. 96 NCAA RPI, need to "keep on winning" - probably through the ACC tournament - to achieve that NCAA goal.
ACC scoring leader Michael Young led Pitt (15-15, 4-13 ACC) with 16 points. Cameron Johnson had 13.
A 3-point play by Jamel Artis gave the Panthers their last lead at 47-46 with five minutes left.
After a basket by Quinton Stephens gave the lead back to Georgia Tech, Lammers pushed the advantage to four points with a basket and free throw.
Pitt was hurt by second-half turnovers and what coach Kevin Stallings described as a problem with "coachability."
Asked to elaborate, Stallings said "How about if the coach says run a play, come down and run the play instead of charge?"
Georgia Tech snapped a two-game losing streak.
"This is good, kind of a pick-me-up game," Lammers said. "Hopefully we can take the momentum to Syracuse."
Georgia Tech led only 51-50 when Okogie, playing with four fouls, converted a big 3-point play. Okogie was fouled by Chris Jones while scoring on a layup, and he made the free throw to push the lead back to four points. After a layup by Young, Okogie added a fall-away jumper. A jam by Lammers with 1:08 remaining pushed Georgia Tech's lead to 58-52.
BIG PICTURE
Pitt: The Panthers finished 1-7 in ACC road games, with the only win coming at Boston College on Feb. 8. ... After making a jumper for the Panthers' first points, Young's next shot, a 3-pointer, missed everything. Georgia Tech's students in the crowd chanted "Air Ball! Air Ball!" every time he touched the ball the remainder of the first half. Young missed his final five shots from the field in the half and made 6 of 14 from the field for the game. ... Jamel Artis, the ACC's fourth-leading scorer, had 12 points, seven below his average. ... Pitt had 13 turnovers.
Georgia Tech: The Yellow Jackets' seniors were honored before their final home regular-season game, including starters Josh Heath, Corey Heyward and Stephens.
SAME STORY
Pitt's poor finish was painfully familiar to Stallings and his players.
"We didn't get the stops we needed," Johnson said. "They got a couple easy baskets in the end. ... We've been struggling with that. We just didn't execute well enough in the end."
Stallings said his team "can play most people competitively and then get to the end and don't get the job done."
ONE SHOE WILL DO
Okogie lost his left shoe near the Georgia Tech basket late in the first half. As the action went the other way, Okogie stopped to pick up the shoe and then changed his mind, tossing the shoe out of bounds and running back up the court with just a sock on the foot.
"If I tried to put it on, I couldn't leave them five-on-four on defense," Okogie said of his teammates. "I just had to leave it off."
Action went back and forth before Pastner finally called a timeout so Okogie could retrieve the shoe.
UP NEXT
Pitt: Visits Virginia on Saturday
Georgia Tech: Visits Syracuse on Saturday
___
More AP college basketball at http://collegebasketball.ap.org and https://twitter.com/AP_Top25