Kennesaw State to play football game in SunTrust Park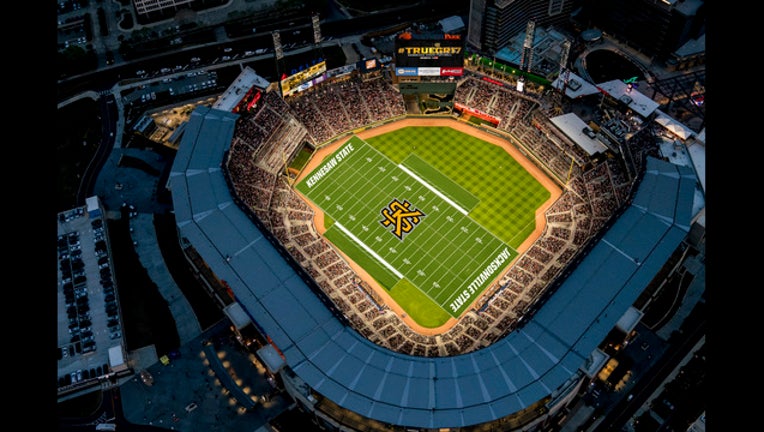 article
COBB COUNTY, Ga. - Kennesaw State University and Jacksonville State University will play a 2018 football game in Suntrust Park, according to a press release from the Atlanta Braves.
The game will take place on November 17, 2018 and will be the first football game played at the Braves new ballpark.
"We couldn't think of a better way to bring football to SunTrust Park than with Kennesaw State," said Mike Plant, Braves president of development.  "Vaughn Williams was integral in making this happen and we're excited to host this game for Cobb County and Kennesaw State students, faculty and alumni."
The SunTrust Park field will be converted to a football field with the field running from homeplate to left field.
"This is a historic day for so many reasons," said Vaughn Williams, Director of Athletics at Kennesaw State. "I can't thank Mike Plant and the Atlanta Braves organization enough for allowing the Owls to play the first football game at SunTrust Park. We are excited to provide our student-athletes, coaches, fans, and alumni the opportunity to see our football team play in such an incredible and unique venue. I know this will be a great event for Cobb County and the Northwest Georgia region."
Under head coach Brian Bohannon, Kennesaw State is entering its third season of football in 2017. The Owls have won 14 games over their first two seasons, and came one win shy of a Big South Conference title in 2016.
Jacksonville State, coached by John Grass, is a perennial power in the Football Championship Subdivision. The Gamecocks have posted a 33-6 record over the last three seasons, reaching the FCS Playoffs each year and played for the national championship in 2015.
Kennesaw State announced that its football season-tickets holders for the 2017 season will have first choice at seating location for the 2018 game at SunTrust Park.
More information specific to the 2018 game, including game time, ticket prices, premium seating packages and other special events surrounding the game has yet to be determined.