Harvick adds Cup win to dominant weekend at Atlanta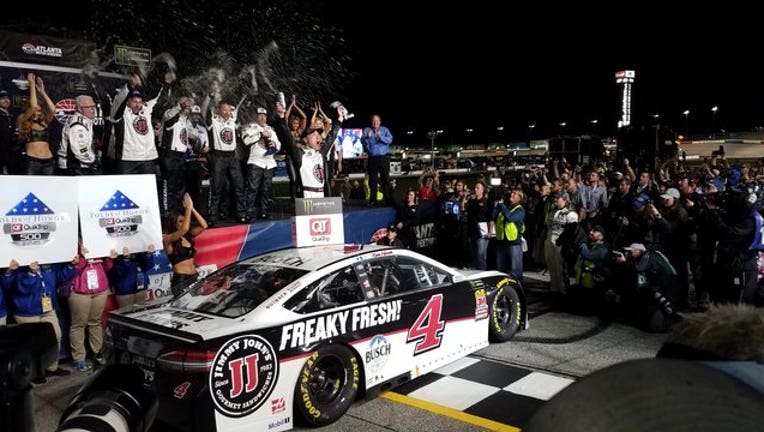 article
HAMPTON, Ga. (AP) - Kevin Harvick had to wait 17 years for a second Atlanta salute to Dale Earnhardt.
The memory brought tears to his eyes.
In a reprise of the celebration of his first win in Atlanta in 2001, Harvick raised his three-finger salute to Earnhardt following his dominant victory Sunday in the rain-delayed NASCAR Monster Energy Cup race.
Harvick completed his weekend mastery of Atlanta Motor Speedway by holding off Brad Keselowski following a late restart.
Then he held the three fingers out the window, just as he did in 2001 when he gave the Richard Childress team an Atlanta win following the death of Dale Earnhardt in Daytona a few weeks earlier. The young Harvick took over Earnhardt's car, with a new No. 29.
Ending five years of frustration in Cup races in Atlanta was satisfying, but Harvick said "the coolest part was being able to try to replicate that first win celebration."
Harvick led 915 laps in Cup races in Atlanta over the last five years - including 181 on Sunday - but endured the long wait for his second win at the track. It brought back memories.
"That was the first win in my career and to be able to do that and pay tribute to Dale was pretty cool," Harvick said. "I've been waiting a long time to do that."
He said he was emotional on Sunday because he was moved to see his team so happy.
"For me there was just a lot of happiness," Harvick said, adding "There's nothing better than seeing all those guys smile."
The win came one week after Austin Dillon, who now has the No. 3 that Earnhardt made famous, won the Daytona 500 .
"You see that 3 back in victory lane and us back in victory lane tonight, it's almost, it's how it's meant to be," Harvick said, smiling.
The win completed an impressive weekend for Harvick following a similarly dominant win in the second-tier Xfinity event on Saturday.
Harvick started fourth in the Cup race and quickly proved he had the car to beat.
Harvick was comfortably in the lead when Trevor Bayne's engine blew with 28 laps to go. The restart gave contenders a chance to grab the lead, but Harvick beat Keselowski to remain in control.
"What a relief," Harvick told his crew after crossing the finish line. He led 292 laps in Atlanta last year before finishing ninth following a pit road speeding penalty.
The start was delayed 2 hours, 30 minutes by rain. There was no additional significant rain until immediately after the race.
"Turns out Mother Nature is a race fan," said Clint Bowyer, who finished third, giving Ford drivers the top three spots.
Denny Hamlin was fourth.
Harvick showed his strength when he charged through the field after an unscheduled pit stop dropped him to 19th midway through the race.
"If he hadn't had the pit row issue today he probably would have led 300-something laps," Keselowski said.
Rookie Darrell "Bubba" Wallace Jr., coming off a second-place finish at last week's Daytona 500, finished 32nd. Wallace was the first black driver in the Daytona 500 field since 1969, and he became the first black Cup racer in an Atlanta race since Bill Lester finished 38th in 2006.
Martin Truex Jr., the 2017 series champion, started 35th after failing to qualify on Saturday but was up to fourth by the 12th lap before finishing fifth.
Jimmie Johnson, who won in Atlanta in 2015 and 2016, finished 27th. There were no wrecks but there was a caution after Johnson's spin in turn 2 on lap 160.
With no "open" cars, the 36-car field was NASCAR's smallest since 1996.
___
For more AP racing coverage: http://racing.ap.org