Falcons rookie Neal looks forward to facing mentor on Seahawks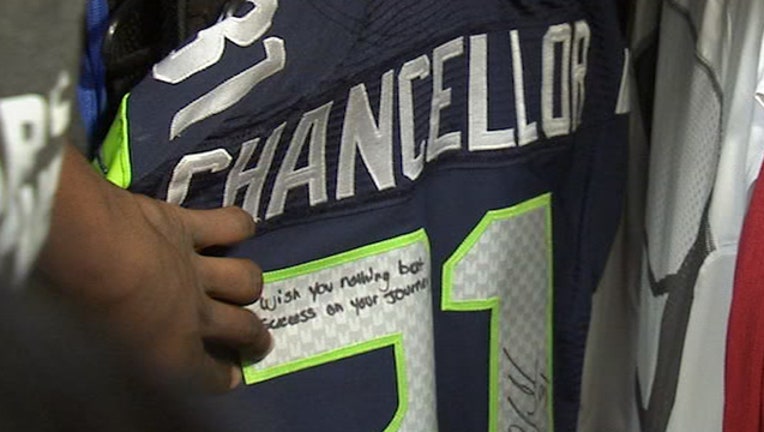 article
FLOWERY BRANCH - Falcons rookie Keanu Neal is not rearranging his locker just because of this week's opponent.
"Nah, I'll leave it there," said Neal as he looked at Kam Chancellor's jersey hanging among other clothes in his Flowery Branch locker.
Neal's Falcons will face Chancellor's Seahawks on Saturday in the Divisional Round of the playoffs. Chancellor and Neal trained together in the offseason and are friends; in fact, the jersey has an inscription.
"Wish you nothing but success on your journey," Neal read aloud.
Still, in the ultra-competitive NFL, you might think Neal would tuck away that keepsake from a player you might call his mentor. That won't happen.
"The brotherhood is bigger than football," said Neal. "I don't see it as against the Seahawks so i have to hide it. it's Kam Chancellor so he's a brother to me."
Chancellor is the exact type of hard-hitting safety that Dan Quinn's defense demands -- the coach worked with Chancellor when Quinn was Seattle's defensive coordinator before getting hired in Atlanta. His progress matches that of his young defense, a group that stepped up their production as the regular season wrapped up.
"All our young players have gone through that process, where that play happened, [thinking] 'I missed this assignment, that tackle,'" said Quinn. "You become better as a player, as a competitor and a man when you go through those tough times."
Neal says he and Chancellor still text, talking about football and life as an NFL player off the field. He knows Chancellor will be excited after missing the first game between these two teams in the regular season.
"To be able to watch him play in person in person is going to be cool for me, but, shoot," Neal says with a laugh, "we want to beat them!"
Neal and Chancellor still text from time to time