Falcons' Jones says foot, missing earring are no problems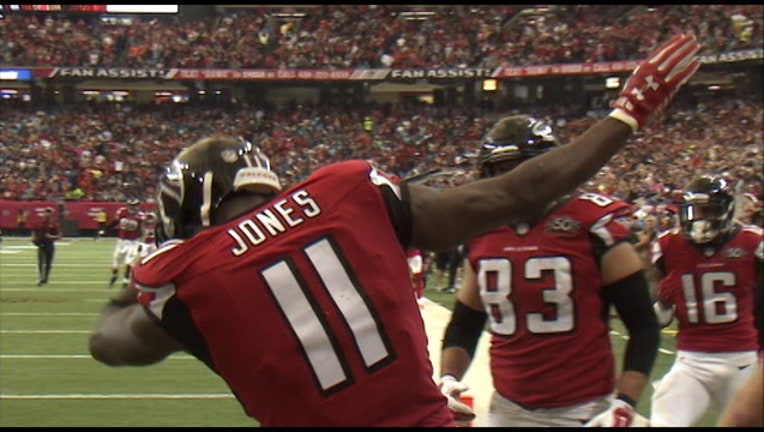 article
FLOWERY BRANCH, Ga. (AP) - Julio Jones wanted to clear the air in his first media session of training camp.
He isn't worried about his surgically repaired left foot. He's also not concerned about his missing earring worth more than $100,000.
Jones' adventure on a jet ski at nearby Lake Lanier was a hot topic early in Falcons training camp. An Atlanta TV station reported Jones took a spill and lost the earring when he fell off the jet ski. WXIA-TV also reported a dive team was attempting to find the earring on the lake bottom.
So before talking football on Saturday, Jones talked jewelry and water sports.
"I didn't hire a dive team," Jones said. "I did not do that. It was insured. I was fine. I didn't get thrown off or anything. I jumped off the jet ski. So that's cleared up."
Jones also deflected the suggestion his teammates have kidded him about the incident.
"They didn't make a big deal out of it because it's not a big deal," he said firmly.
Any story involving Jones, the two-time All-Pro wide receiver, is a big deal for the Falcons.
The most important development for the Falcons' 2017 season is Jones appears to be fully recovered from the minor foot surgery he had in March, even though he has been limited to individual drills on the field this week.
"The movement and the speed, that's where he feels good," coach Dan Quinn said Saturday, adding he hopes Jones can work his way into 11-on-11 portions of practice next week.
Jones said there's no reason to rush anything. He proved last season he can be a spectator through much of a practice-week schedule and still be a difference-making receiver in the game.
"My foot is great," he said. "We're just being smart. I still get my conditioning in. I run routes. I'm in and out of the huddle. I'll try to do a little more tomorrow. It's just one day at a time with me. We're not trying to rush anything."
Jones' league-leading 136 catches in 2015 were the second-most in NFL history. He missed two games with a toe injury last year and still ranked second in the NFL with 1,409 yards receiving, including a team-record 300 yards on 12 catches in a win over Carolina.
Jones, quarterback Matt Ryan and running back Devonta Freeman helped the Falcons lead the league in scoring while advancing to the Super Bowl last season.
The 2016 season was Jones' first without Roddy White , the Falcons' all-time leading receiver.
Now Jones has the responsibility of being the leader of a group of receivers which includes Mohamed Sanu, Taylor Gabriel, Justin Hardy and rookies Reggie Davis and Deante Burton.
"Roddy did a great job with me and was a great mentor for me and I've just carried it on," Jones said.
Quinn said Jones leads with "the small moments in a locker room and a meeting room about the standard, about what you can do and a different way to play it. So it's behind the scenes that so much of his leadership takes place."
NOTES: Quinn said it wasn't unusual to see players sometimes cross "the fine line as a competitor" in the first practice in full pads. There were several big hits, including a shot by LB Vic Beasley on RB Devonta Freeman. "They want to go against each other so hard," Quinn said, adding "You always want to take care of one another." ... WR Devin Fuller, a seventh-round pick in 2016, suffered a torn anterior cruciate ligament in Friday's practice and will have season-ending surgery on the knee. Fuller missed the 2016 season with a shoulder injury.
___
For more NFL coverage: http://www.pro32.ap.org and http://www.twitter.com/AP_NFL