Falcons have reinforcements for second camp under Dan Quinn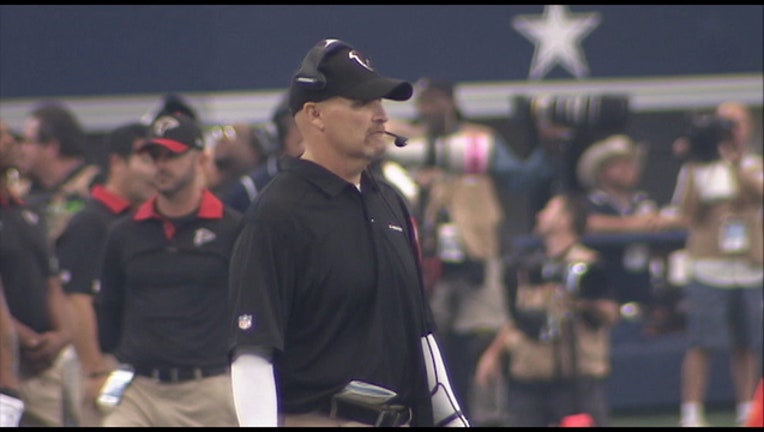 FLOWERY BRANCH, Ga. (AP) - The Atlanta Falcons are hoping their second season with coach Dan Quinn and offensive coordinator Kyle Shanahan brings more familiarity, confidence — and wins.
A few new key players might make an even bigger difference.
The Falcons improved from 6-10 to 8-8 but missed the playoffs in Quinn's first season. There was improvement, especially on defense, but the failure to take advantage of a 5-0 start left the season feeling more like a letdown.
The team's biggest offseason addition could be a difference maker for quarterback Matt Ryan, 31. Three-time Pro Bowl center Alex Mack left Cleveland to sign a five-year, $47.5 million deal.
Mack will be expected to provide the stability and leadership at center the team has lacked since Todd McClure's final 2012 season.
Even after the release of Roddy White, the most accomplished receiver in franchise history, Ryan has potent playmakers with receiver Julio Jones and dual-threat running back Devonta Freeman. Mohamed Sanu was signed to be the No. 2 receiver.
Ryan's 21 touchdown passes in 2015 were his fewest since his 2008 rookie season. His 16 interceptions were the second most of his career.
Ryan organized and paid for a passing camp which preceded OTAs and minicamp. He said having a year in Shanahan's system has made a difference. That's important because there were calls for Shanahan to be replaced after it appeared Ryan had not adjusted well to the zone-blocking scheme.
"I think we're further along this offseason," Ryan said this month. "I think that's going to bode well for us."
Ryan said "there's certainly an adjustment period" following a coaching change, but added "I think we handled it pretty well."
The key newcomers on defense include linebacker Courtney Upshaw, defensive end Derrick Shelby and rookie strong safety Keanu Neal. Each should start. Another rookie, linebacker Deion Jones, also could play a big role.
Here are some story lines to watch for the Falcons' training camp:
KUDOS FOR KEANU: Neal was drafted from Florida to be an anchor for the defense. Quinn believes Neal has the toughness to play close to the line like a linebacker and the pass coverage skills to defend tight ends and running backs. Quinn said Neal showed in minicamp "the mental quickness and the speed that he plays with."
Quinn said the strong safety position is so important to his scheme that he drafted Neal with the No. 17 overall pick instead of looking for pass rush help.
NEW ROLE FOR BEASLEY: Quinn, the former Seattle defensive coordinator, couldn't find instant answers for the team's persistent pass-rush problem. The Falcons were last in the league with 19 sacks. They have ranked no higher than 28th in sacks since 2012.
Vic Beasley Jr., last year's first-round pick from Clemson, had four sacks while spending most of his time at defensive end. The plan this year is for Beasley to play strongside linebacker in the base defense and defensive end in nickel packages. Quinn estimates the Falcons will be in their nickel package at least 60 percent of snaps.
Shelby had 3 ½ sacks with Miami last season.
HELP FOR JULIO: Perhaps no receiver added to the roster would have prevented defenses from assigning an extra defender to Jones. His 136 catches for 1,871 yards in 2015 each ranked as the second-best totals in NFL history.
Last year, Freeman had 73 catches and tight end Jacob Tamme had 59 as Ryan's top options to Jones. Sanu, who signed a five-year, $32.5 million deal, could be in position to flourish as the new top complement to Jones. Sanu was a part-time starter with Cincinnati.
Second-year receiver Justin Hardy could earn a job as the No. 3 receiver with a strong camp.
QB INSURANCE: Ryan made every start for the sixth straight season, but his durability may disguise the effects of the constant pounding. Ryan has been sacked at least 30 times in three straight seasons — the three highest totals of his career.
Ryan's new backup is veteran Matt Schaub, 35, who played for Shanahan in Houston. Quinn said Schaub has added "a real calming presence."
HESTER'S HEALTH: Devin Hester, 33, is coming off toe surgery. He played in only five games last season and needs a strong camp to show he has regained the speed that made him one of the top return specialists in the game.
___
AP NFL website: www.pro32.ap.org and www.twitter.com/AP_NFL