Falcons' Coleman has fractured rib, may miss game at Dallas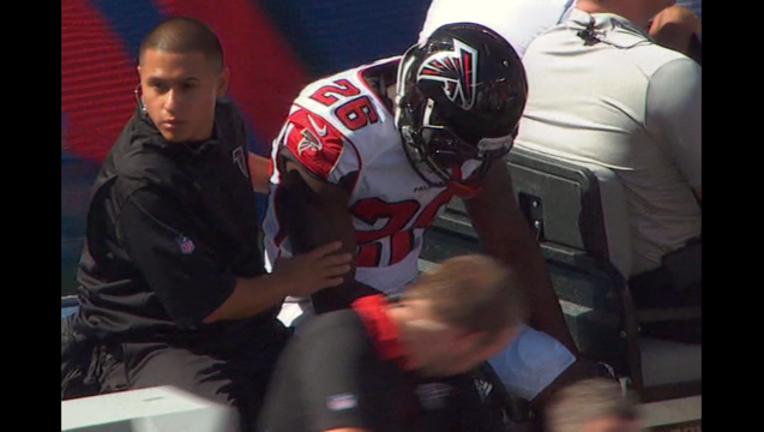 FLOWERY BRANCH, Ga. - Atlanta Falcons running back Tevin Coleman has a fractured rib that leaves his status in question for this week's game at Dallas.
Coach Dan Quinn on Monday would not rule out Coleman. He said there is a "crack" in the rib and Coleman's status will be determined by his ability to play with pain.
Coleman will not practice on Wednesday and Thursday and his status will be updated on Friday.
"It's not displaced or out of whack so I'm not going to put a timetable on it until we know how he's responding to it," Quinn said.
Coleman, a rookie, had 32 yards rushing with a touchdown in Sunday's 24-20 win at the Giants. He was carted off the field with the injury in the second quarter.
Quinn said Devonta Freeman will start against the Cowboys if Coleman is held out. Freeman entered training camp as the favorite to win the job but fell behind after missing all four preseason games with a hamstring injury.
Freeman scored the go-ahead touchdown on a 2-yard run with only 1:14 remaining against the Giants. Even when playing behind Coleman, he has been given a near-equal share of carries.
When asked Monday if he will enter the practice week expecting to start against the Cowboys, Freeman said "That's how I prepare, period.
"Come the game, it doesn't matter who the coach puts in there. ... Obviously both of us have been playing, so they trust both of us."
Freeman said he felt no lingering effects of the hamstring injury against New York. He was held to 25 yards on 12 carries.
"I didn't have any problem with it, no pain or nothing," Freeman said. "I felt pretty good going out there."
The Falcons (2-0) have leaned heavily on quarterback Matt Ryan's passes to Julio Jones, who had 136 yards receiving and tied a franchise record with 13 catches against the Giants.
Quinn said Monday he expects improvement from the running game.
"When that part opens up even more, I think that's when our offense becomes even more explosive," he said.
The Falcons have averaged only 2.82 yards per carry with a modest total of 161 yards rushing in two games. Freeman has been more effective as a receiver, with seven catches for 63 yards.
Left guard Adam Levitre made his second start after being acquired in a trade with Tennessee shortly before the season. The line includes two other new starters in center Mike Person and right guard Chris Chester.
"Everybody has got to be on the same page," Freeman said. "... I feel like everybody is still learning the offense. Once everybody knows what's going on, how you're supposed to block, how you're not supposed to block, then we'll get better."
NOTES: Quinn said LB Paul Worrilow's status is day to day with a cruised calf. Quinn said he hopes Worrilow can participate in at least part of Wednesday's practice.
___
AP NFL website: www.pro32.ap.org and http://twitter.com/AP_NFL